let's get trivial
How to win at pub trivia in a few handy steps.
If you really want to get your mitts on that winner's meat tray or round of beers, you might like to try out some of our pub trivia tips.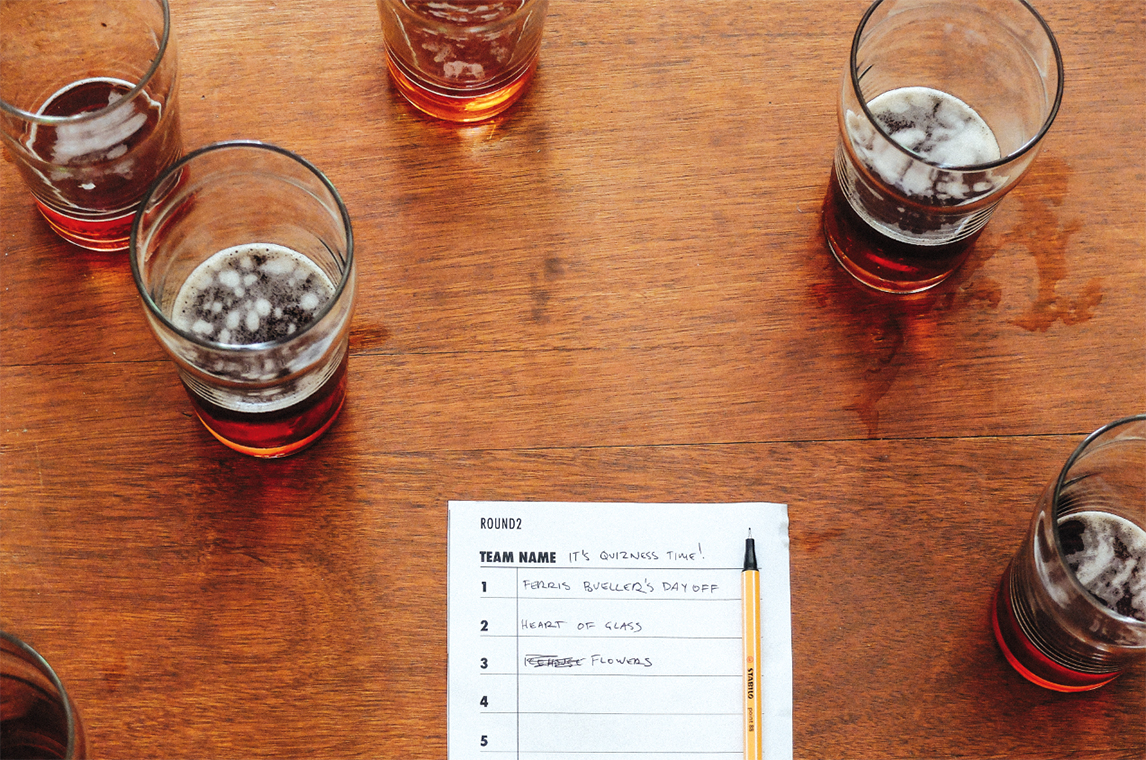 STEP ONE: RECRUIT WISELY If there's one thing pro pub trivia players know, it's the power of diversity. After all, there's no point forking out for a parma and pint each week if your table is made up solely of history buffs. Assemble a group of people with a broad range of areas of expertise – from the pop culture junkie to a general knowledge pro, music aficionado and a sports nut. It wouldn't hurt to broaden your age range, too: your little cousin may know who's topping the top 40 charts this week, and your folks will have you covered for vintage facts.

STEP TWO: FILL 'ER UP You wouldn't sit an exam without some serious study (or at least one heavily caffeinated all-nighter), so how do you expect to get top trivia marks if you're going in unawares? In the lead-up to the big event, put your grey matter to work, stockpiling as many useless facts as you can jam in each lobe. Watch quiz shows. Do crosswords. Read the full Encyclopaedia Britannica front to back. You never know when your knowledge of the colour of hippo sweat may come in handy, so make like a boy scout and be prepared.

STEP THREE: MAKE A NAME FOR YOURSELVES Here's a theory we've established after months of crucial research: the team with the best (and punniest) name is probably going to be the quizmaster's pet. Pick a doozy of a title and you're immediately on their radar, which leaves you open for sneaky tips, reminders and discreet headshakes when your response is incorrect. Some top-notch options: Les Quizerables, Quizlamic State, Multiple Scoregasms, Goldilocks and the Quizzly Bears.

STEP FOUR: ZIP YOUR LIPS Oi, you. Keep it down over there. You won't win anything if you keep on blabbing the answers to the room. Enforcing a code of silence may seem overzealous to trivia noobs, but know this: the pub is full of prying ears just waiting for you to blurt out the info they need. Instead, why not communicate with your team solely through the written word? Or if you're really in it to win it, give some sign language a whirl. Alternatively, you could opt for military tactics and broadcast decoy answers for all to hear. That way, when half the teams write that Scrooge McDuck is the richest man in the world, you'll be able to pinpoint all the cheaters.

STEP FIVE: DITCH THE BOTTLE Important: boozy brains are no good at recalling facts. They're also not so crash-hot at helping you stay on track. Teetotalling at the pub might not seem like the most thrilling way to spend your time, but think of it like this: no beer = focused mind = kicking the drunk guys' butts = free alcohol as a prize. So really, avoiding the vino for just a couple of hours will result in a glorious sense of triumph and extra notes in your wallet at the end of the night. Cheers to that!

STEP SIX: SWEAT THE SMALL STUFF So you've followed our scientific advice to a T. Good job. We're proud of you, our quizzical friend. After all that hard work, though, don't let it be something trivial that leaves you sobbing into the tipple you waited all night to drink. Small details can be the difference between coming second and doing a victory lap of the venue with your jumper pulled over your head, so remember: trust your instincts. Check your spelling. Write down questions word-for-word if you can't figure them out straight away. And never leave a question blank – you may well surprise yourself with an educated guess.
Want to put your new-found skills into play? We're running a special frankie trivia night in Melbourne this Wednesday - our first-ever mate date! It's free and no booking is required, so pop down to the Fitzroy Pinnacle before 7:30pm to join in and test your general knowledge. (There are even sweet prizes up for grabs!)