justin heazlewood on writing his memoir 'get up mum'
"When you're the child of a mum with schizophrenia, your default setting is 'intense'."
Former frankie scribe Justin Heazlewood is no stranger to book-writing – but his latest memoir, Get Up Mum, is perhaps his most touching literary endeavour to date. It's certainly been the most transformative; after writing it, he found he was finally able to talk to long-standing friends about his experiences growing up with a mentally ill mum. We chat to Justin about his process, his advice for aspiring memoirists and a childhood encounter with John Marsden.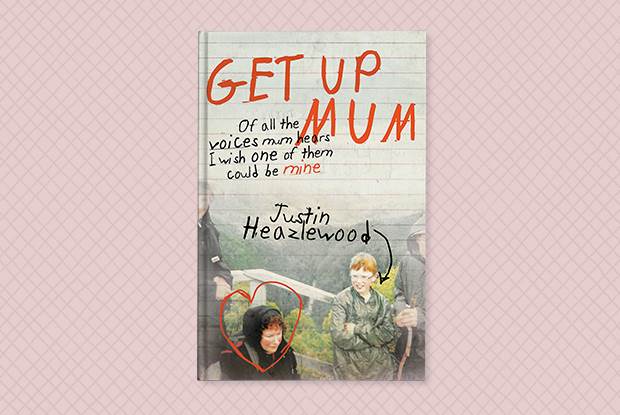 Hey Justin. Can you tell us what your new book Get Up Mum is all about? It's the great Australian '90s childhood memoir. It's a classic tale of a young boy and his mum trying to love each other but mental illness keeps getting in the way. Think Mother and Son meets Stranger Things.
What inspired you to write this? I woke up in Byron Bay one day at 4am softly weeping and wrote a whole chapter about my nan. "Uh-oh," I thought, "my waters broke." There's never a good time to have a baby or quit smoking or write your memoir. Having carried the ghosts of my past around with me for so long I always knew it was going to happen. I was inspired to write it in first-person, present tense in the voice of my twelve-year-old self. The book was like a collaboration between me and child Justin. Through his cassettes and diaries he left behind a trail of breadcrumbs for grown-up me to find. I really like me at that age. I think I was a spirited, sweet-natured, cheeky version of myself.
Did you have any concerns about delving into some emotionally full-on stuff? My whole life has been delving into emotionally full-on stuff. When you're the child of a mum with schizophrenia, your default setting is 'intense'. To be honest, I was exhausted from not talking about this stuff and trying to outrun the demons. Standing on stage doing jokes about hipsters felt agonisingly lightweight. The beauty of having a breakdown is that you don't have much to lose. When you're on your own, flaked out in your apartment with time to spare, it's actually a great time to get stuck into the source of all your pain. That said, I was seeing my therapist weekly. I take mental health very seriously, especially my own, and knew I would need professional support to do this. The same way an elite athlete would have a team helping them run up Mt Everest.
What's your favourite bit of the book? It changes. It's hard to beat "Morning walk with Nan", as I'm quite proud of my poetic descriptive sequences. This is the first chance I've had to really let my writing off the chain and show people what I can do. The inspiration is celebrating a child's love of nature.
At the end of Chapter 27 there's a subtle moment with Mum on the swing-seat smoking and me on the trampoline and the cat on the fence – a snapshot of my whole family! It feels like a real victory to be able to remind myself and the reader that I had happy, comfortable times at home, and that my mum was a beautiful person and doting parent who tried her best. There's something satisfying about capturing her younger self, a version of her that no longer exists – the silver ashtray, the neat puffs, the way her eyes would squint. These were moments where I felt like a real writer, doing god's work.
Do you reckon writing the book has changed you in any way? Absolutely. Instead of carrying around this amorphous dark star inside my heart, I now have these trim, self contained little fairy lights that actually turn on and off. I can pick up the book, flick through it and put it back on the shelf. Now I can go from zero to having a conversation with a stranger about my mum's mental illness, whereas before I couldn't mention it to close friends of 20 years. Imagine what a trip that is. Inside my head there is so much more space. I can feel it. The way I talk, the way I think, the buoyancy of my moods. A great weight has lifted. There's an energy efficiency to my spirit that is refreshing, comforting and inspiring. I look forward to taking the new me for a spin. (A few months back on social media should beat me back into an anxious pulp again.)
Any tips for aspiring memoirists? I should hope I'm selling doing the hardest thing in the whole world – because the payoffs are huge and there's fun to be had along the way. What else are ya gonna do? Mooch around Berlin? Try and finish that PhD you hate? Eat too many biscuits? So the first thing you'll want to do is gather all the 'evidence' you can. Diaries, notebooks, schoolwork, photos, recordings. Most people have their collection of 'past stuff' buried in boxes under parents' houses. My advice would be to get organised. Catalogue everything. One of the most satisfying parts of this project was taking all my school stuff and organising it into folders. I felt like the curator of my own memory museum. I went back to the local library in Burnie to go through the microfilm of The Advocate so I could find TV guides from 1993! My point is, there's no limit to where you can take your research. And there's no reason why it can't be fun, even if the subject matter is painful. I was on YouTube looking up Commodore 64 games as a reward for finishing a tough chapter.
What books are on your bedside table right now? Walk by Darby Hudson. He's this humourist poet-type who has made a mini art book based on what you can tell about a person from the way they walk. He's like Australia's David Shrigley – I'm in awe. I'm also reading The Green Bell by Paula Keogh. She's from Melbourne and also with Affirm Press. The amazing thing is she experienced schizophrenia and has a daughter my age, so between us we're the yin and yang of the lived experience of mental illness.
Anything else you'd like to share with frankie fellows? In Grade 12 John Marsden came to Hellyer College in Burnie. I pretended we had a school newspaper so I could interview him. My 'joke' question was "What advice would you give a struggling writer sleeping in an attic living off whiskey and cat food?" He considered the answer carefully and said, "Take risks." Twenty years later at Williamstown Literary Festival I gave him a copy of my book.
Get Up Mum is out now. You might also like to enter our little comp – we've got five copies of Justin's book to give away. Simply pop through your details to go in the running to win.