how martina martian became a globetrotting artist
The Sydney lass went from drawing diary excerpts to travelling the world and creating artwork for international brands.

We've teamed up with the folks at UNiDays to bring you stories about all the stuff you go through when you're studying. Did you know UNiDAYS members can nab a 25 per cent discount on their frankie magazine subscriptions? Well, now you do. Check the bottom of the story for more deets.

A quick glance at Martina Martian's resume (Adobe, Samsung, Snapchat) would lead you to believe the artist has been toiling away for years. In fact, the Sydney talent is only 23 years old, and despite never letting go of her artistic practice, Martina always thought she'd just end up in an office job.

Thanks to the powers of the internet, her bright and positive art (which she posted on Instagram during her uni degree) quickly landed on the radar of international brands. These days, Martina is a globetrotting freelance artist – because, as she notes in our interview, why confine yourself to your bedroom when you could take your laptop to the beach?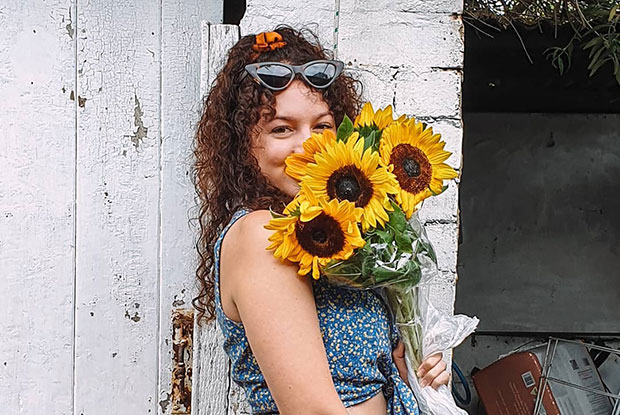 What was your connection to art when you were growing up? I was always creative, drawing, making things. When I picked my degree, I knew I wanted to do something creative but didn't think I was going to be an artist. I did a double degree – a Bachelor of Media and Bachelor of Design – but I wasn't thinking I could be an artist. I don't think anyone is brave enough to dream of 'artist' as a career; I studied my back-up careers.
Talk us through some of the stepping stones on your journey to becoming an artist. I started drawing for fun during my degree, and was posting that on Instagram. It began to get a bit of attention – some friends asked, "Can you draw this for me?" then small businesses approached me, then brands like Reebok and Snapchat. That was when I thought, "Oh, this could maybe become a career."
It was pretty much all through Instagram, posting my work and being active. And because I was studying media, I had an understanding of how to market myself, as well. I don't think I'd have a career if it weren't for Instagram.
That's true for so many creatives these days. It is such a powerful tool. It's good and bad, but in terms of getting work out there, it's very useful.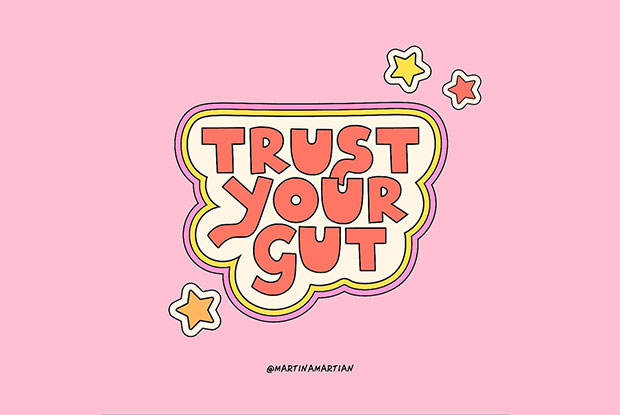 Was there a moment when you thought, "I don't have to do any other work, this is just my career now"? I was kind of forced into it. I had a part-time job at my university while I was studying - one of those student jobs - and when my degree finished, my job also finished. I couldn't bear the thought of looking for more retail or part-time work. And I thought, "There's never the perfect, safe time to make things happen. You have to just dive in headfirst and hope for the best." So far it's going well.
How did you turn your illustrative practice into a globetrotting lifestyle? A lot of people take time off to travel after their degree. I figured, I never meet my clients in person because they're usually from different parts of the world, and I'm always on my laptop anyway, so what's the difference if I'm sitting on a beach in Greece or if I'm sitting at home? It's no different for the client, but it is for me. My passion was seeing the world. So I thought, "Why not?" All I need is my laptop, pen and pencil and I'm good to go.
What have been some of the challenges of running a business while travelling? It's about balance, like any freelance job. When you're travelling, you almost feel guilty for not having enough time to sightsee, so you have to strike that balance. But travel forces you to value your time. If you have a few hours off, you're not going to sit on the couch and watch Netflix, which is what I usually do at home. You're like, "I'm going to go see this landmark."
Do you give yourself time to do nothing? It has been a struggle allowing myself that silence. I'm so lucky to be able to travel, but it doesn't mean I have to do it all the time. It's still exhausting because I'm not on holiday – I'm working.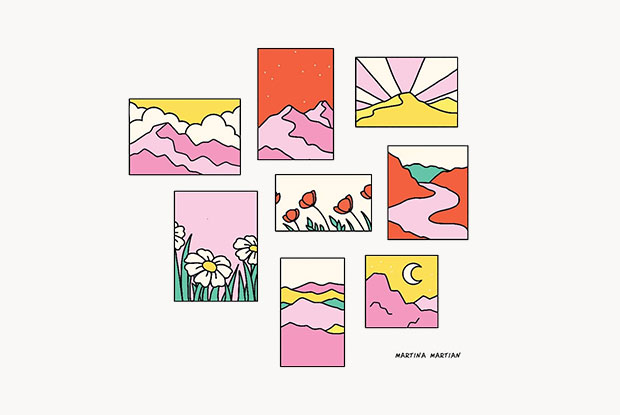 What's the coolest place you've worked from so far? That's really hard. I really liked Slovakia – that was an unexpectedly great spot. It's not very touristy and there are beautiful mountains. I was just sitting on a field of flowers with the Alps behind me, and was like, "What am I doing here?" It was just incredible and so peaceful.
Your work has quite an '80s and '90s vibe to it. What do you love about that era? It's fun and bold. I really do believe that bright colours make you happier. And I think people then weren't afraid of colour, pattern and kitsch, so I love that energy. I was born in 1995, so it wasn't like I grew up in the '90s, though. I feel like that allows me to have an appreciation for the time, whereas my older sisters are like, "Urgh, we're so over this." You always think the generation ahead of yours is better.
You also have quite a strong theme of empowerment and positive messaging. Do you make the art more for yourself or for other people? I definitely didn't come to my art process and say, "I want to be a feminist artist or positivity artist." I just made work about what I was thinking about at the time. At the end of the day, it's for me. They're all my own quotes from my diary and journal and I think that's how it speaks to people, because it's coming from a genuine place. I'm not thinking, "Oh, this will go viral" – this is just what I need to get out there and hopefully it speaks to someone else, too. A lot of my work is about embracing life and going for it. I try to live what I preach and be brave every day.
For many people, one of the biggest barriers to being creative is a real lack of confidence, and a fear of being criticised if they put their work out there. Have you faced this? When I started, it was really for fun. I don't think I've ever been really afraid to put my work out there, because if you're not taking something so seriously there's less fear. I wasn't saying, "I'm going to be an artist," at the beginning – if I did, I'd be more afraid. Do it for yourself.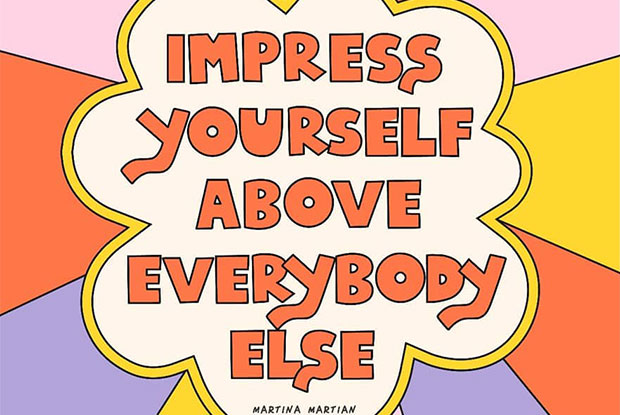 How do you discover new artists? Mostly through events and sometimes through Instagram. Surprisingly, many from just going to art shows. If you want people to support you, you have to do the same, too. Otherwise art is a lonely job. What's the point if you don't have a community? Once I started surrounding myself with creative people and going to events, I was so much more motivated and inspired because I could talk about these ideas with people.
What's a dream job for you? I'd like to take my work to more immersive levels, like bringing my GIFs and stickers to life in a 'positivity palace' and exhibition you can walk through, which leaves you feeling empowered.
Do you have any tips for young illustrators or artists looking to kickstart their career? Put yourself out there – do it because you want to, regardless of the money. At the same time, charge double because you're probably underselling yourself.
We chatted to Martina at the 2018 Adobe MAX conference in Los Angeles.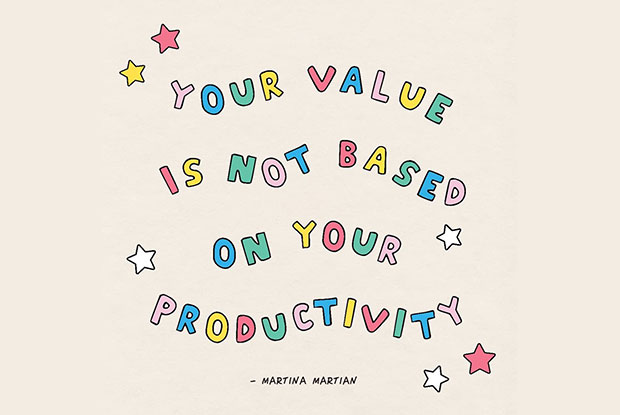 Thanks to the kind types at UNiDAYS, uni students can nab 25 per cent off their frankie subscriptions. Just click here, then register or log in using your UNiDAYS member details. Easy as!