how creatives from refugee backgrounds are telling their stories
Road To Refuge helps refugees speak their own words.

Road to Refuge is a not-for-profit on a mission to change the conversation in Australia around refugees and people seeking asylum. It provides storytelling opportunities to people from refugee backgrounds, so they can share their lived experience in their own words, on their own terms. We chatted to Road to Refuge director Priya Pavri about the ways art, culture and storytelling can necessitate important change.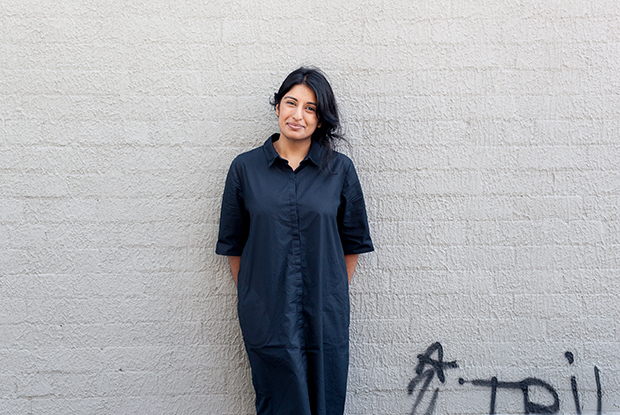 Hi Priya, can you tell us a little bit about yourself? I am currently director of Road to Refuge, among other things. I'm interested in the intersection between art, storytelling and social change.
Before working at Road to Refuge, what were you up to? In 2017, I moved to Iraq to further pursue a career in international law and development. It was meant to be a three-month stint; it ended up being almost a year. I worked for an NGO providing emergency medical care on the front-line against ISIS. I also worked with some amazing local young people on a grassroots arts initiative, which was a privilege.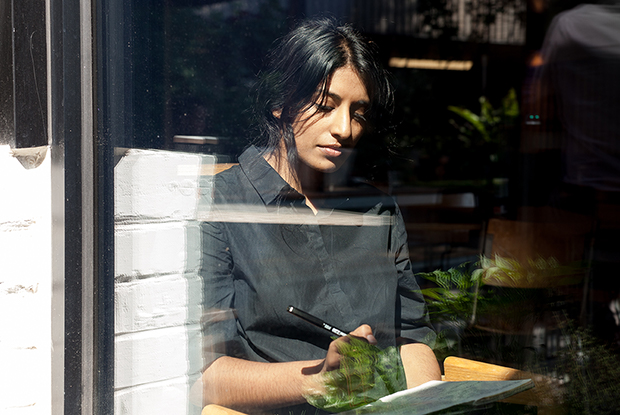 Returning home to Australia, how did you put your hands-on experience into practice at Road to Refuge? I wanted to explore the important role arts and culture plays in uniting people and creating a cohesive society. I find the political narrative around refugees and people seeking asylum problematic, and am interested in how to change this. Road to Refuge's mission to provide platforms for refugee voices to shape mainstream discourse – on their terms and in their words – appealed to me as a theory for change.
What is 'In My Own Words' and how does it work? In My Own Words was the brain-child of our program director Jeanine Hourani. It is a storytelling program designed to give young creatives of refugee backgrounds the skills they need to tell their story. Our program is not medium-specific and our participants apply to tell their stories in various formats, from written word and photography to podcasting and public speaking. The program assists participants to access the tools they need through co-design workshops, and connects them with opportunities to develop and share their stories.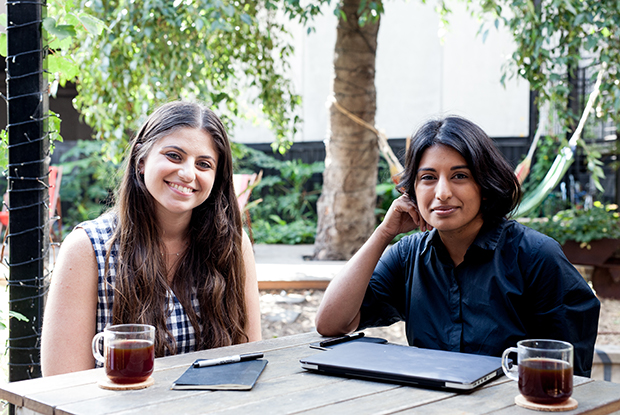 In My Own Words program director Jeanine Hourani and Priya Pavri working at local cafe and social enterprise STREAT. 
In My Own Words was partly funded by a Bank Australia community grant. How was this contribution used to grow the program? Bank Australia has been a long-term supporter of Road to Refuge and in 2018 we were successful in receiving a community grant, which was used towards running In My Own Words. This allowed us to design a program that could be implemented at no cost to participants. Bank Australia shares our values, and continues to support the project's growth with in-kind opportunities, and by providing networking outlets to further the professional development of our participants.
In what ways can the wider community help this cause and become a partner? Anyone can apply to become a partner or volunteer. The most important thing we look for is people who share our values. Road to Refuge has been on a mission to change the conversation around seeking refuge and asylum in Australia by providing a platform to those with lived experiences. However, if you are someone without this experience and are looking to help, please consider being a supporter – you can donate your time, money or expertise. Also, applications for the 2019 cohort of In My Own Words are now open.
Find out more about Road to Refuge here. Thanks to STREAT for the shoot location.
This important chat was created in collaboration with Bank Australia, a customer-owned bank creating a positive impact for people and the planet by investing in not-for-profits and community renewable energy projects. As part of its leadership in the clean money movement, it guarantees its customers' money won't support industries like fossil fuels, live animal exports and gambling. Find out more about Bank Australia's 'Clean Money' promise here.