holy crap – it's kelley deal from the breeders
Guitarist for legendary act The Breeders, one half of indie rock's most famous twin-set, former Air Force secret keeper and shit-hot knitter.
Guitarist for legendary act The Breeders, one half of indie rock's most famous twin-set (along with identical sister and bandmate Kim), former Air Force secret keeper and shit-hot knitter – you could say Kelley Deal is something of an icon. She's coming to Australia soon for Fairgrounds festival, so we had a mild fangirl-related anxiety attack, then asked her a few questions.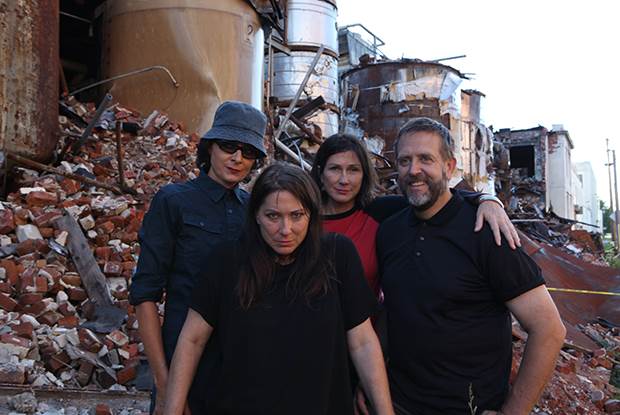 What kind of prep do you put into going on tour? Do you try to get as much hometown loving and relaxing before you go? Hometown loving and relaxing – that's exactly right. Well, I've got a cat, so I've got to give her plenty of attention, and I have a mum and dad and they're both elderly and they both need medical stuff. I get their medications together and I do their bills. We've got caregivers that come in, and we've got a wonderful team that take care of them and keep and eye on them when we're out of town.
You've been collaborating with your sister Kim since you were kids, right? Can you tell us a bit about that? Yeah. We started playing music together starting around 13 or 14. We got a little set together of original music and covers, and started going to places that we were too young to really get into: we couldn't drink or anything. But yeah – we would play and harmonise and stuff. We did a bunch of good country songs: some nice Hank Williams, a Patsy Cline song, we did lots of Linda Ronstadt.
So that was the teen band. Then Kim moved to Boston and eventually joined the Pixies. What did you do next? Yeah, well she moved from Dayton to Boston and I moved to Los Angeles to work at a defence firm. I was an analyst for a government programme and had top secret clearance, basically because of the location where I worked: a specific area in this Air Force space. I had a top secret clearance, but I only had access to secret documents. It was kind of boring stuff, really. One of the things I was working on was war mobilisation plans, we call them WMPS ("whimps"). That's really the best part of all this stuff – the terminology. A lot of acronyms and tech talk.
How did you go from that to being a rock star? Kim had some time off from the Pixies. She'd invited me to do a session in Scotland, but I couldn't get off work, so the next time she invited me I definitely went and that was in New York. It was only a long weekend – that was for the Safari EP, and that was the first time that I played with them. Then we were both in Dayton, and we kinda picked right back up where we left. We did some demos and that turned into the Last Splash recordings. It was kind of around that time when I got an opportunity to tour, opening up for Nirvana in Ireland, and that's when I was like, "Can I have more time off?" And they were like, "No Kelley, you can't." Like "OK, well I guess I'll quit." But I liked it and they were nice.
You are famously obsessed with knitting, you've produced a knitting book and knitting zines. What do you get out of all that stitching (aside from some very warm hats)? Well it's really weird how creation of any sort – whether somebody is an artist or a knitter or a musician – they're really all the same, the whole process of creation is the same. You can use the same terms throughout different fields. If I'm working on a knitted thing I can say, "Oh, these two colours, they're atonal, they don't have a good harmony to them." How much atonal disharmony can you take, or how much distortion can you take? I've used "atonal", "distortion", "harmony" all when talking about something visual, which is really interesting and then you can use those terms to talk about music like forever.
Not sure what art term we can put on this, but let's talk about the Breeders coming to the Fairgrounds festival and Australia more generally. We are going to create a tapestry of sound that will cover stuff from all the records! It's fun, it's all still fun.
The Breeders play Fairgrounds festival on December 1. Plus Perth November 28, Sydney November 30, Brisbane December 4, Canberra December 5, Meredith Music Festival December 7 and Melbourne December 8.