hello cass
Emma Koster is supporting victims of violence via SMS. 
Mention the word 'chatbot' and it's likely an annoying online shopping or customer service 'assistant' that comes to mind. But what if that artificial intelligence technology could actually be used for the greater good – specifically, to support those who experience family and sexual violence? Enter Hello Cass: a free, anonymous SMS chatbot providing information and assistance for those living with violence, the people in their networks, and even folks concerned about their own behaviour. It's accessible, discreet and safe – all essential factors when dealing with such a complicated problem.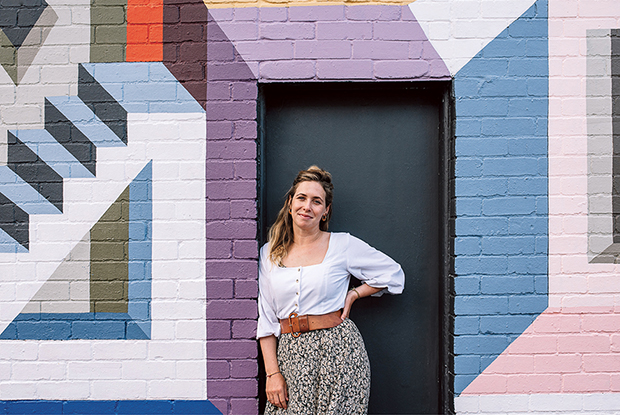 For Hello Cass founder Emma Koster, the complexity of family and sexual violence – as well as the all-too-common barriers to accessing assistance – became truly evident while working with Syrian refugees and asylum seekers in an emergency accommodation centre in Germany. Hefty roadblocks stood in the way of those needing support – issues like language barriers, low levels of literacy and a lack of culturally appropriate training for staff. "Something everyone did have, though, was a mobile phone," Emma says, "and that's what really got me thinking."
Doing some digging into the topic, the Melbourne lady discovered that one in four Australian women and non-binary folks will experience some form of intimate partner violence in their lifetime – and the statistics are even higher for Aboriginal and Torres Strait Islanders, people from ethnically diverse backgrounds, and those living with disability. Sadly, less than 15 per cent of violent incidents are reported or even disclosed. "Fear, shame and feeling as though they won't be believed or something wasn't 'bad enough' means many people won't seek out assistance and get the support they need and deserve," Emma says.
Further research around 'non-human' intervention in the mental health space showed Emma that people were more likely to truthfully describe their feelings and situations when distanced from the reactions of a real-life person. Combining her own experience in the tech development sector with valuable information from community health and prevention organisations, Hello Cass was born. Though Emma's careful to emphasise that it's not an emergency service – people should always dial 000 if they feel unsafe – it is a place to turn for anonymous, localised, culturally appropriate support for people affected by various forms of violence: from sexual assault to financial, emotional or psychological abuse. The SMS interaction is designed to feel just like texting a friend – albeit an impartial, artificially intelligent friend armed with information on everything from local counselling services to your legal rights, safety planning and ways to build stronger relationships.
Since launching for Victorian users in May, Hello Cass has sent out over 2000 text messages – affirming the need for such a service. Cleverly, the SMS technology means users don't even need an internet-enabled smartphone to take part, and the message history can easily be deleted. Next up, Emma's keen to roll Hello Cass out around Australia and add languages other than English to the mix. Also on the agenda is developing more content for younger users, particularly around teenage relationships, pornography and consent. To do these things, though, she'll first need to find more funding and support. "It's simply too big a job for one person!" Emma says.
"Hello Cass is my response to this urgent need for change," she continues. "It's not perfect, and it will never be enough to 'solve' the problem, but it's my hope that it can be a helpful, trustworthy, reassuring place to start. We all need to be part of the solution – to call out problematic behaviour in others, to see it in ourselves and to trust that if something doesn't feel right, it's because it's not. We have to be impatient for change on this."
Visit hellocass.com.au or text 'hello' to 0417398744 for more.
This story comes straight from the pages of frankie 93. Pick up a copy at your closest stockist, or subscribe from $10.50.