getting started in slow fashion with leah-jane musch
We got together with Billy Blue College of Design student Leah-Jane Musch to chat about making sustainable threads.
This chat was brought to you by our mates at Billy Blue College of Design.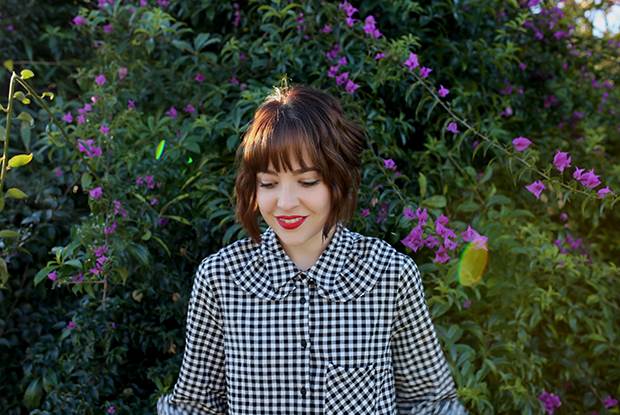 Leah-Jane Musch, aka The Un-Material Girl, is a slow fashion activist with a penchant for op-shopping and myriad tips on how to build an ethical wardrobe (while also looking as swish as can be). Scroll down to read our chinwag with Leah-Jane about the importance of ethical fashion, the best sustainable clothing brands in Australia, and how she's carving her own path in the industry.
Tell us a little bit about yourself, please. I'm 26, currently in my second year of studying a Bachelor of Branded Fashion Design at Billy Blue College, and I would describe myself as a former fast fashion addict turned slow fashion activist.
What inspired you to become a slow fashion activist? Watching the documentary The True Cost literally changed my life. It opened my eyes to so many parts of the fashion industry that I had been personally avoiding, and once I saw that film I couldn't deny that I needed to completely change the way I consumed.
What were the biggest fashion lessons you learned during your studies at Billy Blue College of Design? That this course isn't for the faint hearted. The standards and expectations are super-high. That said, it's the perfect environment for people who are serious and passionate about a career in fashion. We're pushed to our limits, but ultimately, it makes us much stronger designers, professionals and people.
How have your studies helped you in your slow fashion quest so far? I've had great opportunities to create garments where sustainability is at the very heart of the design process, like the recent Ekka Natural Fibres competition. We had to create an entire outfit using natural materials, and I got to try my hand at dying fabric using coffee – and it smelled bloody great!
Was there anything else especially cool you learned at Billy Blue? I really enjoyed doing a subject about print design because we were able to create and then digitally print our very own fabric. Seeing something I had hand-painted turn into a touchable fabric was so thrilling! (We also went on a design excursion to Stockholm!)
Where can folks find great sustainably and ethically produced clothes to buy here in Australia? Ecomono is a great online store where you can actually shop according to your values. For example, if you're passionate about locally made and environmentally friendly fashion, you can use their search engine to find unique brands that match your values. (They also do free shipping Australia-wide). I also love Sticks + Stone the Label, which is designed and made in Brisbane.
Who's making awesome sustainable threads right now? I'm a big fan of Sticks + Stone the Label; they use Global Organic Textile Standard (GOTS) certified organic cotton and make some of the comfiest pants I've ever worn. I'm also a big fan of Nico, the first underwear brand to ever achieve accreditation with Ethical Clothing Australia.
What's next for you? I'm about to pack my bags and head to Milan to study fashion abroad for four months (another perk of studying with Billy Blue – loads of international connections). I've done a crash course in beginners Italian and I'm quickly curating my dream wardrobe so I can be ready for Milan Fashion Week.
Anything else you'd like readers to know about slow fashion? The future of fashion is in the share economy. It's early days, but things are changing – hold onto your hats, folks!
Pop over this-a-way to find out more about the Branded Fashion Design course at Billy Blue College of Design.