get to know our issue 84 cover artist
Sophie MacNeill – aka Slow Stitch Sophie – talks us through her woolly wonder.
We were pants-wettingly thrilled when Slow Stitch Sophie agreed to create some special embroidery for our cosy bumper issue 84. Read on to discover more about the lady herself and how she created this sweet-as-can-be cover.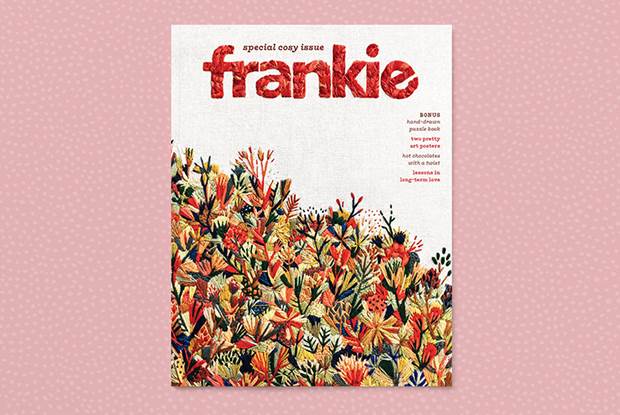 Tell us a bit about yourself, please. I'm a 33-year-old registered landscape architect and trained artist living in Vancouver, BC. I grew up on Vancouver Island and have always been deeply inspired by the natural environment of my hometown.
Would you describe your work as art or craft? I describe it as a form of 'slow expressionism', more linked to the artistic process than to craft. I have a deep respect and admiration for craft, but there are many skilled embroidery and textile craftspeople who have studied and perfected its complex and time-honoured techniques. I studied fine arts and use the thread and needle in a way that's similar to using a paintbrush and paint.
Talk us through your creative process. Usually when I begin, I have very little idea what the final piece will look like. I just get the urge to start stitching and go for it. There's a general colour palette that will be added to as I go along. Inspiration comes from paintings I love, landscapes, or just the serendipitous placement of thread that somehow works. The tangled backs of my pieces give a good sense of how unruly my process is!
Is there an inspiration behind our cover design? Nature, with its many forms, textures and expressions, was definitely a guiding inspiration. I wanted the piece to evoke the unruly, playful and hopeful qualities of a wild garden, without relying on any realistic representation of plants.
How long did it take you to complete? I don't keep track of how long it takes me, but I listened to three audiobooks and 2.5 seasons of Call the Midwife while I worked on it! And that doesn't include the time I stitched quietly or listened to music...
What was the trickiest part? Definitely the text! I'd never stitched into such specific shapes before, and it took a lot of tries to make it work. But it was definitely a fun challenge.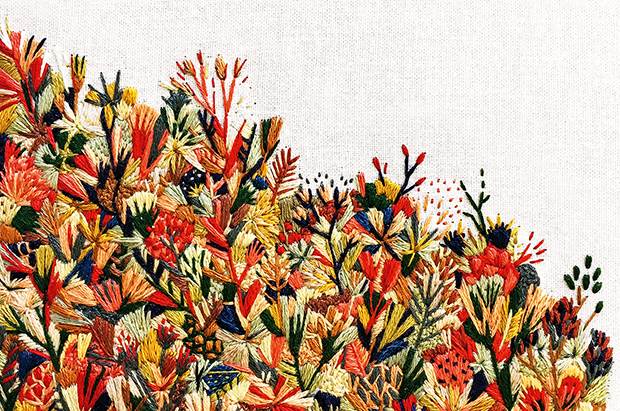 Pick up a copy of frankie issue 84 to have a gander at Sophie's hand-stitch cover – and heaps more lovely stuff, too. Nab a copy here, or subscribe from $10.50.