get fancy: a guide to diy skincare
There are plenty of reasons you might be skimping out on skincare, but the truth is there are plenty of effective 'products' already available in arm's reach at home.
Too lazy for nightly skin routines? Not enough moolah in your bank account for regular facials or exxy products? There are plenty of reasons you might be skimping out on skincare, but the truth is there are plenty of effective 'products' already available in arm's reach at home. After much research, professional advice and a lifelong love of Mother Nature's homemade goodies, our model Samantha Sultana has come up with a daily regime that could very well double as a delicious menu. We'll talk you through some of her tips and tricks below.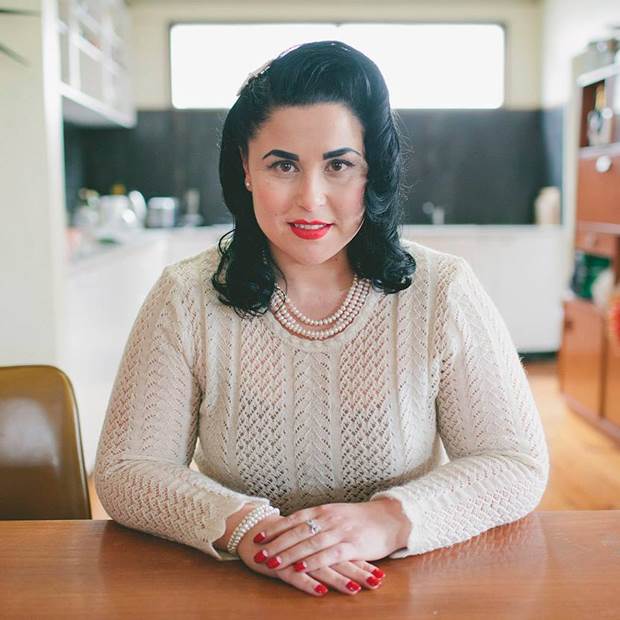 TOOLS:

pink Himalayan salt
raw sugar
cucumber slices
extra virgin olive oil
raw cold pressed organic coconut oil/butter
aloe vera
avocado oil
blueberries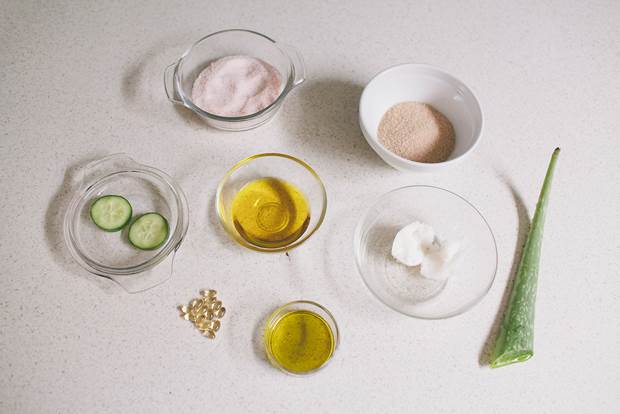 Cetaphil cleanser
certified organic rosehip oil
These are two of Samantha's staples for cleansing and moisturising. Both available in pharmacies and supermarkets.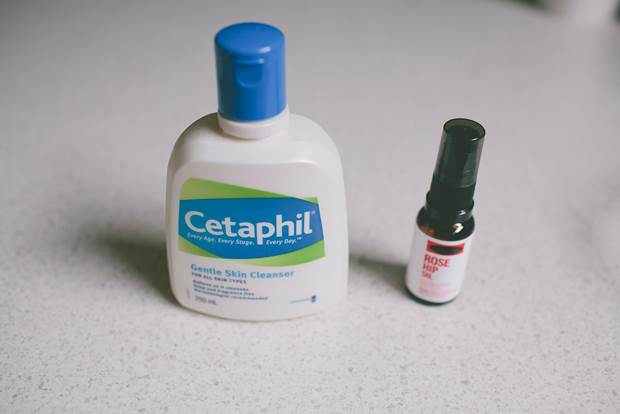 THE OILS

Good quality extra virgin olive oil, organic avocado oil, coconut oil, rosehip oil and vitamin E oils are pretty nifty substitutes for moisturising serums. They can be used as a face mask after opening pores with a gentle steam bath or warm face cloth. Just leave them on for 15-20 minutes before rinsing off or, for normal to dry skin, leave on overnight like a night cream.

Try it as a rinse-out hair treatment after shampooing, or a hair serum applied very sparingly, starting at the ends and working through to the roots. These oils can also be used as a makeup remover, massage oil, moisturising scrub (mixed with sugar or salt) and a soother on sun-exposed skin. (Don't try it on freshly sunburnt skin, though!)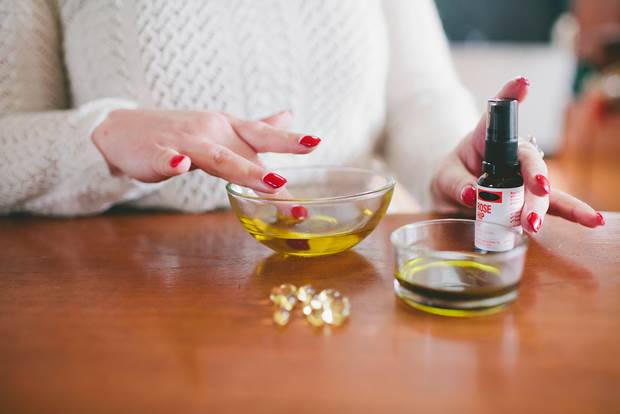 Aside from all of its super food goodness, coconut oil or butter can function as a moisturiser, makeup remover, hair treatment, sunscreen, mouthwash, and deodorant and nail treatment. Super oil to the rescue! If you haven't started cooking with it already, it's time to start experimenting with the wonders of the coconut. You won't know whether to store it in your kitchen or bathroom cabinet.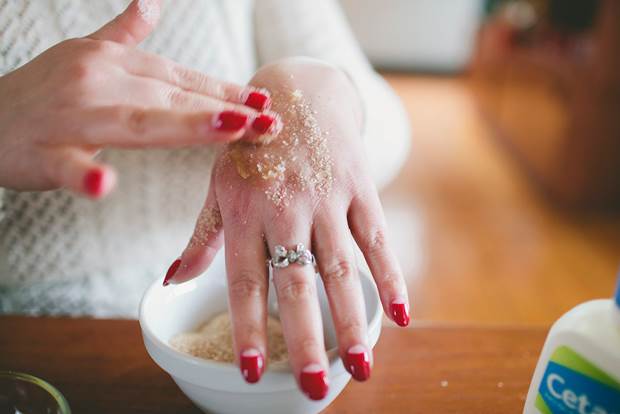 A LITTLE BIT ROUGH

Forget expensive scrubs and rubs – you can whip up your own exofoliants at home with some simple (and rather delicious) ingredients. Cetaphil combined with salt or sugar makes for a quick, handy cleansing scrub, or use olive oil as a base instead for a much more moisturising blend. Salt can also be gently rubbed onto blemishes when made into a paste for some super quick healing, staple style.
Introducing other pantry ingredients such as rosemary, citrus fruits, apple cider vinegar, baking soda, manuka honey and oats, avocado, bananas, berries and egg white to the scrub can be even more effective and invigorating depending on your skin conditions. Grab some empty jars and start concocting your own recipes!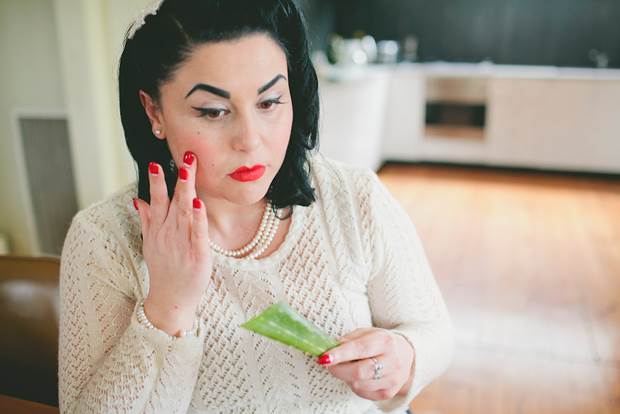 ALOE, ALOE!

Aloe Vera is potent and medicinal and, like most of the above, can be used for good skin and health inside and out. Do some research as to the dosage before you introduce it to your diet, but once you discover this magnificent plant you'll have it growing all over the house, ready to snap off in a moment's notice. Use the gel straight on the skin to treat inflamed breakouts, burns, bites, itchiness and fungal infections. It also increases elasticity in the skin, so use the sticky sap as a plumping mask while you eat breakfast after a late night out or big week. Why hello, aloe, our new best friend.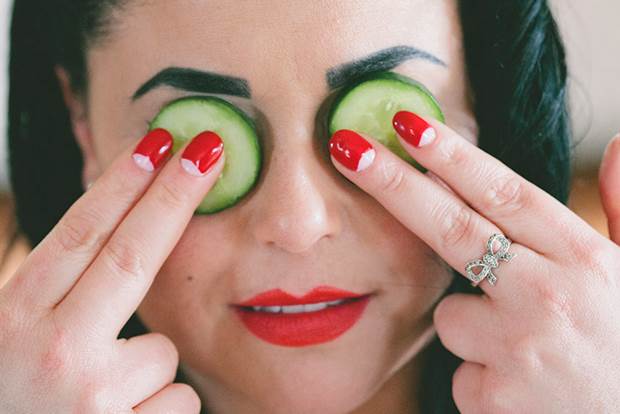 CALM YOUR PEEPERS

The cucumber-on-the-eyes trick is a classic that never goes out of date (though we can't say the same for the soothing fruits – make sure you keep them nice and fresh!) Pre-chill a cucumber, then add slices to your eyes for 4-5 minutes. They contain powerful antioxidants, and when chilled soothe swelling and puffiness and hydrate the skin. While you're there add some of the slices to a glass of water for an anti-bacterial, energy-boosting hydrator, which also gives the digestive system a flush and can even prevent a hangover. High five! An afternoon beauty sleep with cooled herbal organic tea bags on your eyes can also work in the same fashion.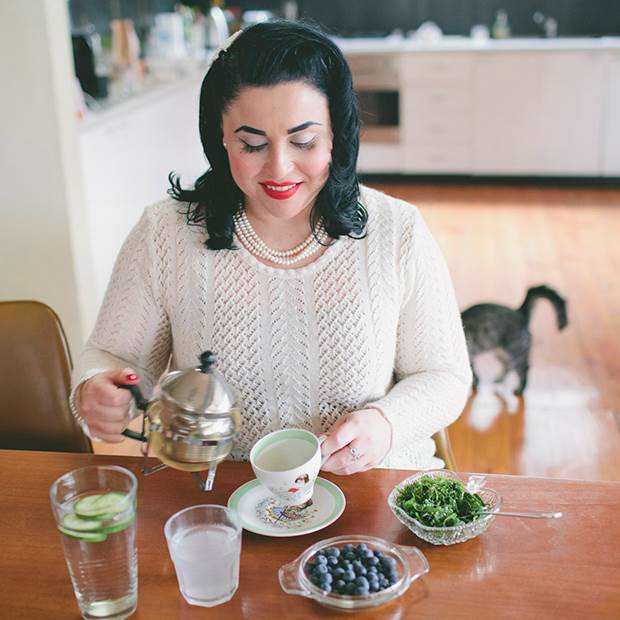 The pretty piccies of Samantha Sultana were snapped by Katherine Soutar, with hairstyling by Jessica Jimeno. Words are by Dana Leviston.