garage sale trail 2015
Grab your spare change, frankie pals - the epic bargain-hunting event, Garage Sale Trail, is back with a bang.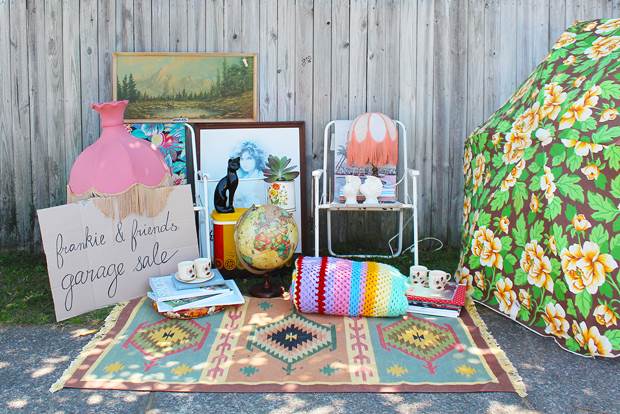 Good thing we've been hoarding plenty of bits and bobs from around our homes and the frankie office, because the epic bargain-hunting event, Garage Sale Trail, is back with a bang on Saturday October 24th.
On one thrifty day, households across Australia will be flogging their long-accumulated wares for your gathering pleasure, from clothing to knickknacks and things to beautify your abode – plus lots of nibbly niceties to keep your energy high along the way.
Our own frankie editor, Jo Walker, will return as ambassador, and we're stoked to be bringing back the special frankie and friends garage sale, too. Pop by with pockets of loose change and you'll find tunes to get down to as you browse through bric-a-brac, nosh on fried chicken from Juanita Peaches and special sweet treats from All Day Donuts. There'll also be studio samples, seconds and personal bits and bobs from a bunch of local makers, including Beci Orpin, Alice Oehr, Laura Blythman and Pete Cromer (aka the folks behind Enemies Yay), Ashley Ronning, Min Pin, vintage menswear seller Isles of Man, Togetherness Design, La Petite Fabrique de Brunswick, Kelly Thompson, Pip Lincolne, Sarah Kelk, florist Hi Petal! and Pop Plant. Phewph!
For something even more extra-special this year, we have one stall set aside for a lucky frankie reader. If you'd like to join us for the day (on your own or with a friend), email through a photo of the jumbly bits you have set aside to sell. Don't forget to pop in your phone number so we can give you a buzz if you're the chosen one – the winner will be drawn and notified on Monday.
The bargain bonanza will be going down from 9am 'til 2pm in Melbourne. Find all the info on this and other sales near you over on the Garage Sale Trail website.