frankie's guide to adult-friendly kids' books
If you think you are too old for children's books, THIS IS A MISTAKE AND YOU DON'T KNOW WHAT YOU'RE MISSING.
Hi, it's me, Estelle! If you don't know me, that's because we haven't met yet – well, until one sentence ago. So we actually go way back. What are you having for dinner? Woah, that sounds so good, can I come over? GREAT. Moving on: even though it might seem like I am here to solicit dinner invitations, I am actually here to write about books.

My friend Lucy is having a baby and for her baby shower next week I bought her a copy of Eric Carle's The Very Hungry Caterpillar. You know, the one about a beautiful green caterpillar who is a huge guts. As soon as the caterpillar is born, he sets off in search of delicious food. Along the way, he munches through plums, chocolate cake, a pickle, salami, and several other things I am currently adding to my grocery list. This green gent is a very fitting role model for a new baby.

Clearly, this book had a huge impact on my grown-up life – as have many of the books I read when I was wee. Sure, children's books are aimed at entertaining and educating kids, from very new humans to pretty-much-adults, but a wide swathe of them still appeal to actual-adults. If you think you are too old for children's books, THIS IS A MISTAKE AND YOU DON'T KNOW WHAT YOU'RE MISSING. Whether it's adorable visuals, super-rich fantasy worlds, or tearjerker plots, children's books have plenty of cunning and adorable ways.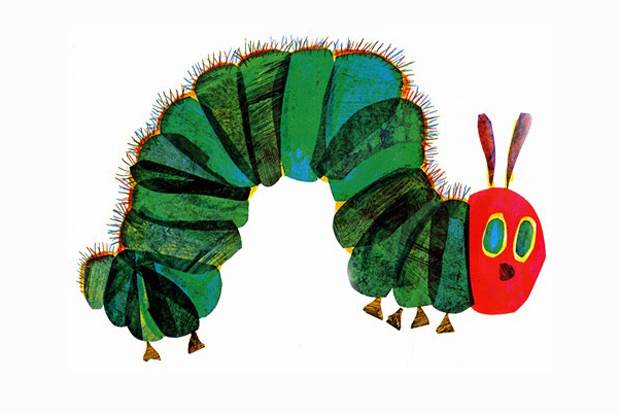 Like Kelly diPucchio and Christian Robinson's Gaston, a picture book about a French bulldog who is accidentally switched at birth and grows up in a family of poodles instead. If I had read this when I was a kid, I probably would've thought it was a really, really cute story about how your family is your family even if you look different to them. But now that I'm old, I see that this book is actually an opportunity to own a Frenchie without having to pay $900 for it. Bargain!

A very nice and smart woman, Davina Bell, wrote a beautiful picture book called The Underwater Fancy-Dress Parade, with pastel palette illustrations by Allison Colpoys. It is so gorgeous that you'll probably want to rip out the pages and put them in vintage frames. Plus, this book is about being shy, so it's worth reading every day or if the other option is refusing to come into human contact with anybody.

If you like jokes that involve animals, you might have come across Liz Climo in the wilds of the internet. Pretty much anyone can read her book of comics, Lobster is the Best Medicine, which is full of simply drawn creatures, anthropomorphically riffing for our pleasure. Prehistoric beasts get in on the racket, too – two of my favourite Climo creations are Rory and his dad; chubby, moss-green dinos just palling around. The dino duo have their own picture book, specifically for littlies, called Rory the Dinosaur: Me and My Dad. So cute.

On to the M for Mature audiences stuff. Thanks to Kleenex-sponsored The Fault in Our Stars and Suzanne Collins' addictive series The Hunger Games, more adults are reading young adult novels. One that kept me awake recently was Victoria Aveyard's The Red Queen. I have never lost my teenage dreams of BEING SPECIAL AND NOT KNOWING IT BUT THEN FINDING OUT AND DEFYING MY LOWLY BIRTH TO BECOME A PRINCESS… sorry, where was I? Anyway, it's a really good book.

One more thing children's books are amazing for: making you cry. If occasionally you get the feeling of being emotionally stopped up, while it's a trusty solution, it's been scientifically proven that you can watch Frozen too many times. As an alternative, here's a guaranteed waterworks-fest: Ann M. Martin's book Rain Reign. Yes – the author of the Babysitter's Club books! (HI CLAUDIA I LOVE YOU.) As we know, Ann M. Martin does not mess around. Rain Reign is about a girl called Rose who is obsessed with homonyms. Her name is a homonym: Rose, rows. Her dog's name is one too: Rain, reign. One day, there's a huge storm and Rain goes missing. CUE CRYING. It's like magic. Emotional magic. This book might also work for you if you are a particularly cruel cat person and love the idea of a dog suffering during a severe weather incident.

Really, I don't know why more people aren't onto kids' books. It's the one children's thing that adults can muscle in on as well. When was the last time anyone let you order from the kids' menu or ride a miniature pony? EXACTLY. Go on, it's time to relive your childhood. But this time you can drink.