frankie lists: steps to becoming a crazy cat lady
Rejoice, fellow cat lovers, and celebrate your slightly odd-ball obsession for the whiskered kind with these must haves for any lady, kitty-crazed or not.
You shouldn't be afraid to admit you're that chump who's obsessed with cats.
Over the last few years the internet has given our kitty compadres a much needed PR boost. No longer associated with being the realm of old maids, cat love is at an all-time high, which means you can now wear your bonkers-cat-lady badge loud and proud, hairball or no hairball.
No more do we have to slump around garden parties dodging pooch poop pretending we think dogs are the superior species. Bah! No more hiding Fluffy's framed picture when you have guests over. No more reading Garfield comics in secret. So rejoice, fellow cat lovers, and embrace your true feelings with these must haves for any lady, kitty-crazed or not.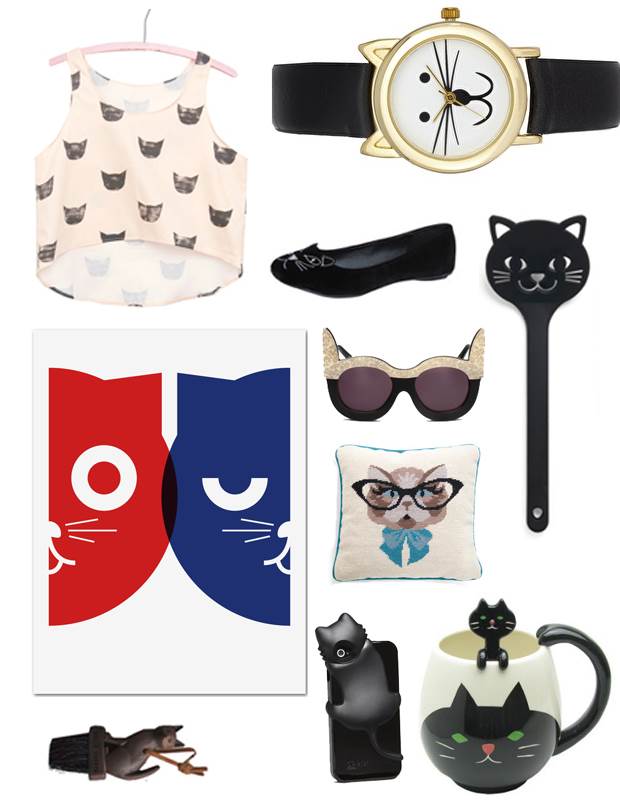 (clockwise from top left)
1. This drifty hand-printed black tank could be the fashion scratching pole to relieve your cat-patterned wardrobe itch.
2. Why, look at the time! Cats may do everything at their own, slinky-slow pace, but that doesn't mean you need to as well. 'Cat time' doesn't always go down as the best excuse for late mornings in the work place.
3. To really become a fully-fledged cat lady, normal utensils are not going to cut it. That's why you may need this pun-tastic 'cat-ula' to whip up your morning breakfast (sardines, please).
4. We're not going to guarantee it, but putting on a pair of whiskered ballet flats might give you the ability to move with a pouncing agility.
5. This retro-inspired needlepoint pillow might look right at home on your couch, but we're guessing you'll have to push your kitty off it to enjoy its wonder.
6. Anyone can pull off standard cat eye sunglasses, but Karen Walker is really taking that whole style quite literally, don't you think?
7. For your morning dose of milk (hopefully with some caffeine inserted), lap out of this coffee cup to start your day correctly.
8. Cats are the ultimate suave photo bombers, popping in and out of snaps like fluffy ghosts. This iPhone case may encourage this occurrence, but who cares as long as they look adorable while doing so?
9. Why do cats just seem to love sitting on our keyboards? The warmth? The comfort? The knowledge they have the ability to disrupt your daily routine with their cuteness? That's why a cat-shaped keyboard duster might come in handy.
10. Proudly display your love of both contemporary art and feline-inspired home decor with this limited edition silkscreen print hanging proudly on your wall.