frankie good stuff 2018 winners
Drum roll, please! We do hereby announce the talented types who won this year's Good Stuff awards.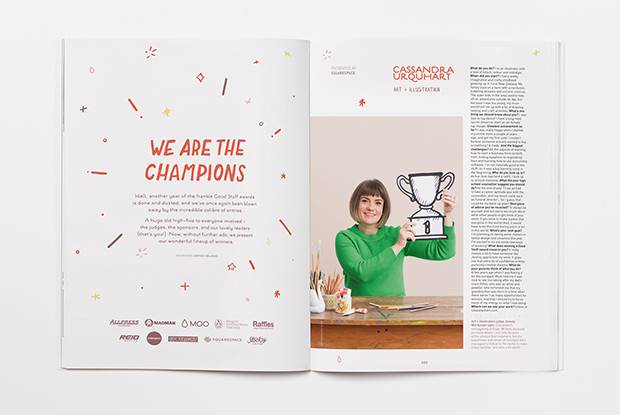 How do you say, "Well done, you're frigging amazing!" to everyone? Because that's what we'd love to tell every single person who entered the 2018 frankie Good Stuff awards. The calibre of entries was the very definition of awesome – but of course, there could only be one winner per category. Here are the talented types who topped the lot.
People's choice: Emily Somers – Bravery Co.
Fashion: Amanda Farncomb
Photography: Nick McKinlay
Writing + podcasts: Taku Mbudzi – Two Words with Taku
Craft: Daisy Watt
Art + illustration: Cassandra Urquhart
Design: Jordan Fleming
Community: Sally Balhorn, Shannon Driscoll and Ruby Watson – Girls Rock! Melbourne
Small business: Emily Somers – Bravery Co.
Music: Greta Rose Stanley
Video: Sarah Firth
In our brand-spanking new issue 83, you can find interviews with all of these lovelies – and, if you pop over to our Good Stuff winners' page, you can take another peek at their wonderful work.
A whopping big thank you again to everyone who entered, our stellar lineup of judges, our rad sponsors and all you folks who voted, too. Have a scroll below to check out some snaps of our winners' shindig at Craft & Co (fancy decorations from Poppies for Grace included!). We can't wait to see all the good stuff that's still to come.