flying solo
Prepare to have a whole lot of feelings when you go travelling without your partner.
Far from solo travel being the solo domain (see what I did there?) of the single-and-ready-to-mingle crowd, it is also a viable option for those who are already one half of a dynamic duo. Maybe your partner's 9-to-5 is preventing them from gallivanting around the world with you; maybe you simply want some coveted 'me time'. Whatever the case, solo travelling while in a relationship is akin to jumping off a cliff: a spark of courage, a flash of euphoria, a flicker of panic… a moment of triumph. Here are the stages that you'll go through when saying bon voyage to your significant other.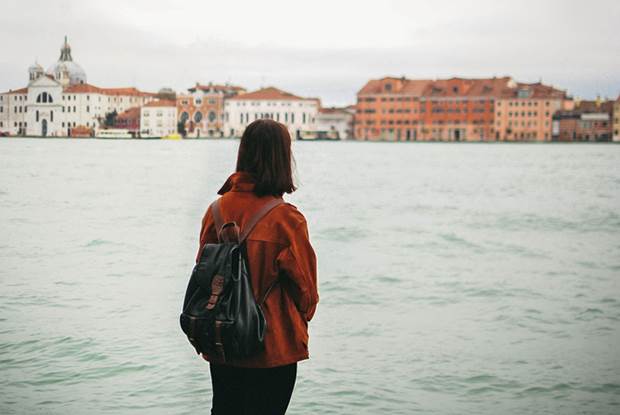 WHY AM I DOING THIS AGAIN? You're at the airport attempting to hold back the tears threatening to burst through the floodgates. You want to channel the persona of an intrepid adventurer, but inside you're desperately fighting the urge to forfeit all of your ambitious travel plans. Do you really want to go trekking in the Amazon jungle? Is seeing the Northern Lights even worth it? Why did you want to do this again? You're a bundle of nerves but, alas, you must bid your partner a teary farewell and hop on that plane. The ticket is non-refundable, after all …
WOOHOO, SOLO TRAVEL IS THE BOMB! Tears? What tears? You're having a blast meeting other spirited travellers and racking up your tally of Facebook friends, which, truth be told, has been stagnant since you left uni and its plethora of after-exams parties. You can't remember what life was like pre-Netflix and Chill, but you are revelling in your newfound freedom and sudden injection of stamina that has you out past 10pm. Whoa, easy now. You WhatsApp your partner to say that you may not call that night because Sigrid, your new Norwegian BFF, has convinced you to stay up for the infamous Reykjavik rúntur, but you'll try your best to send a Snapchat.
BOOHOO, LONG DISTANCE IS HARD You've hit a low, which may very well be due to all of the cheap shots you've consumed within the last week. Your recent burst of energy has vanished and left you with a throbbing headache, and all you want to do is wallow in self-pity in your hostel room, while scrolling through old photos of you and your SO on your phone. As you wander aimlessly through old town piazzas and cobblestoned avenues, you can't help but feel a little envious of the other loved-up, selfie-stick toting couples that look as if they've just stepped out of a Nicholas Sparks novel. Cue the night-time pillow-soaking tears.
I AM STRONG, I AM INVINCIBLE You've penned heartfelt diary entries that you feel could catapult you to Eat, Pray, Love level of fame and composed haikus destined to be compiled into a modern-day love poems anthology. But hang on a minute, y'all – you ain't going to waste this golden opportunity by being miserable and mopey. Life must go on with or without your partner by your side. Look out, world.
BACK TOGETHER AND STRONGER THAN EVER Is it time already? It's been a whirlwind but you've learned just how strong you are, mentally and emotionally, and that perhaps you aren't as directionally challenged as you had first thought. The best part, though, is having someone waiting for you on the other side of those airport security doors, who'll listen (somewhat) patiently to you as you relay all of your travel exploits and who'll sit through your never-ending slideshow of holiday snaps, which, funnily enough, feature a disproportionate number of selfies of you and BFF Sigrid.