five actually good sports movies for people who dislike sports
There's much more to these movies than just bouncing balls and giant scoreboards.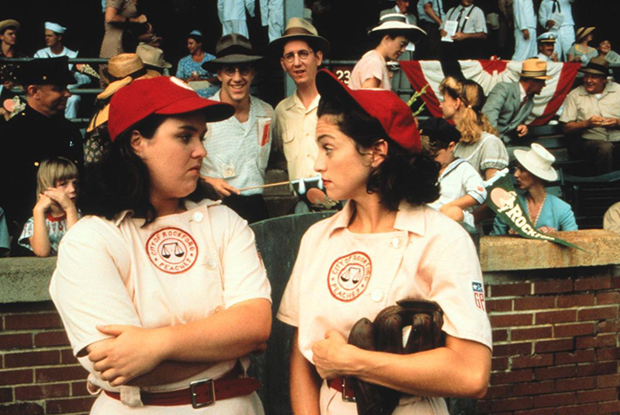 Are you a total noob when it comes to balls bouncing and points being scored using elaborate times-tables? Here are five films to watch when your sports-loving partner/housemate/dog complains that you can't just watch Friday Night Lights again because they've worked out you're only watching it for Riggins' rig.
BEND IT LIKE BECKHAM

Family-friendly sports movies are amazing for easing your sports-hating toes into the seemingly frosty athletic waters (think Cool Runnings and The Mighty Ducks). This 2002 PG-rated little ripper stars Parminder Nagra as Jess, whose strict orthodox Sikh parents won't let her play organised soccer. One day while playing in the park, she's spotted by Jules (Keira Knightley) who convinces Jess to join her semi-professional team. It's part teen romance and part coming-of-age story while gently exploring cultural diversity and soccer's baffling offside rule.



A LEAGUE OF THEIR OWN
As America's involvement in World War II increased, baseball players were conscripted and the country was without a beloved – and much needed – distraction. So in 1943 a candy-bar tycoon (you heard) started the All-American Girls' Professional Baseball League while the men were unavailable. Based on a true story and starring some big names (Geena Davis, Madonna, Rosie O'Donnell, Jon Lovitz and Tom Hanks), this is one of those films people always assume you've seen and then end up screaming "YOU HAVEN'T SEEN IT? IT'S AMAZING!" at the pub.



MONEYBALL

If you need a movie that will keep a total bro (and you, gentle soul) happy, Moneyball is a great bet. It stars Brad Pitt as Billy Beane, the general manager of a struggling baseball team. With very little money to turn their dire circumstances around, Beane joins forces with Peter Brand (Jonah Hill), an Ivy League maths whiz who has worked out the ultimate algorithm (sabermetrics, for the nerds) to find bargain-basement recruits with enormous potential. Moneyball is adapted by Aaron Sorkin and also stars Robin Wright, Chris Pratt and Philip Seymour Hoffman in a heart-warming redemption story.


WHIP IT

One of my favourite things about sports movies are the storylines that go from 'they said I couldn't be this thing but I showed them!' to characters collapsing into a sobbing mess. In Whip It, Ellen Page plays Bliss, whose Texan mother forces her to confirm to a world of beauty pageants and pre-conceived ideas of womanhood. Bliss meets the Hurl Scouts, a roller-derby team, and before long is lying to her mum in order to explore the sport and become the person she wants to be. The film also stars Kristen Wiig, Juliette Lewis, Alia Shawkat and Drew Barrymore in her directorial debut.


I, TONYA

Before anyone flinches at figure skating and poo-poos this recommendation, you should know that the film has been described as "the Goodfellas of sports movies" so shut your hole. Anyway *takes a deep breath*, champion skater Tonya Harding's chief competition was fellow American Olympic hopeful Nancy Kerrigan. Kerrigan is attacked, forcing her to withdraw from the national championship, then Harding's dodgy ex-husband is accused of being involved and it becomes one of the greatest scandals in sports history. Margot Robbie plays Tonya Harding and Allison Janney won the Oscar for Best Supporting Actress in her role as Tonya's demonic and twisted mother with the worst/best '90s hair you'll ever see.