filipino queerness photography exhibition opening + interview
We had a little chat with the shutterbug behind this lovely photography series portraying the LGBTI community in the Philippines (where, in ancient times, queer and trans folks were widely accepted and revered).
Gregory Lorenzutti doesn't know how to describe himself to people. "Being a dancer and photographer most people get confused about that," he explains. "I think I am working on the edges of these worlds." Gregory's latest project is Balimbing – Filipino Queerness, a photo series that documents the queer community in Tacloban City in the Philippines. We asked Greogory a bit about his photographic stylings and the Filipino LGBTI community, who, intriguingly, organise the local Catholic fiesta – from the costumes and choreographies to the creation of the floats. Scroll down to have a read of our chinwag, and, if you happen to be in Melbourne, pop past Temperance Hall (199 Napier Street, South Melbourne) to attend the Balimbing opening night get-together, from 6pm till 8pm tonight. There's also an artist talk from 5pm till 5.30pm, for those of you who like that sort of thing. Be sure to book, though, just over here.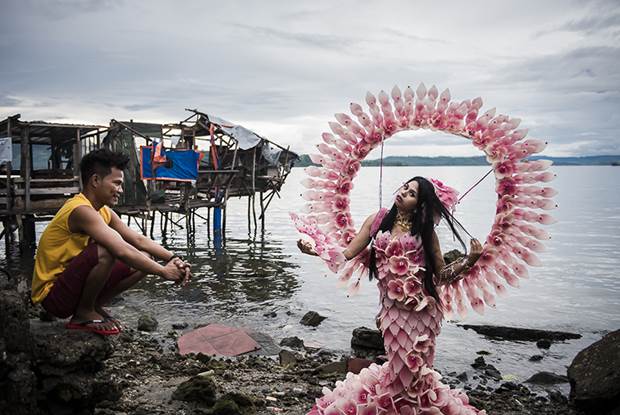 Who are you? Gregory Lorenzutti, dancer and photographer. Born in Brazil and Australian by choice. I carry those two gigantic lands in my heart.
What first inspired you to pick up a camera? As a child my grandfather would walk me through his garden and show me the plants, birds and insects, bringing my attention to the way they interacted with their environment. He dedicated his whole life to taxidermy and the preservation of Brazilian fauna. In a way I feel that this was my first experience of the camera, my first way of thinking through my eyes.
Why did you become interested in documenting the queer community in the Philippines? It was an accident, although I don't believe in accidents. I went to the Philippines to a city called Tacloban to work with performance artists Justin Shoulder and Bhenji Ra. They were working on a commission for the Asian Triennial and needed a photographer. While working there, I observed the textures, colours, tonalities and dynamics of the Filipino people. It happened to be the preparations for the Santo Niño fiesta, where the whole town celebrates their patron saint. I was amazed to learn that the queer community is the creative force behind the event. I felt like I was back in Brazil when I used to dress up and put make up on to parade in Carnival.
So the queer community leads the Catholic fiesta in the community — how does that work? I don't know for sure. In ancient Philippines there was great acceptance of queer and trans people. They held a special place in their communities because they embodied both man and woman, and were therefore seen to be closer to God. Perhaps some of that sacredness carries through even now into post-colonial, Catholic Philippines.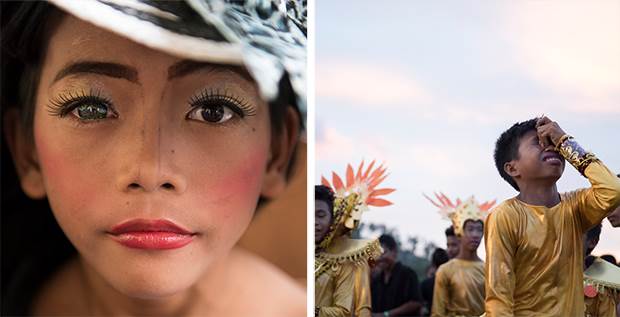 How did you go about developing relationships with the community? It took time, as is the way with documentary photography. I spent long hours walking and listening to people in Tacloban. Somehow I felt they wanted me to know their stories, and as the days and weeks went by I saw similarities to my experience growing up in a small town in Brazil. Then friendships formed and we started sharing. I remember sitting along the typhoon protection wall along the bay (that didn't work when Typhoon Haiyan came in 2013), listening to many stories of love, devastation, family and coming out as gay in the Philippines. Truly heartfelt stories.
What was the best thing about doing this project? There are many things you learn and that change you working on a project like this. Ultimately it showed me that acceptance and generosity can come from the most unexpected places and ways. I met so many incredible people so eager to share their most intimate stories and doing that in such a generous and open way. It made me think a lot about myself and what I am doing with my work. What is the meaning and purpose of it? What can I offer?
And the most challenging thing? To leave the community, come home and experience the privilege of Australia.
What advice would you offer someone getting started in documentary photography? Don't go the easy way. Documentary photography needs time. And be genuine in your interests.
To see more of Greogry's work, pop over here.