dr karl is a little bit shirty
We get the lowdown on Dr. Karl Kruszelnicki's collection of button-downs. (His wife makes all of them!)
For our cosy winter bumper issue (aka issue 84 – on sale now), we got Dr. Karl Kruszelnicki to talks us through his collection of lively shirts.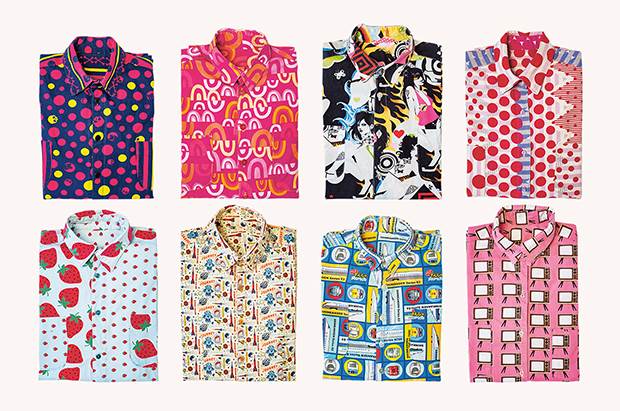 I remember walking through downtown Wollongong in the middle of winter one day when I was a kid. Everybody's face looked unhappy. There was a woman with really bright clothing moving through the crowd, and everywhere she walked she left people smiling behind her. They weren't even necessarily aware of it. That was when I realised you can create a little island of happiness around you by wearing bright clothes.
These days I'm a storyteller, telling stories about science. That's how I make my living. I work for the University of Sydney; I do various things for the ABC; I write books about science; I write for magazines; and I do appearances at schools. My bright shirts are part of my stage clothing – a way to set up a relationship with the audience.
My wife makes all my shirts – very rarely do I buy any. There's one I bought with a man with big knives and a bucket of blood and a dog, which is a great pattern, but the trouble is, it's synthetic and I like cotton; it has short sleeves and I like long sleeves; it has no pockets, I like two pockets for symmetry. I like the sleeves to be long so when I go on stage, I can roll them up as a visual signal to the audience that we're getting down to work. So, the majority of shirts she makes, and she buys the materials, too.
There's a floating population of about 40. They're stage clothing only; too precious to wear in my downtime. Being handmade – they take three hours each on the sewing machine – they will of course wear out, and I don't want to put too much pressure on my wife by wasting them, just wearing them up to the corner shop. Generally, they last between three and 30 wears before they begin to get a bit tired.
There was one shirt I was especially in love with, my shinkansen shirt – the Japanese high-speed bullet train. We bought the material in the Shinjuku railway station in Tokyo. When the shirt wore out at the collar, my wife went to the tremendous effort of unpicking it and putting it on backwards, just so I could get another 20 or so wears out of it. I'm a very lucky boy.
My collection lives on my side of the wardrobe in our bedroom, over two levels – 20 shirts on each level. People have asked me for my old shirts when they wear out, which is a little bit creepy. In general, I tear them up and use them as rags when I'm done with them. It's a shame, but they are worn out, after all.
Colour is an important part of our lives. I think I'm the only person in the University of Sydney with an office that has bright orange walls. I like wearing the bright shirts simply because they can spread happiness in the world around me. Basically, you're born, you live, you die, and if you can leave the world a better place, that's a good thing.
Pick up a copy of frankie issue 84 to check out even more cool stuff, including rad hot chocolate recipes and our hand-drawn puzzle book. Nab a copy here, or subscribe from $10.50.