creature feature
Auckland-based stylist Louise Hilsz swaps high fashion for furry friends.
There's no mistaking a Creatures & Co. portrait: the luminescent, fantastical design; the hyper-saturated florals; the beloved cat, dog or guinea pig looking deeply confused about what's happening to them. Half conceptual prom photo, half '80s t-shirt design, this is Anne Geddes for the four-pawed set – with a healthy dose of magic forest psychedelia thrown in for good measure.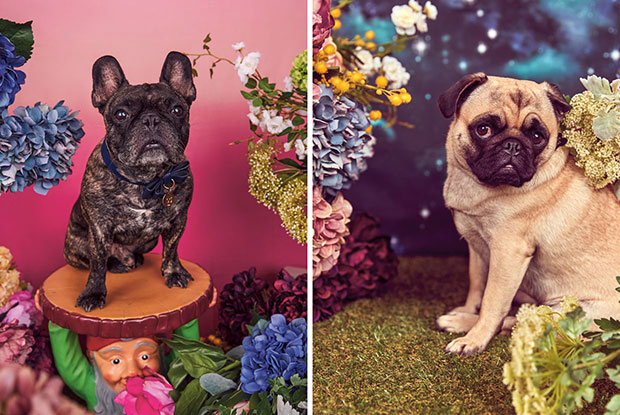 Creatures & Co. is the passion project of Auckland fashion stylist and animal lover Louise Hilsz. "After working as a stylist for so long, I realised the projects I loved the most always involved animals," Louise says. "I thought it would be awesome to do something fun and creative with people's pets."
Drawing on her own personal aesthetic – "My style definitely has a more-is-more approach; I'm always wearing a rainbow of colour" – Louise builds her pet portraits from an ever-expanding collection of faux flowers, astro-turf and kids' bed sheets. ("Professional drop sheets weren't cute enough," she explains.) She works hand-in-hand with a photographer, shooting at friend and collaborator Julia Ford's studio, where the concrete floors apparently come in handy in the case of unexpected accidents.
The project is in many ways inspired by Louise's own beloved dog, Pinky – a 16-year-old, clinically blind chihuahua-shih-tzu cross. "She's a hard subject to photograph these days," Louise says, "as she tends to wander around." So far, Louise has shot creatures great and small, from long-haired guinea pigs to fluffy kittens, dachshunds, exotic shorthair moggies and big, goofy labradors. "I'm looking forward to getting a rabbit booking," she says. Her own rabbit, Munchie, sadly passed before Creatures & Co. began, so a shoot would pay suitable homage: "I adore rabbits, and they'd suit our set so well!"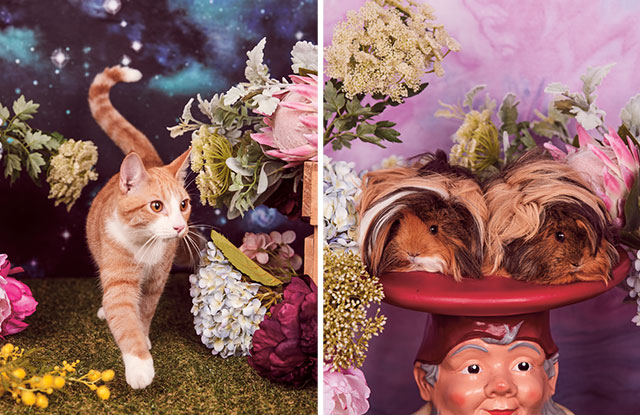 Of course, photographing animals does come with its fair share of idiosyncrasies. Cats, in particular, pose a challenge. "Cats really don't want to sit still," Louise says. "We ended up having to fashion a tunnel so they're basically forced to run towards the camera. It makes for some great action shots." But in general, despite the timeworn adage, she reckons animals are far better creative partners than kids. "With children, you have such a small window before they crack it. Animals actually warm up the longer you spend working with them. Also, they don't cry. Worst case is you get a few barks."
The owners themselves provide their own particular joys – "Those 'manly men' really get into it with their little dogs," Louise says – but the best part of the job is, obviously, the critters, confused as they may be. "You get to spend quality time with a variety of animals and have lots of furry cuddles," she says. "And there's so much laughter on set. It's so different to working on fashion or commercial shoots. This is work filled with love."
As to why people should embrace the world of pet portraiture? Easy. "Pets give us so much unconditional love and joy every day. They don't complain or fight, and all they ask for is basic care and companionship. They definitely deserve to be honoured with a beautiful portrait!"
This story on four-legged portraits can be found in frankie issue 86, on sale now. Nab a copy here, or subscribe from $10.50.