behind the scenes of take this waltz
Here's a special treat for your Wednesday afternoon: an exclusive behind the scenes looksee at the frivolity on the set of Take This Waltz. Costume design wannabes: take note.
Here's a special treat for your Wednesday afternoon: an exclusive behind the scenes looksee at the frivolity on the set of Take This Waltz. It's just come out on DVD and Blu-Ray today and we're pretty excited to pop some popcorn kernels on the stove, sit down with a glass of vino and watch it again (and again). Not only is the soundtrack entirely devised by the stupendous Leonard Cohen (possibly the only 78 year old we'd share a bed with), but Michelle Williams' costumes and the film's set were like a wander through one of our colour-sapped dreams.
So we thought it might be interesting to have a wee chat with their costume designer, Toronto's Lea Carlson. She was kind enough to share some words of pin-pricked advice (and some special snaps) with us from her two decade career. Costume design wannabes: take note.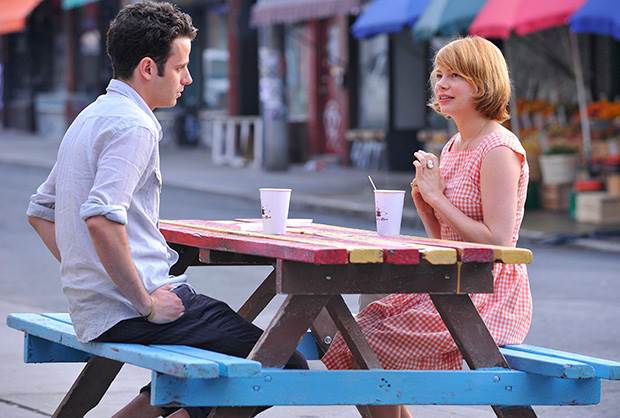 How did you first get into costume design for films? I have been working as a costume designer for about 20 years. I did a BFA in Theatre Design at Concordia University in Montreal. In theatre you usually design both sets and costumes and you're trained to think conceptually about how the design tells the story. I just finished a film called The F Word with Zoe Kazan and Daniel Radcliffe, another film entitled The Colony with Laurence Fishburne, The Tracey Fragments with Ellen Page and Last Night, directed by Don McKellar. I do a lot of independent Canadian features too.
How is designing for films different to designing for fashion collections? As a costume designer you are being mindful of making your actor look attractive and making interesting visual choices but a lot of time the aim is to make the characters seem like real people. The look you want to create is something that expresses the personality of the character and is unique and interesting but not overtly super-cool or fashionable (unless of course that is what that character is all about). I love to find those quirks a character has: a favorite pair of shoes or t-shirt they wear all the time even when it doesn't always go. I think that's what real people do!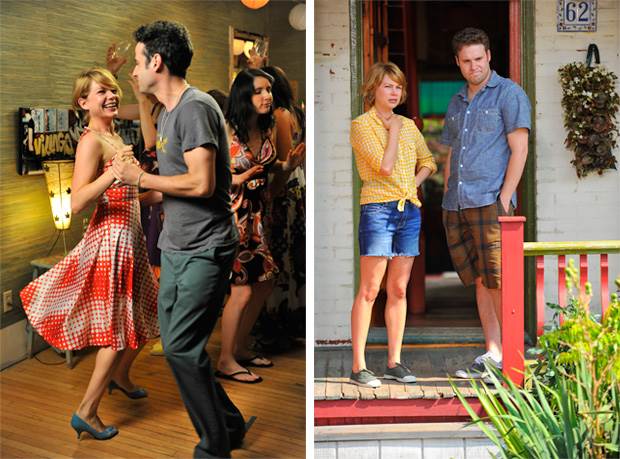 Please take us through the process of creating a wardrobe for a character from concept to completion. I start with the script and conversations with the director. I spend a lot of time doing 'tear sheets', which are basically a process of compiling reference images. I use a pastiche of different things: a combination of photographs, sketches and colour swatches. The next step is to prep for and then have your initial fitting with your actor; usually you have multiple fittings with lead actors, one to find the initial tone and understand how they wear clothing, what looks good on them, and then consecutive fittings to finesse and work out details. Not all directors care about all of the details and think as much as I do: Take This Waltz's director Sarah Polley is one of these directors. During prep, I would often check my inbox first thing in the morning to find Sarah had a thought about some element of Michelle's wardrobe she wanted to tell me about, usually at around 6 a.m. This kind of collaboration is great!
What kind of imagery were you drawing from when designing Michelle Williams' outfits? It was important for Michelle's character to have her own sense of style, although to not appear to be someone who particularly follows fashion. We wanted her to feel like an interesting, unique person but also to feel real and not stand out too much.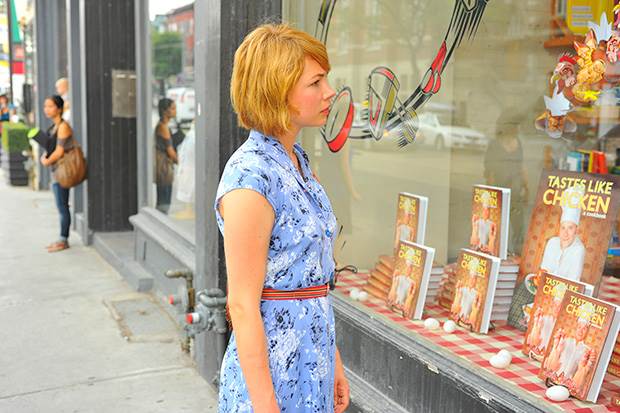 How do you translate a character into a costume? What is the power of clothing when it comes to perception in the cinema? I usually start with a lot of different combinations of looks I feel strongly about and then have other options in case what I'm initially drawn to doesn't work. Then we just keep on going through combinations until you have the eureka moment! Usually something will really click for both myself and the actor and we will realise we've found that character. It's all about storytelling... You're telling a story about that person in that moment in time by the way they dress: how they feel about themselves, whether they are confident or afraid and how they felt on the day when they got dressed in the morning.
Were a lot of the costumes sourced, or were they handmade? I'd say that about half was vintage, half was new. A lot of '60s and '70s t-shirts, shorts, dresses. One of my favourite t-shirts was a striped '80s shirt Michelle wears a couple of times. It's out of my own personal stock and I got it for 25 cents at a garage sale while I was driving through New Brunswick ten years ago.
What were some of the more stressful moments in the costume department during filming? The first time Michelle walked into the costume department to be introduced to me! It was before her first fitting and I wasn't expecting her, and was getting everything organised. She started looking through the racks of everything I had gotten for her and didn't say a peep... I was afraid she hated everything! She came in the next day for her first fitting and told me she was really excited about the things she had seen.
For people wanting to get into costume design, what can you recommend? Personally, I think having a theatre design background gives you a really great foundation. You learn about script analysis and how to conceptualise. You get an overview of art history as well as costume and architectural history and, I think in most programs, you learn a bit about how to do everything: costume building, dyeing, different ways in which to treat fabric in order to achieve certain effects, millinery... And then get as much practical experience as possible. I can't tell you how much time I spent making things on my kitchen floor at home when I first started out. That training and practice working on low/no budget projects is as valuable as going to school.