a very frank conversation with adam j. kurtz
The artist and online therapist of sorts tells us about finding his voice, selling out and how he made the first fan website for The Veronicas.
If you don't already know his name, you've likely seen a piece of Adam J. Kurtz's work out in the world (well, probably on the internet). The Brooklyn-based artist, designer and illustrator's emotionally honest work can have you laughing and crying in the same breath, while soothing your soul in the process – it's no wonder he's unwittingly ended up as a life guru of sorts. We chatted to Adam about finding his artistic voice, selling out and The Veronicas.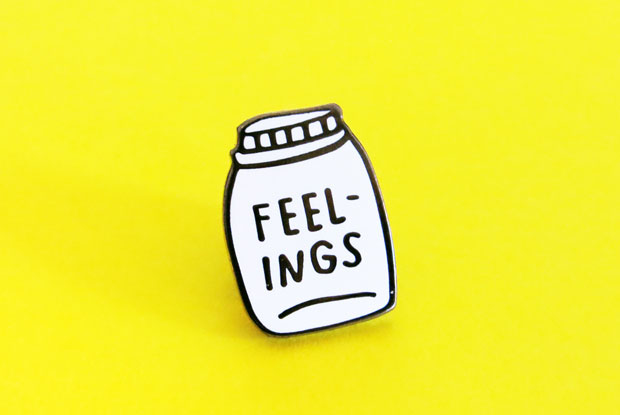 Let's start at the beginning. Did you always want to be an illustrator and artist? I've always been that creative, nerdy kid. I had craft-themed birthdays. Illustration wasn't my strength, but I was building fun websites in the mid-2000s. This is an embarrassing fact, but I was the first person to make a Veronicas fan website in 2005 – the marketing person at Warner Music sent me their single "Forever" early and was like, "You're gay, you'll like this." They were correct.

I studied graphic design and had a series of traditional design roles in internet marketing and traditional advertising. I briefly worked at Buzzfeed and all the while, I was using those same skills to make scenes and postcards. I was on tumblr from the very beginning and slowly built an audience on that website. I was just making work and over time, other people started calling me an illustrator. And then people began paying me for my illustration work.
So are you happy with how it's all turned out? I'm thrilled – I mean, it doesn't feel fair. It's a tremendous privilege to be in a position to have these projects and have people respond. I wanted to do a tarot deck recently, so I launched a Kickstarter. I shipped 200 tarot decks last week! And that was a project that started as a Twitter joke!
Your hand-drawn, text-heavy style is really distinctively yours. Where did that come from? In my early work, I was doing a lot of different styles of design - more traditional stuff or weird typography. Then I was also just using my own handwriting in different ways. Over the years, that has become my visual voice. It allows me to say things, to write statements or aphorisms, and share them online or in my books in a way that tells the reader or viewer right away that this is a human person saying this. It's me speaking to you.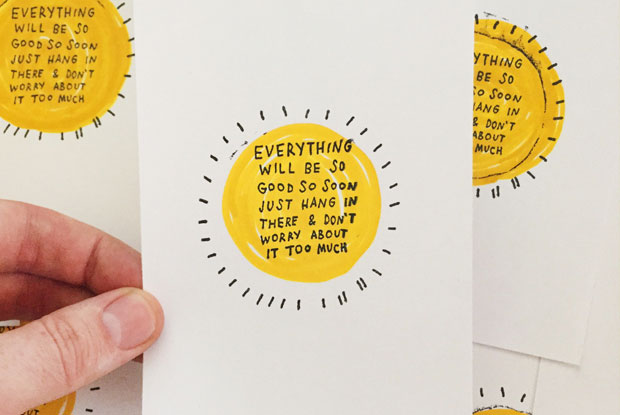 Would you say you had a 'big break' at any point? I keep waiting for my big break. I know that sounds fucked up because I've done quite a lot, and if I take a step back and think about professional accomplishments, I've done very well. You know you have days where you feel like hot shit, you're walking down the street and your hair's perfect, and then your shoe gets stuck in a crack or a bird shits on you. I spoke at a conference in the spring that was so fucking cool, but then I dragged 100 copies of my own book there in my own suitcase and thought, "Shouldn't I be successful enough that someone else is doing this?" There's always that perspective. So yeah, the world's largest publisher publishes me, but I'm also one of the least relevant authors in their illustrator roster.
A lot of your work is very uplifting, very honest, and touches on quite emotional stuff. What is it about that that appeals to you? Most of the time, it's just me talking to myself and I'm someone who needs to be reminded of those things. I need to be encouraged to not be super-fucking depressed. But I do need it to come with a little knife twist at the end. I'm never writing, "Have a great day, smile big at a cat!" It's not sickly sweet. Humour is everything. Laughter is the best medicine, but so is medicine. I have drawings of antidepressants and mood stabilizers - my point is basically, "Hey kids, take your meds."
How do you draw the line between stuff that's going to be depressing and stuff that's going to make someone laugh? I don't know! I try to write the way I speak, and I try to speak at a conference the way I would speak to a friend. Of course, it's a bit more manic, because I'm on stage with a microphone, so it's bigger. But I'm just trying to keep it real. Authenticity matters. If I think it's gross, I just won't do it.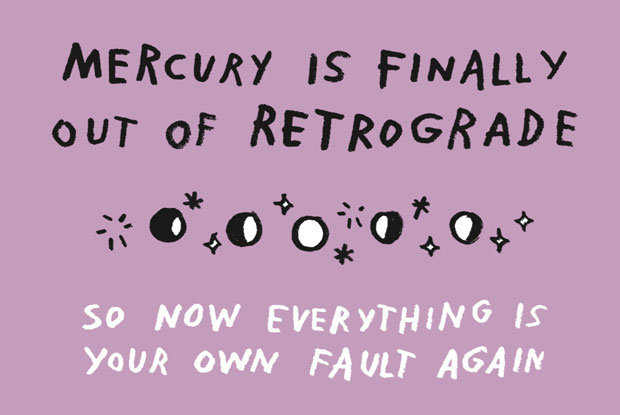 What are some important lessons you've learned in your art career? Despite what I just said, we need to let go of the idea of selling out. At a certain point, you're missing out on opportunities. I've learned that huge companies like Adobe are made up of individual people who are human beings just like you, who like what you're doing, who want to support you. I've gotten well-paid jobs because the right person was at the right company, and had access to the budget. And that's really cool! I don't think that's selling out. That said, if Donald Trump asks you to redesign his branding, don't do that. But if Microsoft wants you to do a tote bag, do a tote bag. Why not? I just think young people need to be a little bit more critical and understanding of how the world actually works and how things happen.
That's a solid piece of advice. As I get older, I just remember that everything is a business, including me. I think financial literacy is important. The second you do any freelance work, you are now a business, so you need to think strategically about that. Reach out to an accountant if you need to; save your receipts for expenses.

I get the sense that lot of people see you as a bit of a life guru. The stuff you create touches people really deeply. How do you feel about that? Part of me deserves it, because I started doing my annual planner, Unsolicited Advice, and I also wrote an advice column for Design Sponge, and an illustration blog years ago. So I brought it on myself. But I also want to remind people that advice is subjective: you might hate it, and making a book doesn't make me an expert. Through speaking and book tour events, I have realised that people have this connection because I make participatory work that people can fill in. When people say One Page At a Time really helped them, what they're saying is journaling helped them. It's easy to contextualise that as 'you helped yourself'. It's not about me at all.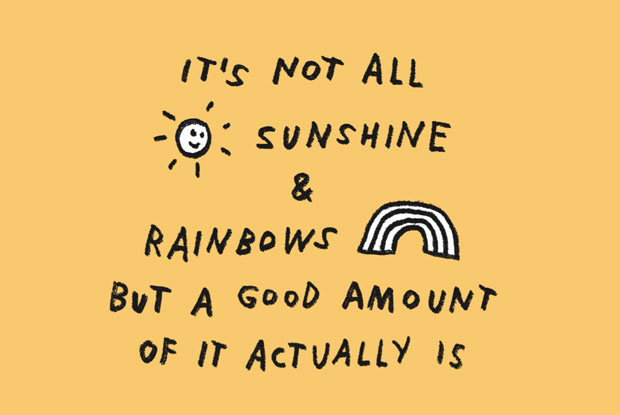 Do you have a creative mentor or a hero? The hero of my life is Alanis Morissette – she's my all-time hero forever. All of Jagged Little Pill is a 19-year-old being blunt and direct. It sold 38 million records and empowered so many women and young people in the mid-'90s and represented a totally different way of thinking. There are so many words in there – this is someone who had so much to say and found the perfect vehicle for it. And the words get stuck in your head. That's why I find her so inspiring – she has given us words for emotions that we maybe wouldn't have had before, and they stick with us forever. It's cool to think that you can give someone a few words or tools and they'll go and do something with them. 
Is there anything that bums you out about being creative these days? Social media is a tricky place for a number of reasons. I mean, you want to share your work – that's how you find an audience and fans. In many cases, those people are your direct customers and you get to skip the industry gatekeepers. But you're also just putting your work out there and you don't know what will happen. Inevitably, a brand in another country will swipe up your illustration and mass-produce it on a t-shirt. 
Do do you have a personal mantra? My personal mantra is 'things are what you make of them'. That's our gift as creative people: we can do what we can with what we have. With just pencil and paper, you can write an entire book. I have to remember that something cool can grow out of great sadness, despair or uncertainty. We have the magical ability to transmute our identity, our experiences, and our hardships into something special for others, or just for ourselves to use as coping mechanisms.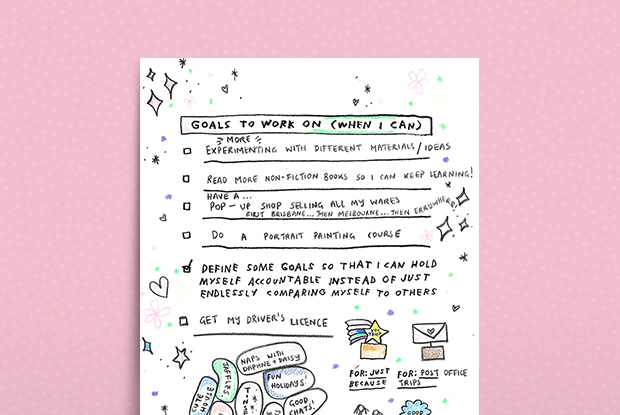 We spoke to Adam at the Adobe MAX conference in Los Angeles. We're also stoked that Adam has designed a tear-out goals card for us to keep track of our year. You can find it in frankie issue 87, on sale now. Nab a copy here, or subscribe from $10.50.