a lovely little chinwag with… chromat
When Marvel asked Chromat to design an outfit for their Black Panther fashion show, they knew they had to use Ankara, a traditional Nigerian block-printed fabric – and call in a little help from Mum.
No matter how accomplished you are, you can always use a little help from your parents. Just ask designer Tolu Aremu from Chromat. When Marvel asked the architecturally inspired label to whip up an outfit for the Black Panther show at New York Fashion Week, the first person Tolu reached out to was her own superhero – her mum. We asked the super-talented Tolu and Chromat's founder Becca McCharen-Tran how their eye-popping creation came together – and how pieces like these are dismantling the European beauty ideals that permeate the industry.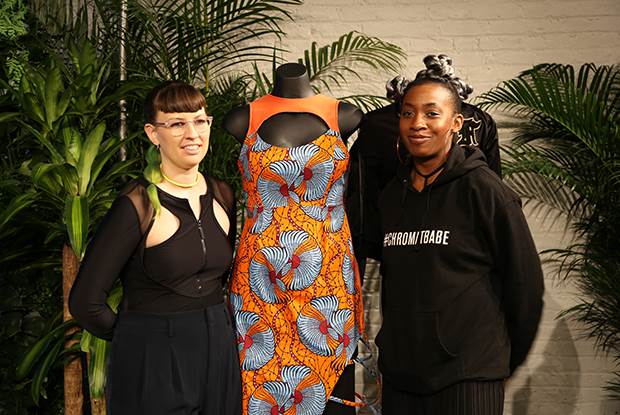 Chromat ladies Becca (left) and Tolu (right).
Tell us a bit about your design process. Tolu Aremu: The starting point for me was my mum. As soon as we talked about Black Panther, I thought, OK, what's the fabric? Ankara. Immediately I called my mum. I was like, "Mum, we're doing this thing," and she was like, "What?" She reached out to her cousin in Nigeria who sent us a bunch of Ankara to choose from. Then seeing the film and the technology behind it just made it more impactful and powerful – and seeing all the strong black women that are in the film. Chromat is known for being unapologetic, strong women, so I feel like this collaboration between these three things flow very seamlessly together.
Chromat is an architecturally inspired fashion label. You use architecture to augment the body, for example. In what way does that come through in this design? Becca McCharen-Tran: I first started Chromat back in 2010. I was working as an architect and experimenting after work with corsetry and different ways to create scaffolding for the body, so that structural language is the foundation of everything we do now. We're always thinking about the body's structure and connecting moving points. The look that we have designed today incorporates that structural cage element in the skirt.
How does Black Panther and seeing an African superhero in mainstream culture change the world for you? Tolu: It really didn't change my world, because Africans have always been superheroes in my mind. I'm Nigerian. But I think it definitely shined a light on a world that people just didn't think existed. People didn't think that Africa could be this rich or cultural or as vibrant as we are. It's important for people to know we're not just barefoot running in the wild.
Would you say it has a political meaning for you as well? Becca: The movie really touches on the politics of the US today. Michael B. Jordan's character, for example, is seeking revenge. This country is based on white supremacy. Even in fashion you still see the heritage of white supremacy in the Eurocentric beauty ideals. So I think with projects like this, merging Black Panther and fashion, we're able to break down the beauty ideals and hopefully break down the barriers of white supremacy that are still entrenched in the industry.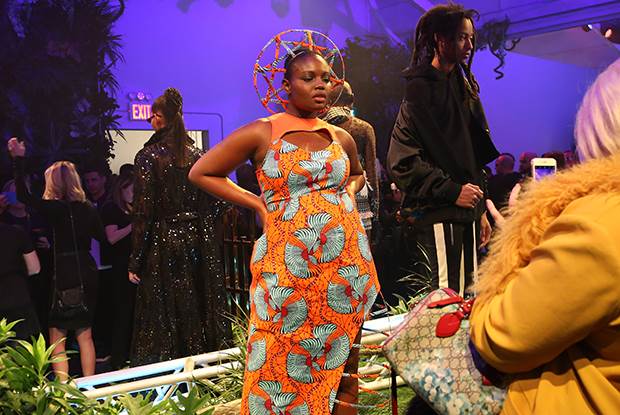 Chromat's creation at the Black Panther fashion show, Welcome to Wakanda.
Do you think that you've changed in any way as a designer through the work that you've done on this piece? Tolu: Not really. I feel like Ankara in my design aesthetic has always been a thing. If anything, it made me feel like a stronger African designer after finishing this piece. And I feel like now is a time to be very unapologetic and very African, because the light is on us, so you have to shine.
Tell us a little bit more about Ankara. Tolu: It's a Nigerian textile. It's essentially a stiff fabric that's block-printed in all these different, fun, colourful patterns and prints. When you get married you have your traditional Ankara. When I get married, everybody will wearing the same Ankara, because the bride picks it. It's a traditional fabric that you always see in our culture – and throughout Black Panther, too.
How was this fabric printed? Tolu: My mum's cousin printed it in Nigeria.
Artists' and designers' mums are the unsung heroes of everything that we do. Tolu: Absolutely. We've been working on this dress for the past 24 hours, so when I came home, I was exhausted. My mum, who's in town, said, "Do you need anything?" I said, "No, I think I'm going to go to sleep." And she was at my door with breakfast and my laundry that she'd washed. I was like, "What's wrong with you?" [laughs] I was going to cry. Becca: She's going to be at the runway show tonight. Tolu's whole family came for this event.
Anything else you'd like to tell us about this design and this opportunity? Tolu: Just that it's been an honour and a privilege to be any part of this film, Black Panther, whether that's designing this look, going to the film, falling in love with Michael B. Jordan – whatever contribution we can make is really awesome. This is a movie that's shining a light on Africans in a beautiful way.
Black Panther is in cinemas now.
See more cool digs from Chromat just over here.
Snaps by Mia Timpano.