a little chat with reba brammer, nike footwear designer
'Nike footwear designer' is a pretty dreamy job title, but it's one Toowoomba lass Reba Brammer gets to live out every day.
'Nike footwear designer' is a pretty dreamy job title, but it's one Reba Brammer gets to live out every day. The Toowoomba native spends her time experimenting with sneaker design as part of a small and collaborative team, and we sat down with her to find out how she made this her reality.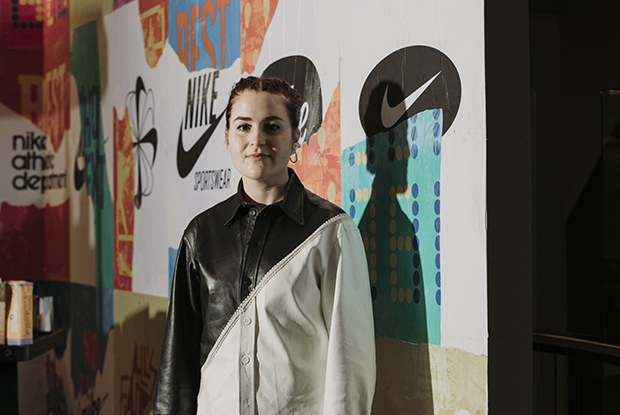 Have you always been into shoes and sneakers? I always loved shoes when I was younger, and I had two older brothers who were surfers and skaters, so I was always interested in sneakers. I come from a family of architects, so 3D design was always really natural for me. I wanted to design shoes, but I couldn't do it in Brisbane.
Talk me through your path from Queensland to working in fashion capitals like Paris and London. What steps did you take to get there? I worked for a stylist in Sydney for a bit, Virginia Van Heythuysen, but I always knew I wanted to go overseas and speak another language. So, I saved up all my money, went to Paris and became an au pair for a really rich family with five children.
I loved Paris, but the job didn't work out, so I came back to Australia and studied architecture. But I wanted to do something different to my family, so I applied for this shoe school in France and got in. I knew I wanted to go back to Paris; I never really wanted to leave, and felt really connected to their culture and way of thinking. I did this really intense three-month course with like seven French girls who lived together in a house. We had to make shoes from scratch, and it was such an amazing experience. I learned how to make shoes with fashion designer Robert Clergerie for a while, then I worked in a really small shoe studio. The creative director there actually does most of Adidas's collaborations, and like, Dior, but he had this smaller brand on the side.
What an amazing experience. What happened next? Then I got offered a job with luxury footwear designer Pierre Hardy – he was the creator of Hermès – but my visa didn't go through. It was devastating. I was like, "Well, I have to get experience somewhere," and I knew I could get the two-year British visa. So I went to London and basically started from scratch again; went back to working in restaurants. I couldn't get any work. Finally, I got an opportunity with set designer Robert Storey, and we did stuff for Nike, Wallpaper* magazine, and major brands like Louis Vuitton.
So how did you weave your way back to working with shoes? It was really random. This girl contacted me from Jimmy Choo one day and was like, "Oh, we're looking for a junior designer." She'd heard of me through a Paris contact. I love high heels – it's like architecture for the feet, which I think is amazing. I got the position, but still wanted to work somewhere sport-focused. I met this guy who was basically shoe director at Burberry, and sent through my CV. He was like, "Oh yeah, I'll put you in contact with Nike and Adidas." And Nike called me the next day. It was a long journey to get there, and I think Mum and Dad were a bit nervous!
You've been working for Nike for four years now. What was the transition like, moving from designing fairly dressy shoes to sneakers? At the crux of it, sneaker manufacturing is actually very similar to 'brown shoe' design. The upper creation is very similar – it's more when you get to the tooling, which is the sole, that things change a lot. There's foams and different compounds that create a performance shoe, and it's something fashion houses can't do. You could pick up a Prada shoe and it's so heavy, because they do a fully rubber mould and don't have the facilities we do – Nike has access to so many machines. But really, the manufacturing of the shoes isn't that different, except that obviously, in Europe, their level of craftsmanship is a lot higher when it comes to leather.
When you're experimenting with shoe design, trying to come up with new ideas, what would you be playing with? Project to project, it changes. If you're working with an existing shoe, you look into its history and try to understand where it came from and always connect to that. In any fashion house, you're always referencing back to an archive, even if it's not obvious. When we're building it from scratch, usually we're going after a function, an emotion or a story, so we always go away and try to do very broad research away from footwear. We're looking at architecture, food, change in cities, and youth culture. The way different creatives think. We play with all the different features. Our team is definitely trying to find a deeper meaning, even if the consumer never knows. I think it creates a better product. The cool thing about shoes is you have a direct impact on the consumer, because they wear them all day long.
Could you talk me through some of the collaboration projects you've worked on with Nike? How do you guys choose which designers to work with? The brand team chooses who we're going to work with, but we also submit people we're interested in. I'm constantly looking on Instagram. Working with Martine Rose was amazing, because she's the creative director of Balenciaga for menswear, and has her own label. She's a very intelligent woman and has a really interesting point of view. The whole process was very collaborative and it felt like we were really working together. Every collaboration is different, though. Sometimes we do something that's more superficial and sometimes it's actually sculptural. We might cut the entire shoe up and start again. That's when you stop looking at them like shoes, and they become a piece of art.
Is there something that you're most proud of from your time working at Nike? The recent Sacai project was really good. It was released on the runway and they were really happy. The Ten was also a great project, because it really pushed Nike in a new direction. It's exciting when you actually make a change within the brand – you feel like you're having a big impact.
So, are your brothers pretty impressed with what you do now? Yeah, I always try to bring them home some sneakers. I have a nephew and he's obsessed with shoes. He has the coolest shoe collection. When he goes for nap time at preschool, he won't take his shoes off.
Do you have any advice for young designers who want to get into designing sneakers? Never give up. I'm not going to say that my path was easy, because it really wasn't, but I think Australians have a real tenacity about them, and they're very hard workers. The more you can meet with people, that's what can open doors. When it's hard and you feel like it's not gonna happen, just try to keep pushing forward. Go where you need to go, and don't be too safe.