a brief interlude with… couture legend sophie theallet
"Fashion designers have become celebrities, but it's not our purpose. Our purpose is to make clothes."
Some designers are bloody awesome people, as well as being super-skilled at making amazing-looking stuff. Sophie Theallet is one such designer. The French lady learned her craft with the likes of Jean-Paul Gaultier and Azzedine Alaïa, before launching her eponymous label and collaborating on The Dressmaker. We caught up with Sophie at Marvel's Black Panther New York Fashion Week show to chat about the African-inspired dress she made for the event, and what every aspiring designer needs to know.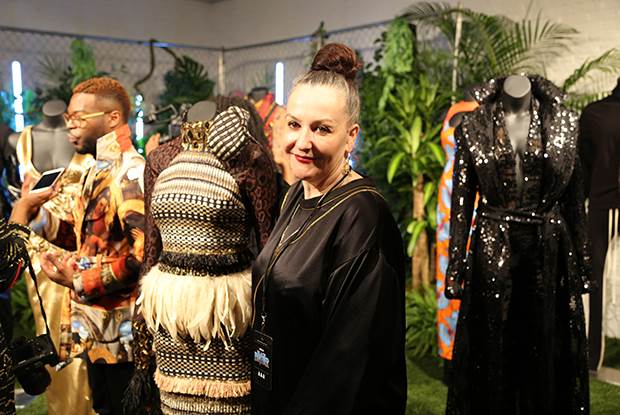 How did you get involved with the Black Panther fashion show? I received a phone call from Marvel and they asked me if I wanted to be part of it, because I stand for diversity. Of course, I jumped for joy because I think this is an historical moment. I think it's so important to understand that our world is diverse. And that's beautiful. We need to love each other and respect all the cultures in the world.
What inspired your design? I wanted to show the beauty of the craft, because in Africa you have incredible craftsmanship – it's part of the DNA of African cultures. The way that people dress is very beautiful and elegant. So I did an interpretation of my love and respect for African cultures.
You've had an incredible career. You were the couture consultant for The Dressmaker. I worked directly with Jocelyn and PJ, because they are friends of mine and I love them. I was introduced to them by a friend of mine, an actor. I also worked with Kate Winslet. She came to my atelier in New York to get the vibe. The story of that movie is very touching and sad, but there's also something beautiful about it. When I do a project or collaborate with movies, it really needs to have a connection directly with my heart.
What advice do you have for aspiring designers? When I started I really wanted to learn my job and my craft from the best, so I worked with Jean-Paul Gaultier. Afterwards I worked Mr Alaïa, and I was his right hand for 10 years. I know that learning from him was the right choice for me, because he was beyond fashion – he totally immersed me in the world of couture. For me, he was the last couturier. When I look at the fashion world today I feel very sad that people are looking for celebrity – they are not looking for the purpose of what it is to be a fashion designer: to dress people, and to make people look beautiful. It's not about you being on 'the scene' and being a celebrity. Fashion designers have become celebrities, OK, but it's not our purpose. Our purpose is to make clothes.
Black Panther is in cinemas now.