take a tour of tokyo's colourful bathhouses
Public bathhouses, known as sento, have long been a fixture of Japanese neighbourhoods. Back before people had showers in their homes, they'd simply pop down to the local bath for a daily soak and chit-chat. These days, sentos are an affordable place for anyone – from families to elderly folks – to relax and catch up with pals. If you've ever had the chance to duck into one, you'll also know they feature some pretty incredible murals. To learn more about their awesome history, we caught up with Stephanie Crohin, Japan's first sento ambassador and a frequent documenter of bathhouses in Tokyo and beyond.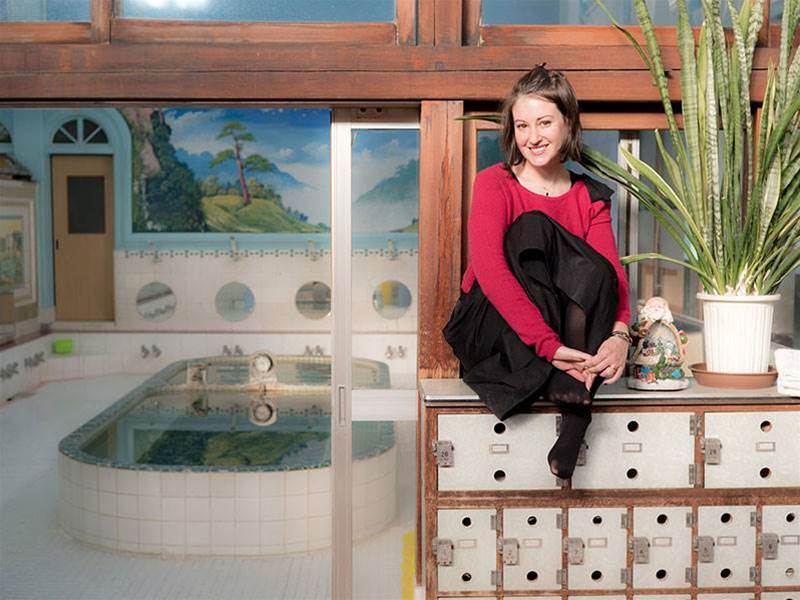 Hi Stephanie, tell us how you ended up in Tokyo. I was studying Japanese literature at a university in France, then in 2008, I came to Rikkyo University in Tokyo as an exchange student. After that, I worked in Djibouti on the construction of navy ships for Japanese defence forces – very different work! I came back to Tokyo in 2012 and have worked lots of different jobs, including in marketing for beauty companies. I'm now a freelance sento journalist.
What was your first experience in a sento like? When I was an exchange student, my friend invited me to one. I fell in love! I didn't know exactly what a sento was, but when I went in, I thought it was so cool. I really liked the people – they were very gentle and talked to me even though I wasn't fluent in Japanese yet. I would visit the sento every week and little by little, I felt less like a gaijin (foreigner) and more like a part of the community.

When I came back to Japan a few years later, I found my new job so stressful that I was wondering whether I would even stay in Japan or not. But then I remembered the sento. I would go to work with negative feelings, but knew I had my sento time at night. I'd go and forget all of my stresses and just chat with people in the bath. If there were no sentos, I probably wouldn't have stayed in Japan.


Matsunoyu in Waseda, Tokyo

Can you briefly describe the process of going to a sento? You can bring your own supplies like body gel, shampoo and a towel or just rent or buy it there for not much money. When you enter, you put your shoes in a locker, then pay an entrance fee (in Tokyo the fee for all sentos is 470 yen). The baths are divided by gender – if you can't understand the signs, just ask, but generally the sign for the guy's room is blue and the lady's is red. You'll then get to an area where you undress and put all your belongings in a locker. You only take a small towel with you to the bathroom where you'll need to wash yourself carefully at a shower booth. Afterwards, you can enjoy all the baths inside.

Did you ever feel shy about being naked around other people in the bath? Only for five minutes, then you realise that nobody cares. There's no body negativity – you see real bodies, not like the unrealistic ones in the media, so it's very cool. Being naked there feels more natural than wearing a swimsuit at the beach where everyone looks at you.

What led you to become a sento ambassador? When I moved to Japan, I would spend an hour in the bathhouse every night after work, then another two hours chatting at the front desk and having a drink with the owner and other sento-goers. It quickly became my second home. I would talk to the owners and find out the reality of the business. During one year, 40 sentos closed in Tokyo and the number is steadily increasing. I felt so sad because these places carry such unique stories.

I wanted to do a tiny thing for sentos, so I began to visit more and more everywhere I travelled and documented it online every weekend. People found me pretty quickly, I got interviewed and more people wanted to know about sentos. To thank me for my work, the sento organisation in Japan asked me to become an ambassador in 2015.
Unsuisen in Arakawa, Tokyo

What do you love most about sentos? For me, the three charms of the sento are: beauty and health, community and art. They're one place you can relax and speak with people, and you can also see some beautiful murals. Sentos are a national treasure, so I want to help them as much as I can. In many cases, you have the fourth generation of a family still running the sento – there's even one that's owned by a tenth generation family member (Akibono-yu in Funabori, Tokyo).

What's the story behind the murals? All murals have different stories. I've been to more than 1000 sentos and each of them have different decorations. There are many murals of Mount Fuji in sentos in the Kanto region because you can see Mount Fuji from there. But if you go to Kagoshima for example, you may see murals of Sakurajima instead (one of Japan's most active volcanoes). Sentos that were renovated in the '80s tend to have over-the-top European landscape art, which was trendy then. There is one place called Hakusan Yokujo in Bunkyo-ku in Tokyo that I love – it has this tile art I haven't seen in other places. The owner who is around 80-years-old said the art was based on a drawing his mother did.

Can you tell us a little about sento history? Sentos were very common in the Edo period. People went there to wash themselves on a daily basis because they didn't have places to do that at home. During the Showa period, the sento changed little by little into the sento we now know. Fifty years ago, you could find more than 2000 sentos in Tokyo, but now there are only a little more than 500. In the whole of Japan, there are only around 2600 sentos. Some sentos are like a time capsule – they have antique posters and objects from long ago.

STEPHANIE'S TOP TIPS FOR TOKYO
Travel is off-limits at the moment, but that doesn't mean you can't stash these handy tips in your back pocket for when the time is right.
What's the best place to go vintage shopping? I love antique things and would recommend the Nishi-Ogikubo area for ceramics, furniture and other little things. It's a really fun place with many coffee shops. For vintage clothing, try the Jiyugaoka neighbourhood. It's great for vintage clothing and independent fashion shops, and has lots of cafes, too.

Where would you take a friend on a day off? I would bring my friends to Shibamata. It's a nice place to have a walk, get coffee and see a nice temple. I'd also bring them to the Kiyosumi Shirakawa area where my favourite garden in Tokyo is – Kiyosumi Teien – as well as the lovely Yamamoto-tei, a traditional Japanese house.
 

 

View this post on Instagram

 
What are the best museums to check out? The National Museum of Modern Art, Tokyo, and Fukagawa Edo museum are must-sees.

What are your favourite festivals? Some no Komochi each year in Nakai, Tokyo, where colourful cloth is hung over the river. Minami Ikebukuro park is beautiful during cherry blossom season, too.
 

 

View this post on Instagram

 
What are some of your favourite cafes? Re:gendo in Suginami, Meu Nota (also in Suginami) and 珈琲木の実 in Nishioiwa. I have an Instagram story with many cafe highlights if you're curious.  
Any other tips? Tokyo is a nice place to wander around. If it's your first time, you can go to Shibuya, Shinjuku and Asakusa, but don't spend too much time there. Go to small areas – those big areas are only 20 per cent of the city. People think Tokyo is super-busy and all skyscrapers, but I live in a quiet part of Shinjuku where the buildings are only four stories tall. From my window, you only see green. I much prefer this local side of Tokyo.

For a bigger list of bathhouses, stop by Stephanie's website Dokomo Sento.

This article was made with the help of our buds from Tokyo Tourism. It's a tricky time for many cities, but Tokyoites are working together to practice social distancing measures and are being hyper-vigilant to prevent the spread of infection. For English-language information on COVID-19 in Tokyo, head here.