frankie fast facts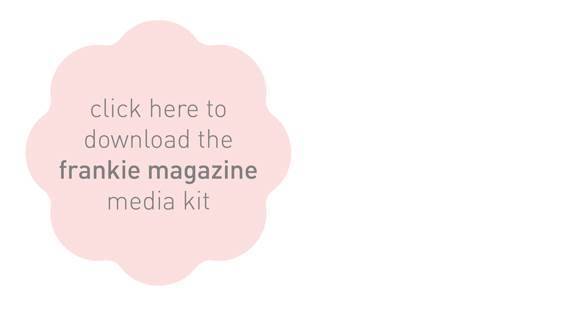 • 238,000+
readership (Roy Morgan Dec 2021)
frankie snapshot
• Frequency: 6 issues per year (Bi-monthly)
• Cover Price: $12.95
• Content: design, art, photography, fashion, travel, music, craft, home, life

• frankie.com.au average pageviews per month*: 202,000+
• frankie.com.au average unique users per month*: 84,000+

• Weekly e-newsletter subscribers: 77,000+
• e-newsletter open rate: 25%

• Facebook followers: 356,000+
• Twitter followers: 68,000+
• Instagram followers: 262,000+
• Pinterest followers: 29,000+
*SOURCE: GOOGLE ANALYTICS. BASED ON SIX MONTH AVERAGE.
who are frankie readers?
• Core Target: an exclusive group of creative and independent
20-35 year olds, majority female
• They like fashion, clever design, music, photography, diy and real-life stories
• Educated & engaged with the world
• Incredibly loyal - 89% have been reading frankie for more than a year
why advertise in frankie?
• 70% of readers have purchased something after seeing it in frankie
• 94% have visited a website after seeing it in frankie
• Exclusive advertising environment – 70% editorial / 30% advertising
• frankie isn't just a magazine – it's a community. When you advertise
with frankie, you associate with the power of the brand

SOURCE: FRANKIE READER SURVEY 2015. 4,781 READERS RESPONDED TO THE SURVEY.

high fives for frankie
• Mumbrella Publish Awards 2021
winner: frankie Strictly Business, best publisher-led advertising campaign
• Mumbrella Publish Awards 2020
winner: sophie kalagas, editor of the year - consumer/custom
• Mumbrella Publish Awards 2020
finalist: caitlin wynne, designer of the year
• Mumbrella Publish Awards 2020
finalist: frankie Strictly Business, newsletter of the year
• Mumbrella Publish Awards 2018
winner: consumer magazine of the year - small publisher
• Mumbrella Publish Awards 2018
winner: aimee carruthers, designer of the year
• Australian Magazine Awards 2017
winner: aimee carruthers, designer of the year
• Publish Awards 2016
finalist: consumer magazine of the year (above 20,000 circ)
• Australian Magazine Awards 2015
finalist: magazine brand of the year
• Australian Magazine Awards 2014
winner: fashion magazine of the year
finalist: magazine of the year
• Australian Magazine Awards 2013
winner: magazine of the year
winner: fashion magazine of the year
• Australian Magazine Awards 2012
winner: magazine of the year
winner: fashion magazine of the year
frankie contacts
partnerships manager
molly condon
molly@frankiepress.com.au
0424 218 955
partnerships manager
claire mullins
claire.mullins@frankiepress.com.au
0433 796 247