waste-free living with activist erin rhoads
We chat to 'The Rogue Ginger' about everyday ways to reduce our impact on the environment, and the benefit of homemade beauty products (recipes included). 
Reducing our impact on the environment doesn't just stop at single-use plastic bags. As we found out during our chat with Erin Rhoads, the crafty lady behind eco blog The Rogue Ginger and author of Waste Not: Make a difference by throwing away less, there's a lot more to living a low-waste life. We talked to Erin about becoming less dependent on plastic and how homemade beauty products can help.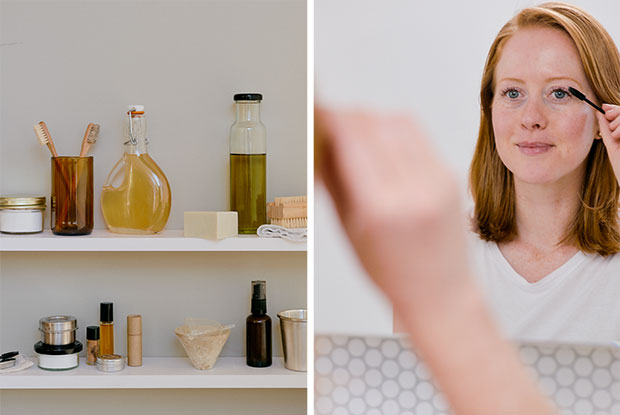 Image by Gavin Green and Hardie Grant Publishing.
How did The Rogue Ginger begin? My website originally started as a travel blog in 2013. On a recommendation from my sister, I watched my first eco documentary, The Clean Bin Project. This was a wake-up call to the devastating effects plastic has on everything around us, turning up in our environment, entangling marine life, entering the food chain, polluting the water and our bodies.
I began to wonder about my indirect contribution to this issue of plastic waste and decided I wanted to do something. I participated in Plastic-Free July and used my blog to track my month-long challenge. From this one challenge, I was able to reduce plastic while also eating healthier, saving money and supporting my local community.
These knock-on effects helped me make the decision to continue reducing the plastic in my life beyond July. Over time, the amount of rubbish I was creating reduced to virtually nothing and this is when I found out about the zero-waste life. Soon I had people asking me to give talks and write articles sharing how I made the switch. I don't feel like an expert, just a passionate citizen.
Where would you recommend a beginner start on their waste-free journey? Start with the common plastics: swap plastic bags for a cloth bag, say no to plastic straws, sit in and enjoy your coffee rather than getting a plastic takeaway coffee cup (don't be fooled into thinking your coffee cup is paper, most are lined with plastic!) and carry a reusable water bottle.
Start composting, create a worm farm and be savvy with your food scraps. Buy locally made blocks of soap for washing and shaving, rather than packaged bottle soap. Use washcloths made of natural fibres that can be composted. So many of these simple swaps were common in homes 50 years ago and will not only reduce waste but also save you money. Once you are feeling more confident, do an audit of your bin to understand what you are throwing away the most.
What are some ways we can reduce our environmental impact in the bathroom? In 2008, the cosmetics industry created over 120 billion units of packaging. Of these 120 billion units, 48 billion were plastic and most of it was sent to landfill. The cosmetic industry has only grown in the past decade, so now is a good time to pare back on what you need. Find one product that has multiple uses. I use sunflower oil bought from my local bulk food store to moisturise my face and under eyes, in the ends of my hair as a conditioner and on my body.
What are your tips for making your own beauty products? Before rushing out to buy ingredients, look in your pantry to see what you have. Oils, sugar, oats, honey, apple cider vinegar, citrus, bicarbonate soda and salt are a few you could use. Don't forget to have a peek in your garden for herbs and flowers too. Before recycling your used beauty packaging, hold onto it to reuse for your own home made balms, scrubs and even makeup.
My favourite DIYs include mixing tapioca flour (or arrowroot) with carob (or cocoa) to make a dry shampoo. Tapioca flour is also the base for my eyebrow powder, which is combined with turmeric, carob and cinnamon. Tapioca is my go-to face powder to reduce shine. No one knows that I'm wearing or using food on my face either!
What are the advantages of DIY products? Making my own beauty products means I can control the portions and tailor it to suit my skin. I know exactly what is going onto my body without having to decipher long chemical names and choosing ingredients kind on the environment. It's also cheaper than many store bought brands.
What are some other ways we can cut down on waste production? Our waste problem stems from our mindless consumption. I don't think there is anything wrong with consuming; rather I feel the time is now for us to look into other avenues to consume such as choosing secondhand, sharing, hiring and upcycling rather than buying new. As a society, we should also embrace mending what we own, so it can last longer and be used by others.
What else can we be doing? Don't forget to use your voice. Write letters and emails to companies and politicians with your ideas on ways we can reduce waste. Tag them on social media asking them to do better. We have all these new ways to connect so why not use it to plant a seed that will hopefully lead to a kinder future for the next generation.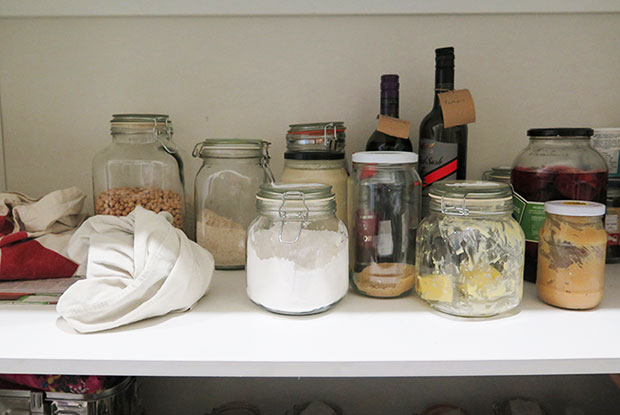 Image by Erin Rhoads.
BEAUTY RECIPES

Lemon exfoliant:
1 tsp lemon juice
2 tbsp brown sugar
1 egg white
1. Mix the lemon juice, brown sugar and egg white in a bowl.
2. Rub the mixture over the face using circular movements. Let sit for 20 minutes, then wash off.
Chamomile toner:
250 ml warm chamomile-flower tea
1 tsp honey
5 tbsp apple-cider vinegar
1. Combine the ingredients into a bowl and stir until the honey has dissolved. Use a funnel to pour into a small glass bottle.

2. Use a piece of cotton cloth to wipe toner over your face, avoiding the eye area. Let dry and apply your usual moisturiser or oil.

3. Store in a cool, dark place for up to a year.