frankie fodder: burger cupcakes
The only thing that could possibly be better than a juicy, satisfying burger is if it accommodated a sweet tooth.
I struggle to think of any food that compares to the lip-smacking beauty of the mighty burger. A complete meal, full of textures and flavours, which can be lovingly assembled to your own tastes. You don't even need a fork to eat it. In fact, sometimes I only use one hand.
The only thing that could possibly better a satisfying burger is if it accommodated a sweet tooth... Can you see where I'm heading with this? After happily taste-testing a number of variations, these tantalising burger cupcakes were born. Sweet, satisfying, and so utterly adorable! Serve these bad boys alongside a bag of Arnott's French Fries potato straws for some extra tasty crunch and novelty food genius.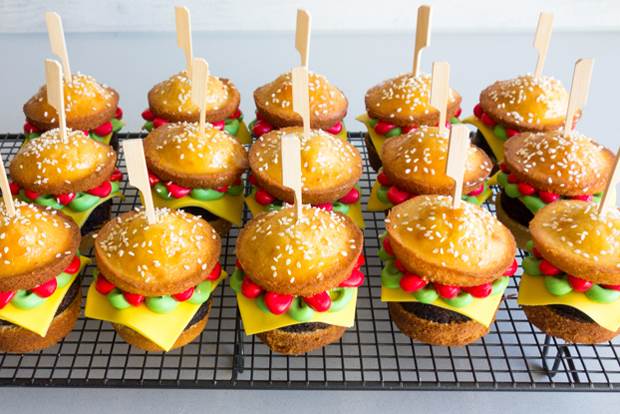 INGREDIENTS:

Burger 'buns'
200g unsalted butter, softened
1 teaspoon vanilla extract
1 cup caster sugar
3 eggs
2½ cups self-raising flour, sifted
½ cup milk
2 tablespoons apricot jam
2 tablespoons sesame seeds

Chocolate brownie 'burger patties'
350g dark cooking chocolate, chopped
150g butter
3 eggs, lightly whisked
¾ cup brown sugar
1¼ cups plain flour, sifted
½ cup cocoa powder, sifted
circular cookie cutter (around 6cm in diameter)

'Cheese'
250 grams yellow-coloured fondant (you can find this in all cake decorating stores or you could also make your own!)

'Tomato sauce' and 'lettuce'
500g cream cheese, softened
100g unsalted butter, softened
1 cup icing mixture, sifted
2 teaspoons vanilla extract
red food colouring
green food colouring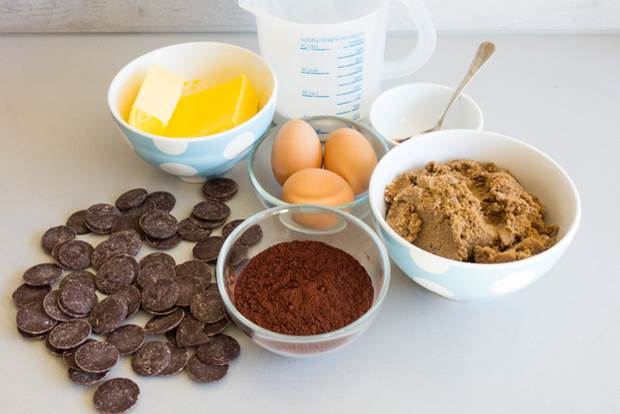 METHOD:

1. Preheat your oven to 180°C or 160°C fan-forced. Lightly grease a muffin pan with butter or cooking spray. To start making your burger buns, use an electric mixer to beat together butter, vanilla and sugar in a large bowl until light and fluffy. Add eggs, one at a time, beating after each addition. Stir in half the flour, then stir in half the milk. Repeat with remaining flour and milk until combined.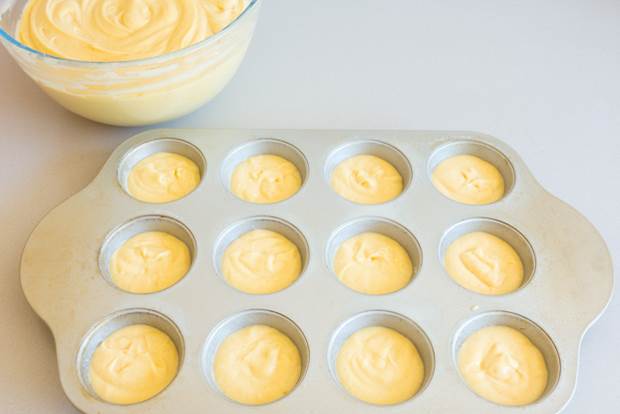 2. Spoon this mixture into muffin pan (about half way full for each muffin) and bake for 15 minutes or until golden. Stand your cupcakes in the pan for two minutes, then transfer to a wire rack to cool completely. Meanwhile, leave your oven on in order to bake the chocolate brownie patties. Once your cupcakes have cooled, carefully slice each in half to resemble a burger bun. In a small bowl, microwave apricot jam for 20 seconds and using a pastry brush, glaze the tops of each cupcake with melted jam. Sprinkle each with sesame seeds and your burger buns are ready!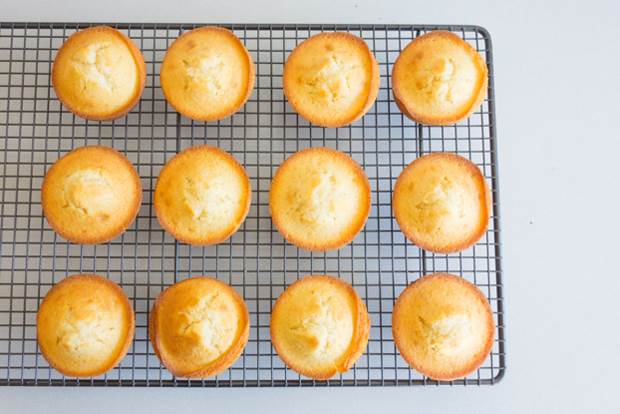 3. Next up, make your chocolate brownie burger patties by lining a 16cm x 26cm slab pan with non-stick baking paper, allowing the sides to overhang. Place 200g of the chocolate and butter in a large heatproof bowl over a saucepan half-filled with simmering water (make sure the bowl doesn't touch the water). Stir until chocolate melts and the mixture is smooth. Set aside for five minutes to cool slightly.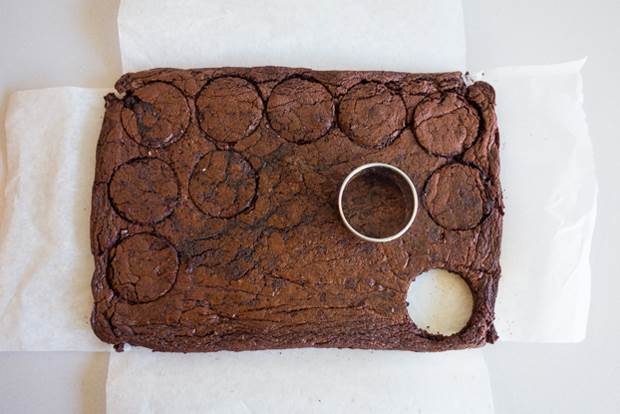 4. Stir the lightly whisked eggs into the chocolate mixture until well combined. Combine the sugar, flour and cocoa powder in a large bowl. Add the chocolate mixture and stir until just combined. Stir in the milk, the remainder of your chocolate and then pour brownie mixture into the prepared pan. Bake this mixture for around 30 minutes (or until crumbs cling to a skewer inserted into the centre). Set aside in the pan for 1-2 hours to cool. This is the hard part where you try your very best to restrain from sneakily tucking in! Once cooled and removed from pan, cut as many circular patties as you can out of the brownie using the cookie cutter.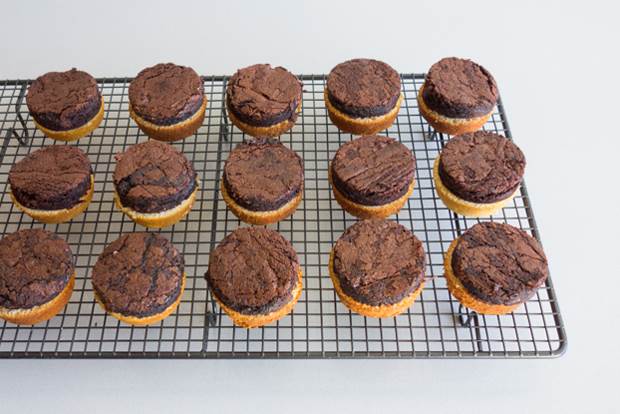 5. To make your cheese, roll out fondant on a sheet of non-stick baking paper and use a knife to cut 12 5cm x 5cm squares.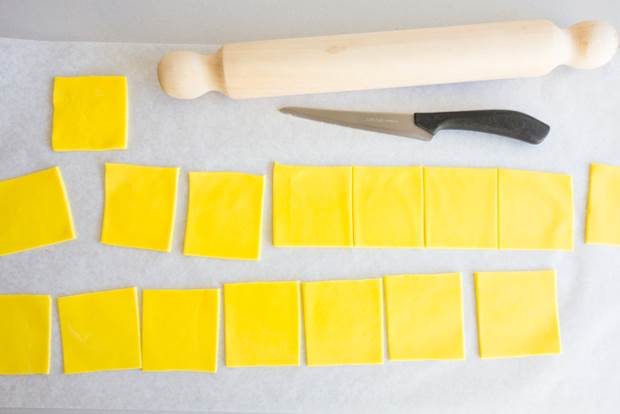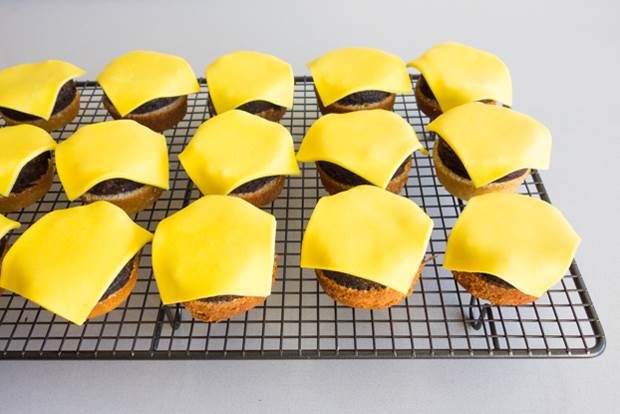 6. To make your ketchup and lettuce, place cream cheese and butter into a large bowl and beat with an electric mixture until fluffy. Add icing mixture and vanilla extract and beat until combined. Divide mixture between two bowls and colour one bowl with two drops of green food colouring and the other with four drops of red food colouring.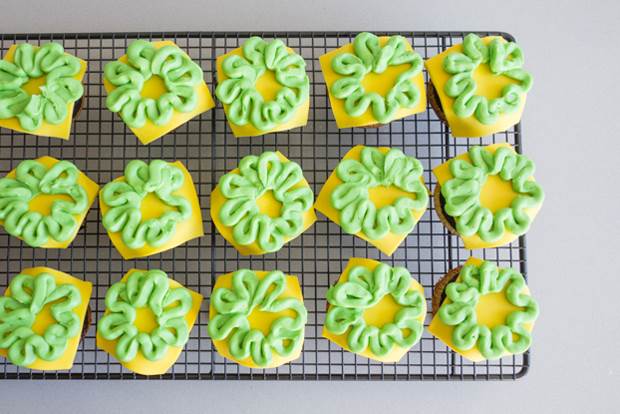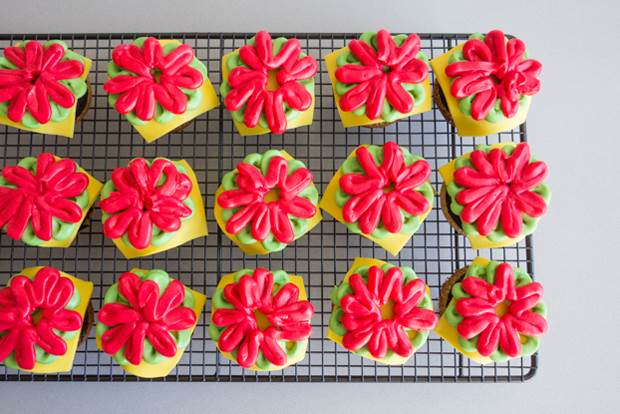 7. Now you're ready to start assembling your tasty burger cupcakes! Place a chocolate brownie patty on top of the bottom half of each cupcake burger bun and then place a square of your fondant cheese on top of each brownie patty. Fill a pastry bag with your green cream cheese and pipe on top of fondant cheese to resemble squiggles of lettuce. Repeat this step with your red cream cheese to resemble delicious bursts of ketchup. Finally, place your cupcake burger bun tops on top of each burger, secure in place with either a toothpick or mini burger skewer, and you're done! Now stand back and marvel at the culinary magic that has just assembled before your eyes. They're almost too cute to eat... Almost.