what it's like to be a climate activist
We dive into the world of frontline activism with Victoria McKenzie-McHarg, a clever lady who took on a coal-fired power station – and won.
Statistically speaking, most people care about climate change (roughly 72 per cent of us, in fact). But 'climate activism' is a whole different kettle of sustainably caught fish. What does it even mean to be a modern-day climate activist? Can anyone join? And what's the best way to affect change during a global pandemic, when the average citizen has other, slightly more pressing things on their mind?
To dive into the world of frontline activism, we chatted to Victoria McKenzie-McHarg. In 2012, while she was still a teenager, Victoria was listed as one of The Age's Top 100 most influential Victorians, largely because she took on a coal-fired power station (and won). She's worked for the Australian Conservation Foundation and Environment Victoria, sits on the board for Climate Action Network Australia, and somehow squeezes in a day job, as Manager of Strategy for Bank Australia. Phew.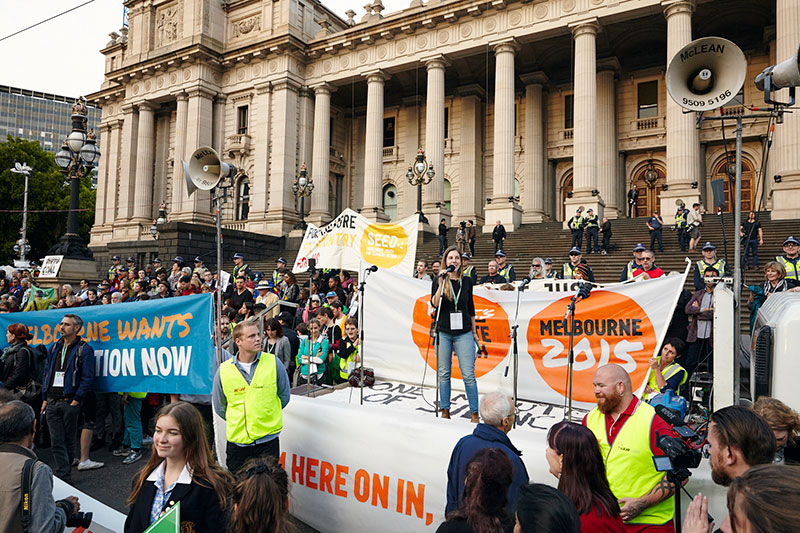 Victoria speaking at a rally.
Hi, Victoria! So how did you get into climate activism? I grew up on the banks of the Murray River in Albury, and growing up with that connection to the river gave me a real passion for the environment. But it was years later, when I was working for a development organisation in the UK, helping communities in Africa, that I started reading about the impacts of climate change. I realised that if I cared about equality for these communities, climate change was everything.
Were you intimidated by the challenge? The step into activism can be daunting, and it's hard to know where to start. I began by volunteering with environmental organisations and just donating my time. I applied for the most junior and poorly paid positions I could find. Eventually, somebody was foolish enough to take me on, and that was lifechanging – the ability to work inside an organisation and create real change.
What does being an 'activist' even mean? It's a very loaded term. I used to be uncomfortable with it, because it's aggressive and conflict-orientated. When you're pushing for change, of course there are elements of conflict, but I think the role is more about helping other people see their own potential.

The day-to-day life of an activist is quite varied, which is one of the things I love about it. I'd start the day with a media round-up – what are the issues of the day, and what we need to respond to. Then it could be into meetings with your team about campaign strategy, or collaborating with other organisations. There's usually quite a bit of policy and research work you need be across, which could take up the afternoon, along with meetings (lots of meetings) with stakeholders like government departments, lawyers and politicians. A lot of our work is about building power within the community so that decisions makers have to listen. This includes organising lots of activities. Rallies are one part of that, but groups like Knitting Nanas Against Gas show that there are lots of different ways to protest.

Did you have a few sceptics at the beginning? Yes, me! I was my biggest sceptic. When I first got the role as a climate campaigner, I didn't really understand what was involved. And honestly, if I'd known at the time, I wouldn't have applied: I would have thought it was too conflict-orientated. I would have thought it was angry and aggressive. And of course, if you want to create far-reaching system change, conflict arises from time to time, but that doesn't have to define the way you engage.
What's a better way to approach climate activism? I think optimism is a wonderful way to approach climate change. It drives us forward and makes us see what's possible. If you can't see solutions, you can't make them happen – you can't believe them. One of the other things I've learned is that being an activist is about change management, and as humans or communities or businesses, we're not well-geared for change. We tend to resist it. The only thing that actually guarantees climate disaster is if people like you and me do nothing. So I have to be hopeful, but I'm also aware of the scale of the challenge ahead of us.
Some people are talking about the environmental benefits of the COVID-19 crisis. How do you see it? Coronavirus is obviously a tragedy and an enourmous global crisis – but in any crisis there's opportunity. It'd be foolish not to see that. It's like we've been given an insight, a little piece of vision and hope of what our cities could look like without pollution. When we're thinking about how to restart healthy communities and restart the economy, the challenge will be: how do we build a new world that allows nature and people to thrive? And how, as we're locked up at home right now, do we try to see the positive in all this? Those will be the big challenges over the next few years.
What's one thing you wish everyone knew about climate activism? It can be fun! I mean, god, if you're asking people to give up their time and money and energy, you really need to make it worthwhile. This is people's lives. This stuff is the work of our lives, so we have to make it joyful. If you're hanging out with a group of people looking to drive this forward, make it fun. When you get bogged down by the scale of destruction and climate change, it can be really hard to celebrate the little wins. People need to come together and acknowledge their achievements.
And what about climate sceptics. How do you deal with them? Climate sceptics don't frustrate me because I don't really engage with them. You have to remember that the number of actual sceptics is quite small. The frustration is that they're given so much prominence in the media. Keep in mind, the vast majority of people want to create change, and they believe in this cause. And in some ways, the COVID-19 response might help: maybe we're capable of listening to experts, maybe we're capable of believing in science, maybe we're capable of putting the good of our communities above the short-term interests of a particular industry. All these things give me hope.
What can people do to get involved? The most important thing when it comes to activism is to work together. Don't think that sitting alone reading articles will activate you; it might inform you, but people are at their most active when they work together. The only depressed activists I talk to are the ones sitting at home reading the newspaper feeling sorry for themselves. Find a group that works for you. Find your flavour. Call them and ask how you can get involved. Maybe that's a big national organisations, or maybe it's something small and local, like a site that needs protection. There's no one kind of activism.  
Victoria's handy climate resources:
-    2040 climate documentary
-    Climate Action Network Australia (CANA)
-    Mothers of Invention podcast.