vincent shin is australia's first in-house school lawyer
"I only represent the kids, not the school, trying to help them with anything and everything – including family violence, which was my normal when I was a kid."



We've teamed up with the folks at UNiDays to bring you interesting stories about study and learning. Did you know UNiDAYS members can nab a 25 per cent discount on their frankie magazine subscriptions? Well, now you do. Check the bottom of the story for more deets.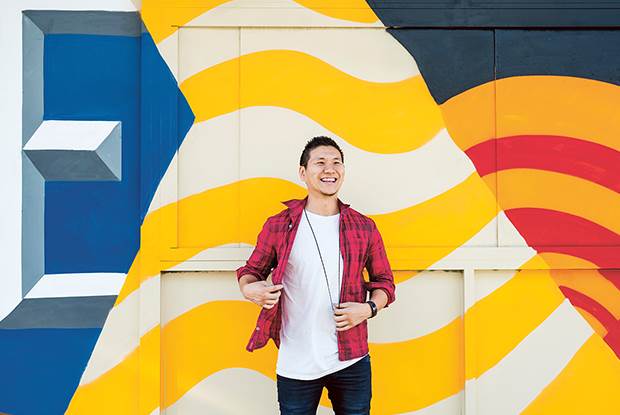 Pretty pic by Phoebe Powell
My first memory of family violence was when I was five or six. I know that because I remember every house we lived in – we moved 10 times when I was a kid and I went to five different schools. I was playing out the front of this unit with my sister, who's three years older than me, and I remember the front door being flung open and my mum being thrown outside and rolling on the concrete. She ended up landing in some bushes; we ran over and sat there with Mum crying, and I picked out these long green prickles embedded in her skin.
Today, I'm Australia's first school lawyer. I only represent the kids, not the school, trying to help them with anything and everything – including family violence, which was my normal when I was a kid. Through WEstjustice, a community legal centre, I work at a low socio-economic school in Melbourne. We have kids from all across the globe – I love them, they're a funny bunch. They remind me of me sometimes.
I was born in Seoul, and we came to Australia when I was one. Dad was an architect or engineer in Korea, but when we came here, like many migrants, he had trouble finding a job. He was a taxi driver, a chef – gosh, I can't remember some of the other stuff. He was also a very violent man, smashing windows and punching holes through doors and beating us up – every day I lived in fear. He was always remorseful afterwards, and then there was the blame: "If you respected me, I wouldn't have to do this." Typical stuff. All day every day, my sister and I would pressure Mum and say, "Let's leave, let's leave, we don't need him." Now I feel quite guilty about that; it's not easy to leave. Once upon a time, Mum loved him.
The last time he was violent towards me, I was 17. I was changing the TV channels and he told me to stop, then hit me in the face. I think I grabbed him, got up in his face, and was brave enough to stand up for myself and say, "Don't you ever touch me again." He opened the door and threw the VCR outside, and the TV smashed on the front step. The neighbours were all watching, and he left. I remember him standing at the door saying, "Don't ever call me Dad, I don't have a son." That was our last interaction.
As an adult, thinking about the harm in those words, that's when it really upsets me. I used to write rhymes or poems or whatever you want to call them, thinking I was Eminem – straight after that happened, I wrote something with the words he used. I still have those rhymes, and every now and then I read them. It takes me back to how I was feeling at the time.
At school, embarrassingly, I was quite violent myself. Angry, rude and disrespectful; your typical terror of a student. I feel sorry for my teachers, they would have hated me. Looking back, it's learnt behaviour. If something doesn't go right, you break something. If something doesn't work out with someone, you hurt them. My schoolwork got worse and worse, and in year 12, I did nothing – home was not a great environment to be studying in. I ultimately finished with a score of 24.5 out of a possible 99.
There are plenty of kids who have horrible stories, but do well at school – I think they're more mentally strong than me. I've seen two psychologists – three, actually – it's something I'm often getting help for. There was so much hurt and pain for many years, but that's slowly wearing off, which is good.
After I left school, I was in a really dark place and doing nothing, but it was kind of peaceful without Dad. Mum was a typical Asian mother, saying, "You need to study, you need to do well, we've sacrificed so much, blah blah blah." If I hadn't had her, things could have been very different. After a couple of years, I went to Korea to teach English to kids. It was great – I think being away from everything was good for my mental health, and that was when I thought, "Let's do something."
Eventually, I got into legal practice at TAFE, and straightaway loved it and did well. One thing that appealed to me was that knowledge of the law is empowering. Early on, I decided to be a lawyer and applied to law schools, but kept getting rejected because of my high school score. I'm forever grateful to Victoria University for giving me a second chance.
I knew I wanted to work with kids – even when I was studying, I worked in residential care homes for the most traumatised kids in Victoria. I understood quite intimately what trauma was and looked like, and what abuse was and looked like. So, I felt pretty aware of what they were going through. I'd tell some kids about my situation, and the shock on their faces is something that sticks with me. I'd say I don't see my dad, either – at that stage I didn't know he was in jail.
When I had the interview for my present job, I managed to bring up that I ride a big, loud, fast motorbike and do boxing, which was my ace of spades – they instantly build rapport with kids. I started boxing in about 2006, and it's really helped me calm myself. There's a lot of discipline, and it made me look at violence through a different lens. Specifically, controlled violence with someone who's agreeing to it.
Based on the legal stuff I'm involved with now, family violence is clearly an issue at all schools. Kids want to take an order out against Mum or Dad – generally Dad – so I attend court for them; help them; engage them with counselling and other support services. Crime is not a huge issue; most of our kids are pretty good, they don't get into really bad stuff. A lot of kids are working, which is fantastic, but what's not fantastic is that they're being exploited – employment law is a big area of interest. And fines. They forget to touch on to public transport – forget their cards, as kids do – so they get myki fines. I deal with that quite a lot. Then you get really random consumer things, like dodgy stuff going on with telcos.
I also do a bit of mentoring. If I've got a client I think I can help in some extra way, I take a holistic approach to the service and engage them with the other wellbeing stuff we have at school. On top of that, I teach kids about the law and their rights and responsibilities. I might also respond to a situation: for instance, if there's a fight or some bullying, I can go into the classes and say this is what bullying is; these are the laws; these are your rights and responsibilities; and these are the implications of what can happen if you're involved in these behaviours. The school sees great benefit in that.
I wish there'd been a me when I was at school. I think life would have been different if I'd known my rights. Even if I didn't want to uphold or enforce them, at least I'd be empowered with the knowledge that family violence is not OK. In my dark days, I was all, "Why me, it's not fair," but I look at my life now and I'm happy; I'm helping people; I see change in kids; and I'm making a difference. Although it was horrible, I don't know if I'd change anything, because it's formed me into the person I am and shaped my worldview in a positive way. Because I've gone through crap, I can deal with anything that comes my way.

Thanks to the kind types at UNiDAYS, uni students can nab 25 per cent off their frankie subscriptions. Just click here, then register or log in using your UNiDAYS member details. Easy as!