tune into these business podcasts
Need a pep talk? Some advice on how to run the show like a boss? We have some helpful listening material for you.
They say running a business is like running a marathon. If that's true, you're going to need a whole lot of podcasts to keep you company as you jog steadily towards your goals. So, grab your phone and take note: we've rounded up a whole bunch of helpful listening material for you.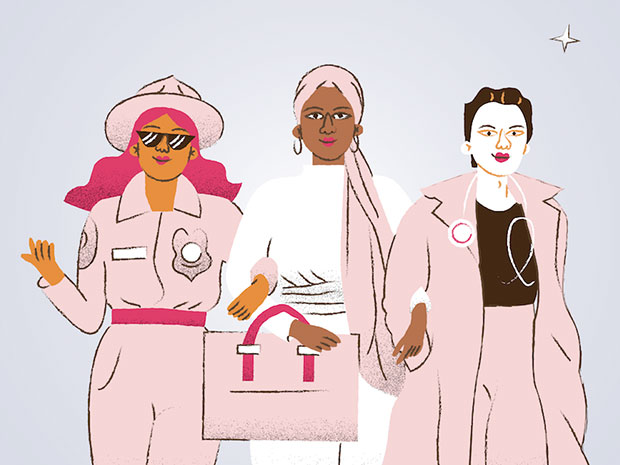 artwork from Money Power Freedom
MONEY POWER FREEDOM – Comedian Cal Wilson and journalist Santilla Chingaipe dive straight into the tough topics on this six-part podcast from the Victorian Women's Trust, chatting to a diverse range of women about financial literacy, the pay gap and the effect of toxic relationships on your finances. It's an informative listen all round – but if you want to hone in on your business brain, check out episode four, where you can hear about the nitty-gritty of being your own boss, including how to break up with a business partner and still stay friends.
STARTUP – When StartUp began in 2014, it followed the stories of several newly launched businesses, including Gimlet Media – the very podcast network its host Alex Bloomberg founded. A podcast series documenting how a podcast network found success sounds a little meta, but it makes for a fascinating listen, especially when each episode goes into such intimate business details. Unfortunately, StartUp ended in October this year (right after the podcast documented Gimlet's sale to Spotify), but there's heaps in the archives to dig through. Alex now has a podcast called Without Fail, so if you want to hear notable business figures talk about their failures, check that one out.
WOWEE – Artists and makers Penny 'Min Pin' Ferguson and Esther Sandler love getting together with their pals to talk honestly about creativity and business. You may recognise many of their interviewees from the pages of frankie – Ashley Ronning, Abbey Rich, Kitiya Palaskas and many more have all jumped on the mic to share their expertise and life lessons. If you want to feel like you're listening to your mates gasbag over a cuppa, this one's for you.

SCALE UP – Hoorah for another locally run podcast! This one's produced by Launch Vic, the Victorian government's agency dedicated to supporting startups. Each season features a different business (the list so far includes Culture Amp, Redbubble and Envato), and follows them through the trials and tribulations of growing. What happens when your website gets attacked? How do you get your idea funded? Tune in if you're curious about how small businesses can grow to unimaginable heights.
BUILD A BADASS BUSINESS WITH DIANE SANFILIPPO – OK, so you want to knuckle down and make some serious headway on your business. Well, grab your phone right now and hit subscribe on Diane's podcast. In every bite-sized episode, the entrepreneur offers practical advice on topics like pricing your items, how to handle criticism and building a team. With Diane's words of encouragement ringing in your ears, you'll instantly feel ready to tackle hard work head on.
THE FIZZLE SHOW– At the heart of it, The Fizzle Show is about people who make money doing what they love. Entrepreneurship-focused podcasts can sometimes feel a bit much, but Fizzle manages to keep things real, chatting to small businesses about how they found their feet and eventually thrived. You'll never run out of listening material, either – they've been releasing weekly episodes since 2013, and are now at the mid-300 mark.
HOW I BUILT THIS – You have to appreciate a podcast that does what it says on the label. This one from NPR gets CEOs, founders and bosses in the studio to tell you exactly how they turned an idea into a place of work. You'll hear from a whole host of interesting people: farmers, celebrity bakers, a college athlete-turned athleisure force – even the one and only James Dyson, he of vacuum cleaner fame.