things i've learnt with writer jia tolentino
From entering reality TV at 16 to volunteering for the Peace Corps and writing for The New Yorker, Jia Tolentino is one of the most impressive and interesting humans on the planet. 
At just 30, Jia Tolentino is one of the most impressive and interesting humans on the planet. She was on a reality TV show called Girls vs Boys when she was 16 (she signed up when she and her parents walked past a casting agent at a shopping centre), and spent a year in Kyrgyzstan as part of the Peace Corps at 22. A former editor at the feminist website Jezebel, she's now a staff writer for The New Yorker and has just released her first book, Trick Mirror – a collection of essays about self-delusion that combine memoir and cultural criticism.
Jia is coming to town for Broadside, Australia's newest feminist festival. Ahead of her visit, we got on the phone to find out what she's learnt from some pivotal experiences in her life so far.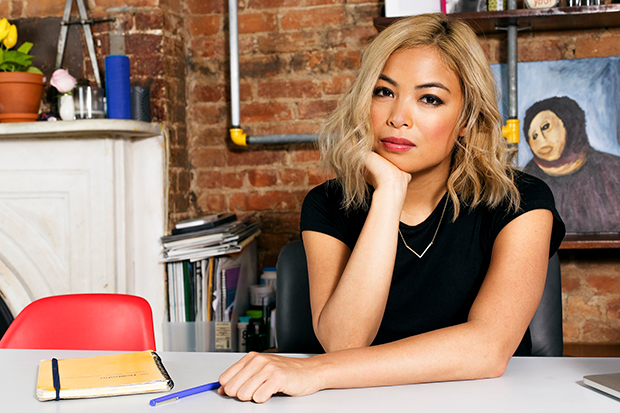 ON BEING ON REALITY TV It's really strange to watch five hours of video of yourself on TV from when you were 16. How much do you remember of one month 14 years ago? My brain is full of holes – it's why I write stuff down. It was interesting to talk to six different people and hear how they remembered it, and then watch the show. I was the same – that's the scary part. It showed me that I've always adjusted to these panoptic mechanisms of self-surveillance. I adjusted so seamlessly to the internet in a way that scares me, and I had adjusted so seamlessly to being on camera 24 hours a day.
ON WRITING ABOUT FEMINISM Writing is the way that I work out the problems that I have. Writing about feminism consistently and working at a feminist website just sharpens your understanding of what your discontent is. I worked at Jezebel, which is so public and had such a big audience, that it gave me a pretty good internal calibration. Knowing that I would be accountable for my mistakes for the foreseeable future made me pretty cautious about what points I was actually making. It made me try to work through an argument rather than reach a conclusion, and that still informs the way I write.
ON WORKING AT THE NEW YORKER There aren't that many writers my age who get the privilege of getting to spend a lot of time on a story, and getting this level of fact-checking and editorial guidance on a regular basis. On a baseline level, I've learned how to report magazine features – I knew how to do it, but I didn't know how to do it at the level that they're doing it. It's also showed me that writing is a product of material conditions, and your writing can get a lot better when you have the institutional scaffolding to support it.
ON BEING A PART OF THE PEACE CORPS It was really intense – the government in Kyrgyzstan was overthrown seven days after I got to the country. There was a genocide. I was there realising the ridiculousness of what I thought I was there doing – confronting the imperialist ridiculousness of "I'm an American and I'm here to help". But it was also great and I would never take it back for anything. I'm still in very close touch with a woman I [was teaching English] with. It was a very formative time.
ON READING A big reason I write the way I write is because I read constantly. I read a book every two days, and I think I've learned that what I want in a book, and what I want in a writer, is somebody who very quickly picks you up and makes you feel safe, makes you feel like they just get you real quick. There are a lot of people who can create that feeling in different ways, but the thing that they have in common is within the first paragraph, they make you feel very secure.
Catch Jia and a bunch of other brilliant women at Broadside, the Wheeler Centre's new feminist ideas festival. It's all happening in Melbourne on November 9th and 10th.