the language of flowers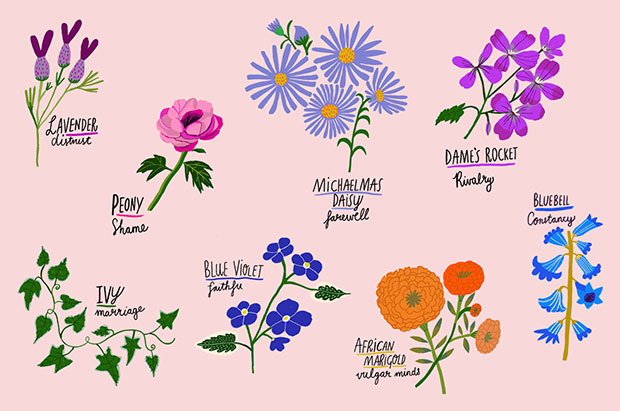 Illustration by Carolyn Gavin
Floriography harks back to the Victorian era, when folks assigned hidden meanings to plants, flowers and herbs (a blessing in a time when many topics of conversation were frowned upon). There are enough plants and accompanying meanings to fill entire dictionaries, but to save you digging, we compiled a few of the most interesting secret floral codes below.

CARNATION Should you receive carnations from a mystery gifter, be sure to take note of the colour of the petals – it could tell you whether the stealthy flower bandit is an admirer or critic. While red blooms suggest 'my heart aches for you', yellow is said to convey disdain. Pink, on the other hand, means 'I'll never forget you' – a throwback to the Bible, which tells of Mary's sadness as she watched Jesus carry the cross away. Supposedly, as her tears fell to the ground, pink carnations sprang up in their place.
ROSE A rose by any other name would smell as sweet, but when it comes to colour, things aren't so simple. The classic bloom can mean anything from 'jealousy' to 'shame' and 'I am worthy of you' depending on its hue (in this case, yellow, deep red and white, respectively). The state of the flower also matters: a thornless rose implies love at first sight, for instance, while a withered white rose suggests you made a pretty average first impression.
JONQUIL The jonquil – a variety of daffodil, also known by its botanic name, Narcissus jonquilla – has one specific meaning: your affections are returned. It's thought to have sprung from the ancient Greek myth of Narcissus, a ravishingly beautiful dude with a massive ego to boot. When he spied his reflection in a pool of water, he fell in love and couldn't bear to leave it behind. Over time, he wasted away and became a striking flower that always bows its head to the water at its feet.
IVY 'Clingy' might not be the most flattering word to describe your spouse, but it's the reason ivy came to represent fidelity and marriage. Just as the climbing plant latches on to a tree or structure nearby, so too do we human types attach ourselves to the one we love – at least, according to the folks who created floriography. To really drive home the symbolism, ivy also happens to be an evergreen plant, staying lush and full all year round, like any successful marriage (apparently).
BASIL Word has it, the first recorded mention of basil states: "It exists only to drive men insane." For the ancient Greeks and Romans – and later Victorian folk, thanks to their handy floral code – the herb was associated with a feeling of intense hatred. Sowing the plant required much sweating and swearing, and according to European lore, you must curse the ground in order for it to grow. (Basil belongs to Satan, you see.) Thankfully, basil is rarely gifted with flowers attached these days, so you're unlikely to accidentally tell someone you think they're the pits.

Delve further into the language of flowers in our big ol' bumper issue 90. Nab a copy here, track down your closest stockist, or subscribe from $10.50. (It even comes with a spiffy floriography poster!)