taking care of business: lvly
For part one of our small business interview series we chatted with gift delivery service LVLY.
Aside from all the stressy stuff, there are plenty of heartwarming aspects to running a small business – especially when your stock-in-trade is delivering happiness-inducing pressies. We had a little chat with Hannah Spilva, co-founder of gift delivery service LVLY, about the things that make her smile, plus all the nitty-gritty things she handles day to day.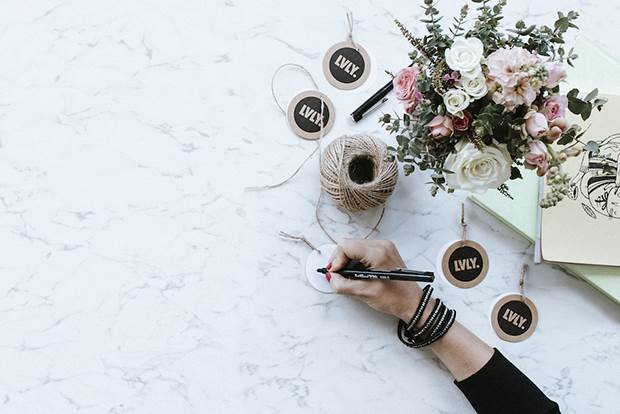 Tell us a little about yourself and your business. We're a same-day gift delivery service called LVLY (pronounced 'lovely'). Our core purpose is to be the only business in Australia purely dedicated to making people's day. We have a curated range of affordable gifts designed to help people celebrate the great days, the rough days and everything in between.
What was the process for getting your business off the ground? We started LVLY from my business partner's kitchen! It seemed like a good idea at the time, but didn't last long because of the messy nature of working with flowers. We quickly relocated to a local co-working space, which has given us the flexibility to expand our office space as our business has grown. When we first launched LVLY, we were using an off-the-shelf website that cost us about $20 a month, and we relied on social media and word of mouth to drive awareness. Our strategy was to limit our initial financial investment as much as we could, until we'd proved the business concept worked.
Describe your workspace for us, please. It's a co-working space, so it's open plan and pretty laid back. We have a large production space in the middle where our floristry team creates a hive of activity every day! We have a number of desks and a big storage space, which is always bursting at the seams.
Do you have any helpers? We sure do! We have a very talented team of florists, along with a team of sales, marketing and admin gurus. There are currently eight of us in the business, but we have the flexibility to scale up and down at peak times. We've been so lucky to recruit such a passionate and loyal team so early on. It makes a massive difference when your employees care about your business as much as you do.
What do you love about running a small business? The freedom to be creative; the autonomy to react quickly, change things when they aren't working, and jump on opportunities as they arise; seeing the business grow; and knowing that you've helped create a brand and a culture that people really want to be part of.
Have there been any unexpected challenges along the way? Everything is a challenge when you're starting a business for the first time. From an operational perspective, the same-day logistics part of our offering is a constant battle to get right. We place an enormous emphasis on customer service, which means that finding reliable delivery solutions at an affordable price for our customers is an ongoing balancing act. Forecasting stock levels and sales is also incredibly difficult, especially when you're dealing with perishable goods like flowers. We're much better at it than we used to be, but inevitably we don't always get it right. But overcoming each challenge makes you more equipped for the future and a better entrepreneur. I think the trick is to take delight in solving problems and to enjoy the process of finding new ways to do things. Oh, and never take no for an answer!
If you could go back in time, what would you tell yourself when you were starting your business? I'd tell myself that it's going to be harder than I ever imagined, but infinitely more rewarding than I ever hoped. Starting your own business is addictive – once you've got the bug, I think it's hard to go back to being an employee.
I couldn't be where I am today without… my parents making out in the '80s.
To find out more about LVLY, pop over this way.
Brought to you in partnership with our mates at Australia Post.