st. jerome's – the hotel giveaway
We have one night's accommodation at St. Jerome's rooftop hotel in Melbourne up for grabs – hurrah!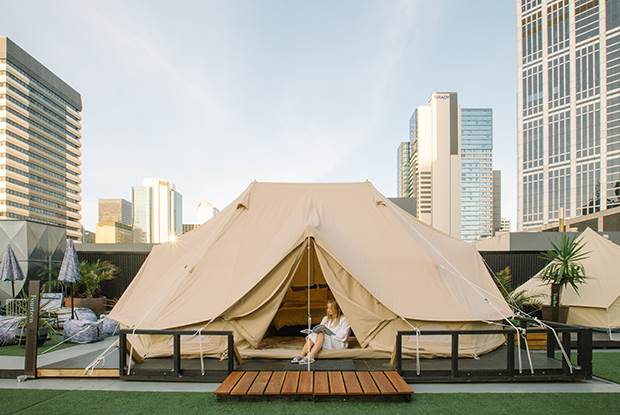 You don't always get what you want. But if you try sometimes, you get what you need – as they say in the classics. Well, what if what you need is to sleep in a spacious canvas tent, fitted out with a queen-size bed and split-system heating and cooling, an Esky by your side packed with local craft beer from Temple Brewery, and complimentary breakfast and coffee delivered to you in the morning? It's not such an absurd request, since you can have this experience, should you choose to stay at St. Jerome's – The Hotel luxury rooftop camping accommodation in Melbourne's CBD. They have 21 such tents, and a new one, The Lodge, their largest yet; it even has a couch, and shelving and storage space. The Lodge accommodates four, and if you'd care to crash there, head over to this way to book. Or, send us your details; we've got one night's stay at The Lodge up for grabs. All you have to do is ask nicely. And maybe do a little dance to the Rolling Stones. That never hurts.
Booking subject to availability, and excludes public holidays and weekends (i.e. Fridays and Saturdays).