spaces volume five – sretsis
Pim Sukhahuta, designer and founder of the fashion label Sretsis, lives out her Alice in Wonderland fantasies every day.
The Sretsis residence in Bangkok is the kind of fairytale home most kids can only dream about. For Pim Sukhahuta, founder and creative director of the equally fantastical fashion label Sretsis, this teal oasis is a way of keeping her imagination alive.

In SPACES Volume Five, we stopped by for a cuppa in Pim's unicorn tearoom to hear about how it all came together. Take a peek below, and if you'd like to continue drenching your eyeballs with more interiors goodness, pick up a copy of the new SPACES online or via one of our lovely stockists.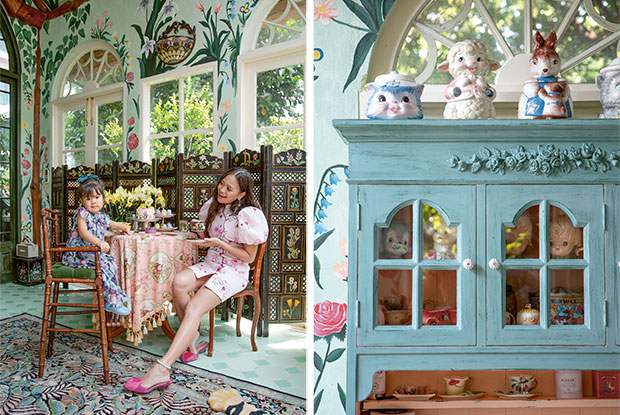 Where is your house and who lives in it? We live in the outskirts of Bangkok, where my grandmother was born. It is quite a big compound with the whole family living together, divided into private apartments for me and my husband (and dogs and chickens), my mum, my little sister Matina, and also my older sister Kly and her family.
Tell us a little about the tea room and the pool we see here. The unicorn tearoom is a common space where we entertain guests, have afternoon tea or dinner parties, or use it just for girls' talk, whereas the mushroom pool is our Sunday favourite, especially with the kids around. I enjoy swimming every morning, and every now and then we throw a party. Songkran, Thai New Year (aka the water splashing festival in April), falls in the peak of summer and is a perfect time for a party.

Where does the name Sretsis come from? From S-I-S-T-E-R-S, spelt backwards, where it all began.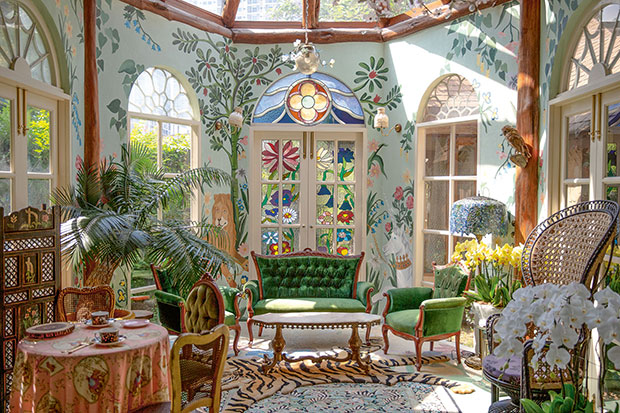 Did you build the house or renovate an old one? Our parents built it when we were very young, and we renovated when the first grandchild was born, welcoming him with a slide and a giant mushroom by the pool.
What gave you that idea? Matina is a big fan of Amanita muscaria mushrooms and it was her dream to have one at the house. So when our nephew was born, it was a good year to start planting! (Matina graduated from Parsons, New York, with a product design degree, in which she also built a mushroom playground for her thesis.) I've always been drawn to the fantasy of a unicorn and its connotation. We made a collection called 'Tamed Lovers' inspired by 'The Unicorn in Captivity' tapestry I saw at The Cloisters in New York. And for that lookbook shoot, we painted the tearoom like this.
What made you want to have such an unusual place? I always think it's from growing up in the house with lots of trees and some wild animals that made us so imaginative. When we were young, our uncle had peacocks, chickens, miniature deer, hornbills, wild rabbits and even a baby leopard in this huge cage, and we would pack some snacks and climb up the watchtower to see them. And, most importantly, I owe it to my mum who's a dream creator. She loves trees, antiques, vintage pieces, collecting beautiful rare things, or having things customised for her. So, I've learnt to appreciate the differences, or uniqueness, rather than the norm.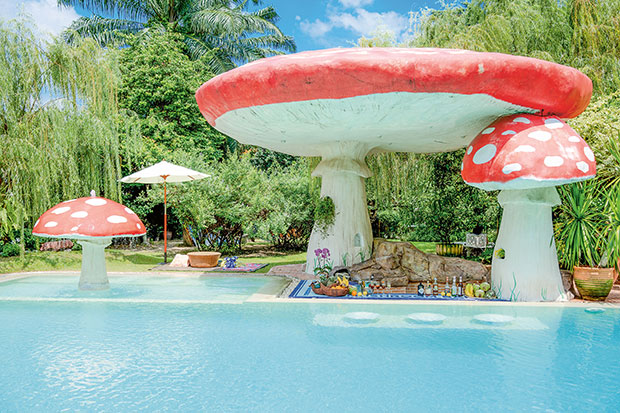 What did the people renovating your place think? We worked with a few artists, so I'm assuming they enjoy making unusual unique things rather than plain structures. The guy who built and painted the giant mushrooms did some work for the Universal Studios theme park in Singapore, so I expect this might even seem quite normal to him. As for the unicorn tearoom, my mum handpicked the wood columns herself. She and Matina worked with a carpenter to custom build it without a blueprint. We asked an artist (who was one of the Sretsis design team) to custom paint the whole place, even the AC.
Any interesting comments from your neighbours? We had a big pool party a while ago and some neighbours from the high-rise condo nearby took a video of us from above and posted it on YouTube, saying the giant mushroom is having a crazy pool party! I guessed they enjoyed it from afar, too.
How do your visitors feel about your place? They often say it's like going into Alice in Wonderland, so I hope they are well entertained!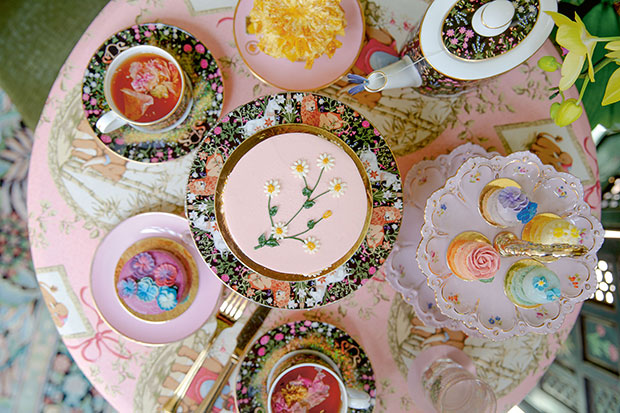 All snaps by Peduckk
What are the bits of the tearoom and pool you love the most, and why? I love the natural light and the colours when the sun shines through the stained-glass windows. And the pool is for my physical and mental meditation exercise. I swim 10 laps every morning at the same time, giving gratitude to the universe, starting off my day with good energy.

What's the rest of your place like? Matina's tree house is a place of wonder, and Kly's whale house overlooking the pool will be another unique dream home when it's finished.

Pick up a brand spanking new copy of SPACES Volume Five online or via one of our lovely stockists.