software for creatives of all sorts
We lay down the tools of the trade.
frankie was a guest of MSI at the Las Vegas-based CES conference, where they announced their new PS63 Modern laptop, tailored for creatives. This got us thinking about the kinds of software that could be used on a brand-spankin' new computer, whether you're a designer, illustrator, writer, photographer, or any other type of creatively-inclined person.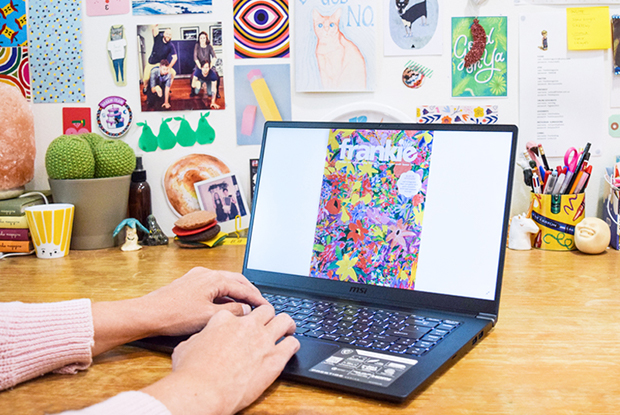 Adobe InDesign Whether you're designing a swish magazine cover, a poster or your very own zine, InDesign – a handy desktop publishing and typesetting program – makes it a relatively easy process, once you know what you're doing! Luckily, there are about a bazillion YouTube tutorials teaching you how to use certain features if you get stuck.
Evernote If you're literally bursting with ideas but lose them all on scraps of paper that disappear into the wind, Evernote could well be a life-changing addition to your process. You can keep all your ideas organised in online 'notebooks', which are easily searchable. So, when you're looking for that random fact about tomato sauce you wrote down two years ago, you can find it. It also syncs easily across different devices, so if you're laptop-free, you can find all your ideas on your phone.
Grammarly There's nothing worse than hitting send on an email before realising you used the wrong 'their'. If you want to look super-professional when writing to clients, you could install Grammarly as a browser plug-in. It's a spell-checker for your browser! You'll also get weekly notes telling you how much more productive you were in your email output than other Grammarly users, which might just give you a little ego boost.
Adobe Photoshop 'Photoshop' is now a verb – that's how ubiquitous this digital editing program is. Whether you're photoshopping a photo of yourself next to Beyoncé, running wild with the clone stamp tool or editing a recent photoshoot for a client, this is the tool to get the job done.
Focus Booster Distractions are the enemy (admittedly, mostly a welcome enemy) for any writer. Four hours later, you haven't written a word, but you have watched every video available on the internet of baby echidnas having a bath. This is one of the many 'Pomodoro timer' programs available that will help you break up your writing into 25-minute focus sessions, followed by five-minute breaks.
Adobe Premiere Pro There are plenty of entry-grade video-editing programs out there, but Premiere Pro has all the gadgets and power to make your film look super-spiffy and professional. It even lets you animate parts of your film so you can channel your inner Walt Disney (or Matt Groening).
Adobe Illustrator Creating logos, sketches, typography or complex illustrations is fast and easy with Illustrator – a classic of the Adobe suite. You can doodle on a tablet connected to your computer to make things even easier, if you wish.
Trello This one's for organisation and colour-coding nerds. There are about a million ways to use Trello, but it's especially great for super-simple project management. You can drag and drop different projects to various columns so you can easily see what you're working on and what's coming up. High-five for that!


We've had our minds on creative tech tools since attending the Las Vegas-based CES conference with MSI. They debuted the MSI PS63 Modern laptop at the event, which is super-thin and lightweight and has up to 16 hours of battery life – ideal for creatives who don't want to be desk-bound. (There's also a handy 'Creator Centre', which helps users optimise their laptop's performance for specific creative tasks.)