my favourite frock: Minna Gilligan
Ahead of Frocktober, we chat to artist Minna Gilligan about her absolute favourite frock. 

What you're wearing is rarely that important (unless you're an astronaut stepping onto the moon, or a school student rifling through your closet on free-dress day). But it's still fun to frock up, whether it's for a super-special shindig or you just want to look a bit swish. A really rad frock can make you feel like a gazillion bucks. And it's even better when you're donning it for a good cause.

Right now, we're celebrating Frocktober, a campaign in support of the Ovarian Cancer Research Foundation that encourages everyone to wear dresses in October and raise funds for ovarian cancer research. In that spirit, we've asked one of our pals, artist Minna Gilligan, to talk about her absolute favourite frock – a lovely, swirly dress that's perfect for dancing. We'd love you to join us in rocking your best frock this October to support women's health. Tag us @frankiemagazine, and we'll share our faves. Or if you're able, you can donate to our frankie team Frocktober drive here.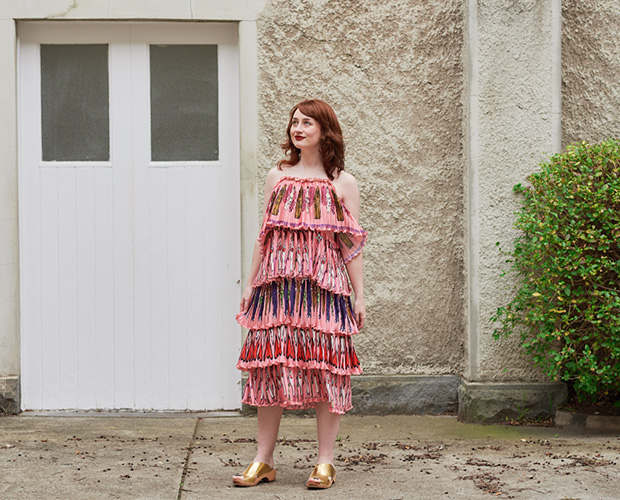 Hi Minna! Tell us a bit about yourself, please. I'm an artist who uses drawing, painting and collage to make technicolour, psychedelic-looking works that collide the past with the present. A lot of my work references my experiences with 'girlhood' and growing up as a woman. My work is optimistic, sometimes a little sinister, and draws ideas and inspiration from past decades I never actually lived through.
What is this lovely frock you're wearing? I'm wearing a Romance Was Born dress from their Opal Goddess collection. It's a pleated and tiered silk dress with an incredible print designed in collaboration with Jenny Kee. I've been a huge Romance Was Born fan for over 10 years now. They create artworks, not garments!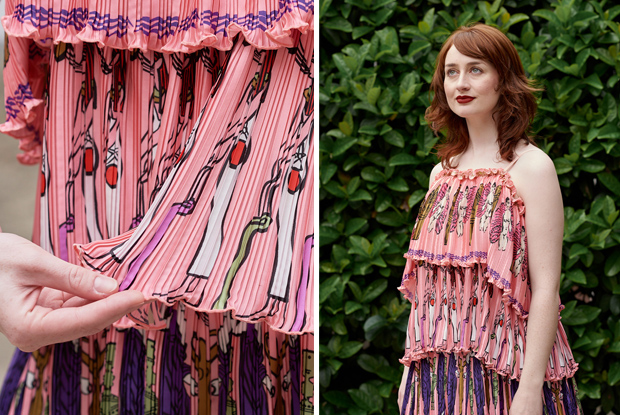 Where have you worn it? Is it an everyday dress or for special occasions? I wore this dress for a New Year's Eve party. Then, a month later, I wore it to a wedding! It was the perfect dress to ring in 2019, and also to dance to wedding band covers of "Wonderwall". It's a special occasion dress, for sure. I mean, I could wear it to the office, but then I'd be setting the bar way too high.
Why is this frock special to you? Every dress I own is special for a different reason, because I usually tie in an occasion or special event or time in my life with each item of clothing I have. This dress is special because I didn't think I'd be able to afford to buy it, but then I got a commission and suddenly could. I feel accomplished when I wear it because nothing makes me happier than working (getting paid to do art!), and then being able to purchase things I love.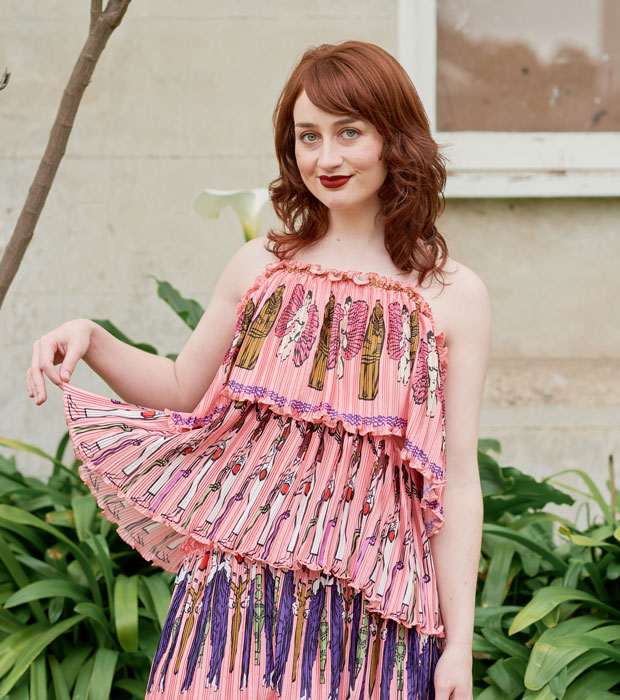 How does it fit into your personal style? I would liken my personal style to that of a magpie. For the most part, I like showy, shiny things. I'm inspired by disco style: think Soul Train and Donna Summer. In my teens and early 20s, I only dressed in secondhand clothing, so I was pretty faithful in my recreation of vintage looks. Now, with the invention of Afterpay, I have a more contemporary (and expensive!) take on retro. Lots of colour and pattern, but in fabrics like cottons and silks. The older you get, the less likely you are to willingly drape yourself in polyester and lurex!
We'd love people to sign up for Frocktober and help to raise money for ovarian cancer research. What does it mean for you to be involved in this campaign? Women's health issues have a history of not being taken seriously. This is changing, but there's always the capacity for it to change more. As someone who's lucky to have not had a direct connection with ovarian cancer, being involved in this campaign has been an educational experience on the importance of developing an early detection test, and making more people aware of what they can do to help.
This interview with Minna was created in partnership with the Ovarian Cancer Research Foundation's Frocktober campaign. They're calling on people to frock up throughout October to raise funds for the development of an ovarian cancer early detection test. Right now, there's no way to diagnose ovarian cancer without invasive surgery. But you can help change that! Pop over to frocktober.org.au to learn more.