my favourite frock: liz archer
With Frocktober just around the corner, we spoke to Melbourne lass Liz Archer about this lovely frock sewn by her mother. 

Remember how schmick you felt when you could don a superhero cape or frilly dress straight off the home sewing machine? There's nothing like wearing duds hand-made by someone who loves you. It's a warm hug from mum, dad or nan in the form of an outfit – just ask Melbourne lass Liz Archer, who is especially fond of this beaut silk wrap dress sewn by her mother.
We chatted to Liz about her favourite frock in the lead up to Frocktober – a campaign in support of the Ovarian Cancer Research Foundation that encourages everyone to wear dresses in October and raise funds for ovarian cancer research. We'd love if you could join her – and the team at frankie mag – in rocking your best frock this month to support women's health. In the meantime, read on for more about Liz's frock, and why it reminds her of her super-talented mum.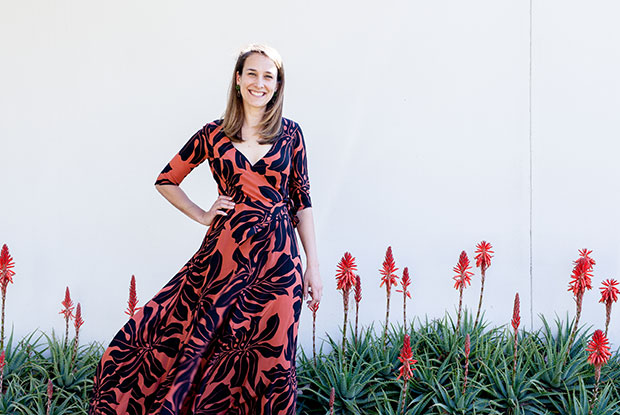 Hello Liz! Tell us about the frock you're wearing. I'm wearing a silk wrap dress based on the classic Diane von Furstenberg pattern. My mum was a dressmaker, and she made this dress for me a few years ago for a black-tie wedding. I absolutely love it. I'm a sucker for a bold botanical print – in this instance, a monstera leaf!
Is it a good reflection of your personal style? It's very much my style, but a black-tie take on it. As I said, I love bold botanical prints, so when I saw this material at Tessuti Fabrics in Melbourne, I bought it immediately, not really knowing what I wanted it to become.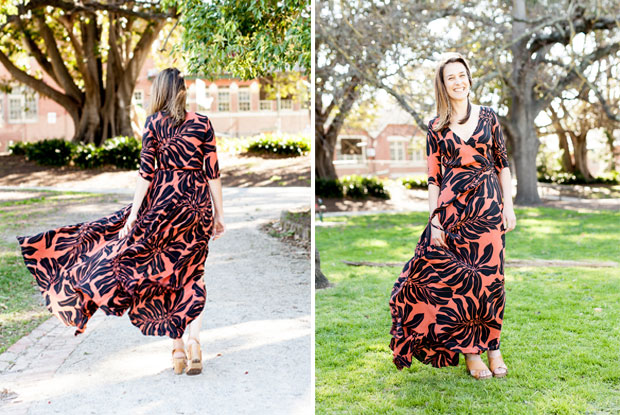 Why is this dress special to you? It was the last dress my mum made me before she passed away from ovarian cancer. She was especially proud of this dress, and I think she really revelled in all the comments I got when I wore it. I've only worn it once, at a good friend's wedding, but I know it will come back out again. It's a classic and won't age.
Can you tell us a bit more about your mum? She was 53 when she was first diagnosed. She'd been on a well-deserved holiday with my dad after a stressful time selling the family home. They cut the trip short by a couple of weeks, as Mum wasn't feeling well. It was very unlike her to make a fuss, so I knew something must've been seriously wrong. When I picked them up from the airport, she looked nine months pregnant, which we later discovered is a telltale sign of the disease in its advanced stages. It was a real shock, as I'd only seen her a couple of weeks earlier looking totally normal.
I'd never heard of ovarian cancer until the moment she was officially diagnosed, and I really didn't know the severity of it. She fought the disease for just over three years, passing away in 2015.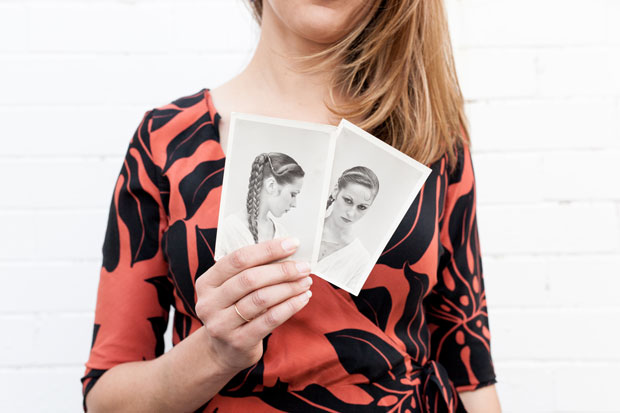 When did you get involved with the Frocktober campaign? Just a month after Mum had passed away. After she passed, I think my sister Kat and I were just so determined to create awareness about the disease, because Mum was a really healthy person who got all her check-ups, so it really blindsided us all. Kat had done Frocktober the year prior, so it began with a donation box at her memorial, with all funds being put towards our Frocktober goal. 2019 will be our sixth year participating, and we've raised more than $30,000 over the years, which is just amazing.
Why was it important to you to be involved in Frocktober? Mum was a very talented dressmaker, so for my sister and I, Frocktober is such a fitting way to remember her. She was one of those people who was integrated in so many people's lives, and I think Frocktober is a lovely way to honour her memory and use her story as a platform for awareness. I've also got two gorgeous nieces, and may have girls myself one day, so I'd love to see the day that an early detection test has been established.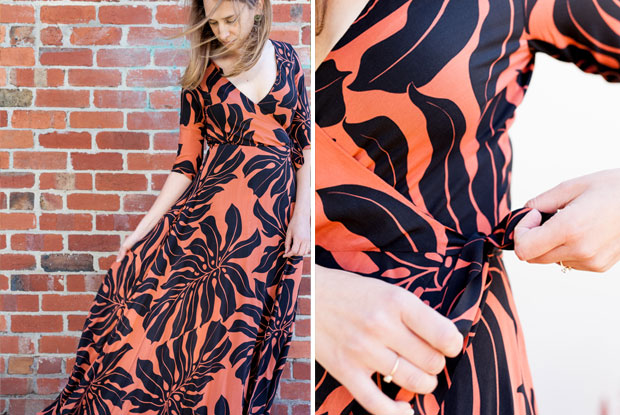 Why would you encourage others to sign up? It's a fun, light-hearted way to spread a really important message. There's a real sense of community, not only amongst friends donating, but also online – every Frocker is supportive of each other. Plus, it's a great excuse to buy and/or borrow a whole new set of frocks for the month!
This interview was created in partnership with the Ovarian Cancer Research Foundation. They're calling on people to frock up throughout October to raise funds for the development of an ovarian cancer early detection test. Right now, there's no way to diagnose ovarian cancer without invasive surgery. But you can help change that! Pop over to frocktober.org.au to learn more.