long list: nice stuff for your mama
Any day is a good day to treat your mum.
Showering your mum with love isn't reserved for just one day of the year. In fact, maybe you'd like to call her right now and tell her how awesome she is (highly recommended). To make her feel extra-special, you might also like to send her something nice for Mother's Day. Because although in-person cuddles are off-limits right now, a sweet care package certainly isn't.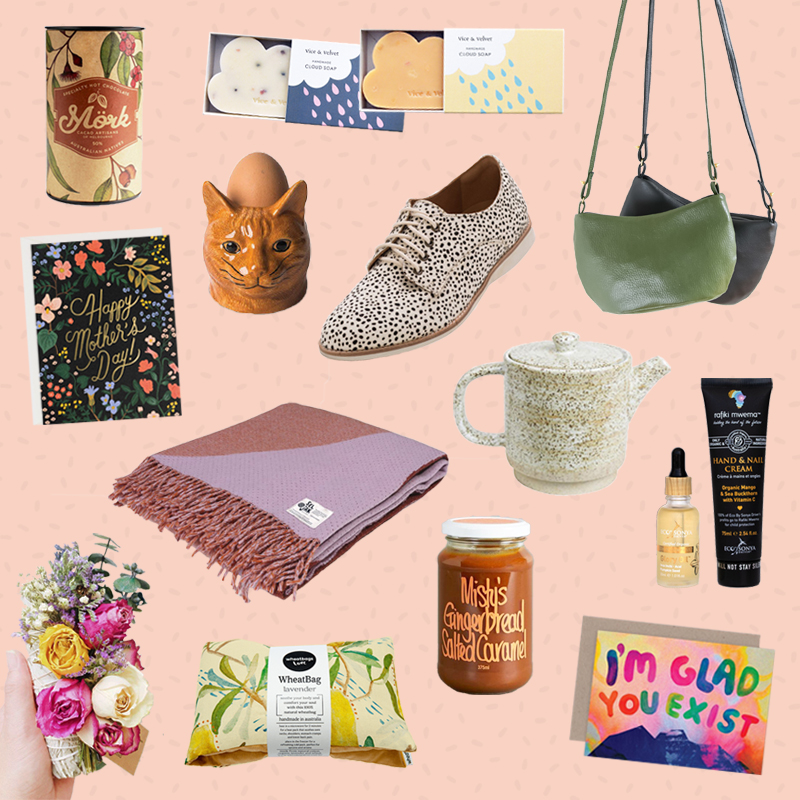 Clockwise from top left (in a spiral shape)
1. Who can say no to a lovely cup of hot chocolate? This blend from Mörk is a smidge fancier than your average brew and comes with a blend of native Australian herbs and spices. rrp $15
2. Vice and Velvet make some of the loveliest bar soaps around. Just look at those adorable cloud shapes! rrp $18
3. Treat Mum to this spiffy bag from Velvet Heartbeat and you'll also be gifting her some cutting-edge technology. You see, the Liv bag is made from entirely vegan cactus 'leather'. Amazing, right? rrp $185
4. With all this vigorous hand washing going on, perhaps Mum would appreciate a soothing hand and nail cream from Eco Tan. Their special Mother's Day pack also comes with an organic hydrating face oil and nifty cosmetic bag, too. rrp $69.90
5. Mums love a handwritten note. It's why they insist on keeping the Mother's Day card you made in grade four, and why they'll appreciate this pretty card from Pinky's Store.  rrp $6.50
6. If your mum's got a sweet tooth, you can't do much better than gift her an indulgent jar of salted caramel from Misty's. This one's infused with a little gingerbread flavouring and is best eaten with a spoon (but can equally be slathered on toast or drizzled onto pop corn).  rrp $15
7. Mums are forever fretting over whether we're warm enough. Now you can return the favour with a lavender-scented wheat bag from Wheatbags Love. rrp $37
8. Whether your mum's into spreading good vibes or would simply appreciate something to make the house smell nice, Elementals Botanica's rose smudge stick should do the trick. rrp $49
9. You can't go wrong with a classic flower-covered card. Nab this lovely design from Milligram to put a smile on Mum's dial. rrp $7.95
10. Mums who enjoy a bit of silliness over brekky will find this cat-head egg cup from Third Drawer Down a bloody hoot. rrp $25
11. When your mum's ready to get out of her isolation moccasins, we reckon she'd dig these comfy lace-ups from Rollie. They're light, stylish-as and if you nab them soon, will come wrapped in rad gift paper by Beci Orpin. rrp  $179.95
12. Well, isn't this Robert Gordon teapot rather lovely? Gift it to Mum and you'll also reap the benefits each time you pop over for a cuppa. rrp $39.95
13. Seljak blankets don't come cheap, but they'll sure keep your mama cosy for years to come. The Dune blanket is super-soft and made from reclaimed wool and other textiles that would otherwise have gone to waste. Neat! rrp $329