frankie's guide to cakes on film
The one thing better than eating cake is looking at pictures of cake, but we've gone one step further and put together a list of our favourite cakes on film. Bon appetit!
The one thing better than eating cake is looking at pictures of cake. This is a scientific fact proven by me using very rigorous self-analysis. There's something magical about imagining what a rainbow cake with vanilla icing would taste like, or what the first bite of a plum cake would do to the inside of your mouth when the sour, jammy fruit hits your tastebuds at the same time as the soft, buttery cake it's dressed in. It's enough to make you make noises. Yes, it is.
While there are many pictures of cakes to look at, some of my favourites are in the movies. I like it when cake is contextualised within a story. I like it when cake is integral to the development of a plot. I like it when cake is famous and important and designed by the art department. For this reason, I have made a list of my favourite film cakes for you to enjoy:
PEEPING TOM:

date. 1960, dir. Michael Powell, perf. Carl Boehm, Anna Massey, Moira Shearer
type of cake: birthday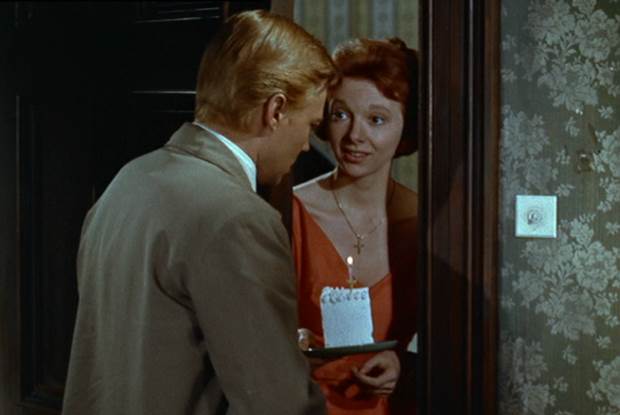 Peeping Tom isn't really about cake AT ALL. It's about a guy named Mark who kills women because his scientist dad experimented on him as a child and now his moral compass is all over the place! The whole thing is pretty grim! But cake still plays a part when his neighbour Helen decides to show him some kindness. As a gesture of friendship she brings him a slice of her birthday cake, because girlfriend knows everyone likes cake, even the quiet, slightly strange man upstairs who kills people.

MILDRED PIERCE:
date. 2011, dir. Todd Haynes, perf. Kate Winslet, Guy Pearce, Evan Rachel Wood
type of cake: patriarchal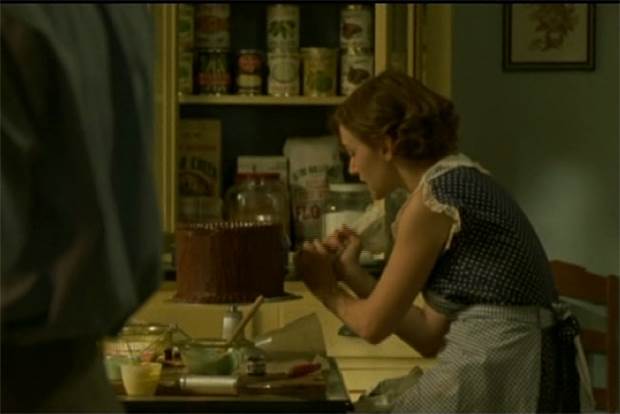 The opening shots of Todd Haynes's HBO mini-series all involve delicious baking. Mildred's hands first knead and roll out pastry, place it in a tin, then pour in a just-made lemon curd and smother it with meringue. Once the two pies go in the oven, Mildred starts colouring different batches of buttercream and decorating a small tower of a chocolate cake. It's all very impressive. Even more so, when she manages to argue with her husband and throw him out without missing a single dot or swirl with her piping bag. Lady knows how to work that thing.

SINGIN' IN THE RAIN:

date. 1952, dir. Stanley Donen & Gene Kelly, perf. Gene Kelly, Donald O'Connor, Debbie Reynolds
type of cake: face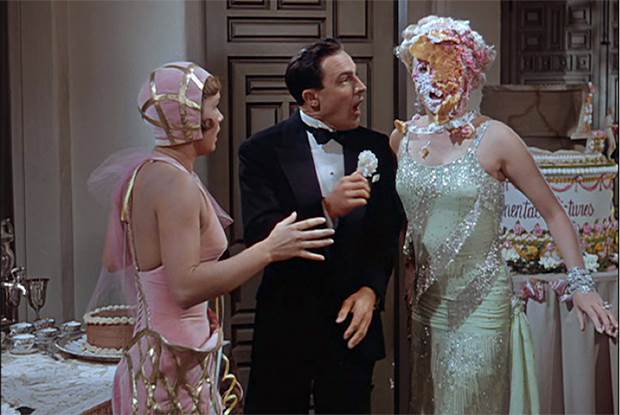 Does anything taste as good as sweet, sweet face cake? I'm not sure if it does. Cake thrown onto the human face immediately becomes more delicious, by the secret ingredient SCHADENFREUDE. In Singin' in the Rain, it's Kathy who does the cake flinging, after finding herself embarrassed by the big movie star Don Lockwood. To even the score she reaches onto the table behind her and grabs a cream cake with pink and white icing. "Here's one thing I learned from the movies!" she cries, before launching the cake in Don's direction. Don ducks and his co-star, Lina Lamont, gets a face full of pudding. It's OK, though. She deserves it.

TWIN PEAKS:

date. 1990-1991, creators. David Lynch & Mark Frost, perf. Kyle MacLachlan, Michael Ontkean, Mädchen Amick
type of cake: pie pie pie pie pie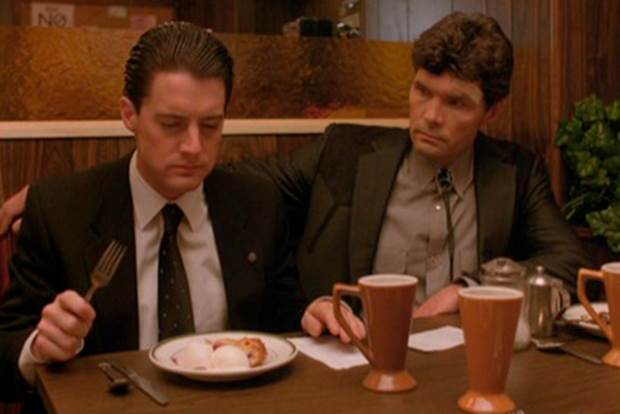 My love of cherry pie is a very happy consequence of my great love for Twin Peaks. Before watching the David Lynch-Mark Frost-created show, cherry pie was just one of many flavours - inferior, maybe, to banoffee or steak and kidney. But the enthusiasm Special Agent Dale Cooper has for cherry pie is a sure sign that it is, in fact, THE BEST KIND OF PIE. This is a man whose hobbies include giving the thumbs up, solving crimes and drinking coffee that's "damn good ... and hot!" He clearly knows what he's talking about.

ARRESTED DEVELOPMENT:

dates. 2003-2006, 2013, creator. Mitchell Hurwitz, perf. Jason Bateman, Portia de Rossi, Will Arnett
type of cake: narcoleptic hooker-sized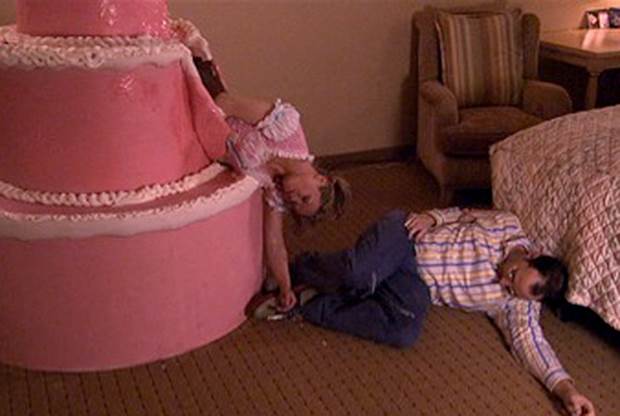 According to Lucille, Buster can't have sugar because it makes him "more awful". So, when he finds a giant cake at his brother Gob's bachelor party in episode 19 of season one, awful consequences are a sure bet, especially when there's a narcoleptic stripper baked inside. After plunging his hands into the cake, Buster unknowingly wakes up the stripper who bursts through the fondant and punches him out cold. She promptly falls asleep and, when she wakes up, assumes she's killed him. "Not again," she says as she runs from the scene. When Buster wakes up, he assumes he's killed Michael. This is what sugar does, people. Lucille was right.

DRAG ME TO HELL:

date. 2009, dir. Sam Raimi, perf. Alison Lohman, Justin Long, Lorna Raver
type of cake: evil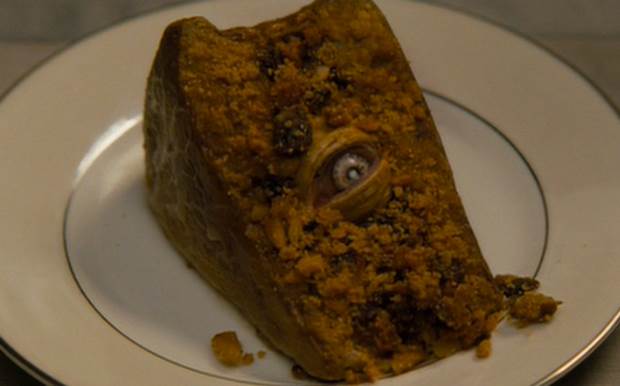 Cakes are a symbol of goodwill. They bring peace and love and happiness wherever they go. This is a universal truth, except for when a gypsy has put an ancient curse on you for rejecting her mortgage extension request. Then your cake turns into something far more sinister. This is what happens to poor Christine Brown in Drag Me to Hell, who, after knocking back a request from Mrs Ganush, is cursed and then haunted by the powerful Lamia demon. The Lamia messes with her life: appearing in shadows at her home, giving her nightmares, and causing terrible nosebleeds. Worst of all, the Lamia also messes with her baking, transforming the harvest cake she bakes into something horrible, eyeball-y, and maggoty. It's a real shame, especially for the characters that eat it.