five films to watch when you don't want to leave your bed cocoon
Some of you are probably thinking: "But the world is so full of wonder and toast! If I never get out of bed I'll never get to experience any of it!" Well, my friends. This is where you're wrong.

We've teamed up with the folks at UNiDays to bring you stories about all the stuff you go through when you're studying. Did you know UNiDAYS members can nab a 25 per cent discount on their frankie magazine subscriptions? Well, now you do. Check the bottom of the story for more deets.

Beds. Most of us have one. Some of us have futons. Let's not fight.

Despite our differences, I think we can all agree that there are some days when the task of heaving your frame from the depths of the pillow and blanket fort you've built overnight is almost too much to bear. The floor is so cold. The world, so unfriendly; the only friendly place is bed. If I never had to go to the toilet, bed, I'd never get out of you. But, alas, I have to go to the toilet quite a lot. It's just the way things go.

Spending a full day in bed is basically the closest thing you'll ever get to being a tiny child king. You can do whatever you want to, dammit – you are the ruler of your very own dominion. I know what some of you must be thinking: "But the world is so full of wonder and toast! If I never get out of bed I'll never get to experience any of it!" Well, my friends. This is where you're wrong: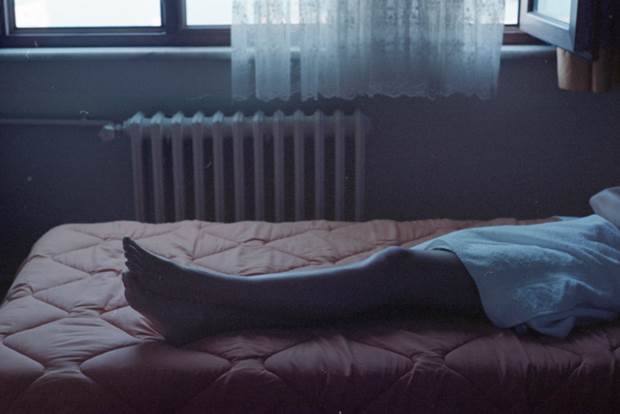 Why get out of bed and go outside when you can watch...

Encounters at the End of the World

Dir. Werner Herzog. Starring: ICE.

Look, Werner Herzog is something of a hobby of mine. I enjoy his distinctive documentary style. I like his earnestness and weirdness. In my spare time, I enjoy listening to his philosophising on chickens: "The enormity of their flat brain, the enormity of their stupidity is just overwhelming," he says in his distinctive German-American accent in a YouTube video called "Werner Herzog on chickens" (YouTube also gifts us videos like "Werner Herzog on the obscenity of the jungle" and "Werner Herzog on penguin prostitution", so there's plenty to share around).

In Encounters at the End of the World, Werner Herzog muses on the vast, empty and freezing wilderness that is Antarctica. He's interested in the landscape and in the people who work there – scientists, adventurers, bus drivers and philosophers – as well as the utter strangeness of the place itself. Of course, it wouldn't be a Werner Herzog film without a sequence featuring musings on penguin insanity, so there's a bit of that as well (SEE: CLIP BELOW).

From your bed, Encounters at the End of the World can offer you two things: a reminder of how marvellous the world is, but also how warm it is under your covers, away from all that snow. Ten stars.



Why get out of bed to eat food when you can watch...

Waitress

Dir. Adrienne Shelly. Starring: PIE.

My favourite thing about breakfast is that it's basically dessert. It's just sugar and carbs and creaminess. Also it floats. Go breakfast.

And while there aren't many films about breakfast for you to watch from bed (The Breakfast Club and Breakfast at Tiffany's don't count, sorry), there are plenty about dessert, including Waitress, which is about a "pie genius" named Jenna and if you haven't seen it, you are MISSING OUT.

There are plenty of reasons to like Waitress: it's really funny, it's got interesting female characters who actually think and feel and act like real female people (the film was written and directed by noted lady Adrienne Shelly, who, terribly, was killed shortly before its release) and its message of self-reliance, throwing caution to the wind and embracing change is just delightful. If that wasn't enough, it has pies coming out the whazoo. What more do you want?

(Disclaimer: if you watch this in bed, you will probably want to get out of bed to eat a pie. Pie is worth getting out of bed for. I salute you).



Why get out of bed to see friends when you've got...

Ghost World

Dir. Terry Zwigoff. Starring: MISFITS.

Watching Ghost World was something of a formative experience for me. I watched it and thought, "Ohhh, so there are other people in the world like me." I mean, it's not terribly uplifting and it's basically about people whose lives are falling apart, but it never loses its sense of humour or its compassion for its lead characters, Rebecca and Enid, who don't really know what they mean to each other, or what the world means, after they finish high school.

There's nothing wrong with not knowing and that's why Ghost World is so good. No one is condemned for their bad choices, or for their lapses in judgement. The characters, once you think about it, are both pretty terrible – Enid is sceptical to the point of cynicism and is sometimes petty and cruel, while Rebecca tries too hard to find sensible, responsible adulthood and ends up being a bit too self-righteous about her choices.

The film, in the end, is basically about the difficulty of self-discovery in a world full of confusing possibilities. In other words: NOBODY KNOWS WHAT THEY ARE DOING. This is a good thing to realise and it's especially comforting from bed.



Don't get out of bed to go to work, watch...

9 to 5

Dir. Colin Higgins. Starring: LADIES.

Urgh, working 9 to 5. Unless it involves Dolly Parton using her fingernails as a percussion instrument, singing and being Dolly Parton, I'm just not interested.

I could write a big ol' list about how great 9 to 5 is, but, frankly, if you need more reasons than Dolly Parton (I can also offer Jane Fonda and Lily Tomlin) and the promise of hearing Dolly Parton sing the song "9 to 5" at some point, then we're probably never going to be friends.

With or without Dolly, 9 to 5 can remind us of either why work is so terrible (horrible bosses! Institutional sexism! Repetitive, thankless work!), or why your colleagues are so great (they conspire with you to get rid of the horrible boss! They're not sexist at all! They want to make work fulfilling!). Neither of them is in your bed. For this we can all be grateful.



Special bonus movie with lots of beds...

Eternal Sunshine of the Spotless Mind

Dir. Michel Gondry. Starring: MEMORIES.

There are a lot of beds in Eternal Sunshine of the Spotless Mind – the best movie Michel Gondry ever directed, let's be honest. The movie opens on Joel, played by Jim Carrey, waking up in bed with what looks like a hangover; but – as it's Valentine's Day – his mood soon takes on the cast of a much deeper and longer-lasting emptiness.

There's no sprightly leap from the covers. Instead, Joel drags himself out into the world, which seems to be filled with people who are fulfilled with warming companionship and share charmed lives filled with flowers and chocolate. He finds himself wandering alone on a cold, Long Island beach where he meets for the first time a woman he has always known, played by Kate Winslet, whom he fell in and out of love with long in the past. Both of them don't know that they know each other, though – after their breakup each of them had their memories erased while they slept.

Eternal Sunshine reminds us that there are some days when, at the bottom of your soul you can see no good reason to get out of bed, but in your mind know that you have to. And sometimes, despite how hard it can be to go outside, wonderful things can happen.
Originally published August 3, 2014.

Thanks to the kind types at UNiDAYS, uni students can nab 25 per cent off their frankie subscriptions. Just click here, then register or log in using your UNiDAYS member details. Easy as!