five films to make you feel warm inside
Warm yourself from the inside out by filling yourself with as many happy feelings as will fit in your heart. These films will help.

We've teamed up with the folks at UNiDays to bring you stories about all the stuff you go through when you're studying. Did you know UNiDAYS members can nab a 25 per cent discount on their frankie magazine subscriptions? Well, now you do. Check the bottom of the story for more deets.

As the planet turns the weather dial down, transforming the cool breezes of summer into the howling winds of winter, we puny humans are left with nothing to look forward to but the inevitable cheerless, dry-skinned days ahead.

Winter is a season for runny noses and lost socks. For cold and clumsy fingers that lose their dexterity, and for feet that are colder than Canada, no matter how many layers they're bundled in. The chilly season may be edging its way towards us, but there are several tricks to surviving its snap-frozen clutches. One is to never go too far without tea or a scarf; another is simply to wear all your clothes at once, without a care in the world for the judgement of strangers. My favourite still is to warm yourself from the inside out by filling yourself with as many happy feelings as will fit in your heart. From there, they can burn bright and long to sustain you, even during the bleakest and darkest of winter days.

If you need to top up your supply of happiness, or simply want to feel something other than cold, then I recommend covering yourself in blankets, turning on a screen and watching one of these: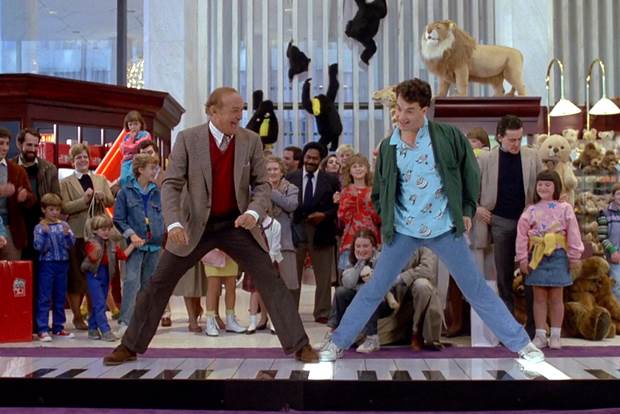 Romy and Michele's High School Reunion

There's something wonderfully endearing and warm about both Romy and Michele, two dippy best friends who decide to just *pretend* to be successful when they attend their 10-year high school reunion. The plan is to claim they invented Post-it notes, because, hey, why not? Post-its are useful.

The plan succeeds, but then fails and, in the end, sends a simple message: don't pretend to be anybody but yourself, because you are awesome. Right on.

Groundhog Day

Have you ever met anybody who didn't like Groundhog Day? There's a good reason for this: everybody likes Groundhog Day. It is the best.

Here's why: Bill Murray, playing the weatherman Phil Connors, discovers the meaning of life, partly thanks to a herbivorous, hibernating whistle-pig also named Phil, but mostly because of a time-loop that seems to have trapped him in Punxsutawney, Pennsylvania forever.

It's a beautiful thing to watch weatherman Phil relive the same day again and again, and more beautiful still when he manages to get himself out of there.

It's a Wonderful Life

I have written about my affection for It's A Wonderful Life more times than I can remember, so forgive me while I bang on the "It's a masterpiece" drum one more time.

It's A Wonderful Life is a masterpiece. It truly, truly is. It fills you up like a warm tonic that radiates through every cell in your body. It is utterly without equal (sorry to all the other films on this list) and, should you choose to spend some time with it, you will hopefully realise why.

Big

Ah, Big. You are the only reason I visited the giant piano in F.A.O. Schwarz on my first trip to New York and I daresay you will be the reason I keep visiting that giant piano, no matter how creaky my legs get.

Big is all about Josh, who, after being told he's too short for a carnival ride, makes a wish to be "big" on a fortune-telling machine. The next day he wakes up to find out he's turned into Tom Hanks, which isn't so bad, because Tom Hanks has won two Oscars.

As Josh gets a job and discovers the possibilities of the adult world, he has a lot of very sweet and charming fun (although a romantic subplot is slightly creepy). "Sweet and charming" just about sums up the film, really. Plus it's directed by Penny Marshall, whose contributions to awesomeness (A League of Their Own, Laverne on Laverne and Shirley) should never be forgotten.

Galaxy Quest

Jason Nesmith (Tim Allen) is the washed-up star of Galaxy Quest, a long-defunct science fiction TV show along the lines of Star Trek. Between faded appearances at fan conventions, he lives alone in his empty mansion perched in the hills above LA, looking down at all those losers still trying to keep the showbiz dream alive.

That is, until he and his former cast member are kidnapped by aliens who have built their entire civilisation by copying the cardboard sets of Galaxy Quest, the TV show, which they refer to as the sacred "historical documents". Faced with annihilation, the aliens call on Nesmith to save them, and so this band of has-been actors must find it in themselves to play it for real.

Galaxy Quest seems at first like a smug, self-reflexive joke that's not as clever as it thinks it is, but it brings home the emptiness of irony as we come to see how the aliens' sincere belief in the show makes their lives full: open to betrayal and deceit, yes, but also open to something worth living and dying for, open to the possibility of building a world out of nothing but a story. It's beautiful.
Thanks to the kind types at UNiDAYS, uni students can nab 25 per cent off their frankie subscriptions. Just click here, then register or log in using your UNiDAYS member details. Easy as!