five films about depression that aren't depressing
Brought to you by people with anxiety and depression.
This list is brought to you by two people with anxiety and two others with depression. Together, we sifted through a host of cheesy, overly earnest flicks and found five films which actually do a good and somewhat accurate job of portraying mental health struggles, without leaving you feeling depressed, either.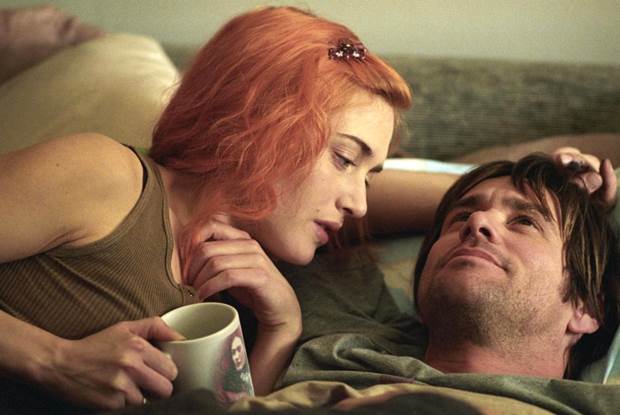 Eternal Sunshine of the Spotless Mind
Got any really bad memories you just wish you could scrub away? That's the basic premise of Eternal Sunshine of the Spotless Mind, which is set in the wake of a relationship breakup between Joel (Jim Carrey) and Clementine (Kate Winslet). Having a bleached clean brain might sound very nice (I would 100% get rid of that time I farted in a job interview), but the film shows us how if we never learn to live with our own mistakes and bad memories, we'll never learn how to live with ourselves.
Young Adult
You know the story about the mid-career professional who returns to her hometown to reunite with her high school sweetheart? You do? Not like Young Adult you don't. Trust me. The movie centres on Mavis (Charlize Theron), a successful writer with a drinking problem who makes some really bad decisions and does some really awful things during what is obviously a psychologically painful part of her life. If you think Young Adult is all about heaping scorn on Mavis for being a bad person, you're wrong (sorry). Instead, Young Adult asks us to care about Mavis, despite what she does, despite what she says, because it's what she deserves.
Inside Out
Neuroscientists love Inside Out, and for good reason: it makes bright and colourful the complex workings of the human mind and shows how emotions shape and guide our daily lives. In Inside Out, we spend time with five brightly coloured emotions who live in 11-year-old Riley's brain: Anger (Lewis Black), Fear (Bill Hader), Disgust (Mindy Kaling), Joy (Amy Poehler) and Sadness (Phyllis Smith). Through their dealings with one another, we get to discover that all emotions have a purpose and that no one emotion is categorically better than another (Joy gets a bit exhausting after a while, tbh). In other words, feeling sad sometimes is good because it helps us to understand what we value.
Silver Linings Playbook
Pat (Bradley Cooper) is back home after a court-ordered stay in a psychiatric facility. Tiffany (Jennifer Lawrence) is emerging from a self-destructive spiral following the death of her husband. With this intro, you might be forgiven for thinking Silver Linings Playbook is a very serious, very earnest "exploration" of psychological conditions. Instead, the film refuses to despair in the face of its characters' crises. Even during their mad furies and deep sorrows, Pat and Tiffany still show us their human energy and soul, whose inclinations are always bending, at least in this film, towards the shared experience of joy.
The Skeleton Twins
The Skeleton Twins begins with a suicide attempt being interrupted by a suicide attempt: the instant Maggie (Kristen Wiig) is ready to swallow a handful of sleeping pills, she receives a phone call from California, telling her that her estranged brother Milo (Bill Hader) is in hospital after slashing his wrists. The twins haven't spoken in 10 years, but Maggie eventually (and not very enthusiastically) offers Milo a place to stay. It's so, so nice watching the twins reconnect, but I think the best thing about The Skeleton Twins might be how effortlessly it moves between drama and comedy – it's very, very funny but it also aches with sadness, loneliness and regret.