breaking into the creative industries with ngaio parr
We find out how this creative jack of just-about-all trades went from doodling horses to quitting her job and starting a design conference. 
Despite a childhood deprived of popular TV shows, Ngaio Parr strikes us as the MacGyver of the art and design world. With her fingers in a dozen pies (we're talking illustration, design, curation, creative direction and more), Ngaio is the kind of lady who relishes a challenge. Did we mention she is also the founder of design conference Make Nice? We met Ngaio at the Adobe MAX conference in Los Angeles to pick her brain about making it in the arts.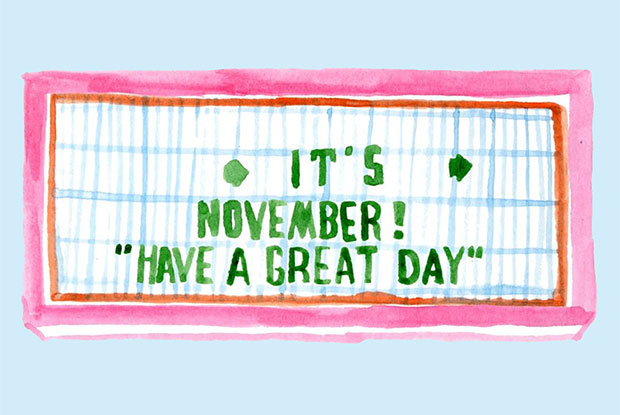 What was your connection to art growing up – were you an arty kid? Yes, definitely. I wasn't allowed to watch TV like The Simpsons or other cool things most kids watched, so instead, I read a lot. My parents would get me doing a lot of science experiments and drawing. We used to make cars out of boxes instead of watching TV, which gave me a starting point for thinking creatively. In school, I drew horses for other people in class.
Talk me through your journey to freelance artist and designer. How did you get to where you are today? It's a very curvy path! I went to a private high school that specialised in science and maths – I did photography, art and theatre, so I was quite out of place, but it showed me that there's a capacity for art to create a community. After high school, I did a year of plain arts – a criminology subject, art subject and history subject. I didn't know what I wanted to do, so I was privileged to do the subjects I was interested in. Then I did a fine arts degree in Brisbane, which I loved because it encouraged creative thinking and problem-solving. I wasn't learning sculpture or painting – we were just left to teach ourselves. From that, I worked as a curator for about five years at a private art gallery in Brisbane.


How did you land the curator gig? My fine arts degree was very helpful for curating. That job was amazing. I got to speak to the then-director of MoMA in New York. We sold work to almost every public institution in Australia, and I got to hang out with some of my art heroes, like Eugene Carchesio, Richard Bell, and Vernon Ah Kee.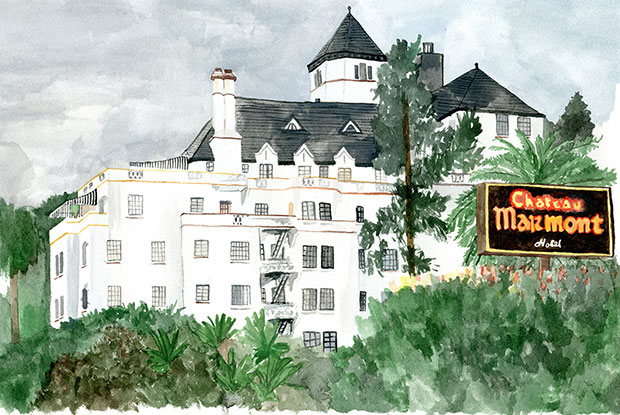 So, how did you go from curating art to making art? I realised I was jealous that someone else got to make art, but I didn't want to be an artist because I don't like talking about myself very much. Design was a perfect mix of creativity and problem-solving and it didn't need to be all about me. So I did a design degree while I was working full-time at the gallery, and I did an exchange to the Rhode Island School of Design in America – it was unbelievable! When I moved back, I moved to Sydney, and worked as Triple J's graphic designer for a while.
How did you work up the confidence to go freelance? Was it as easy as just one day saying, "I'm going to quit my job"? You know how when people give birth, they forget how painful it is? I feel like that's what happened here, because I have this foggy bit in my memory. I wanted to do lots of things at once, not just graphic design. I wanted to do book design, branding, illustration, curating… so I started working for myself. I didn't plan it, or save money. I'm lucky I have a partner, so if I can't afford to eat, he'll buy me food. About a year into freelancing, I started teaching a subject at UTS. That was my rent money. And I love teaching, as well. It's amazing to have a safety net that I enjoy - I think there's a lot to be said for keeping a part-time job or doing what you want in your off hours until you feel confident you can support yourself. Especially if you, like me, don't have a big a family you can fall back on. 
You've worked across many disciplines, from curation and branding to illustration and set design. Is there one area you're particularly drawn to? The projects I find creatively fulfilling are those I don't 100 per cent know how to do. I think that terrifies a lot of people, but I love it. If I don't know a program, I'll learn it. If I've never used a material before, I'll teach myself. I think that comes from the fine arts degree, where you're told to just figure it out and pick the medium based on what you're trying to say, rather than limiting yourself. The downside is that it's harder to market myself because I do so many things.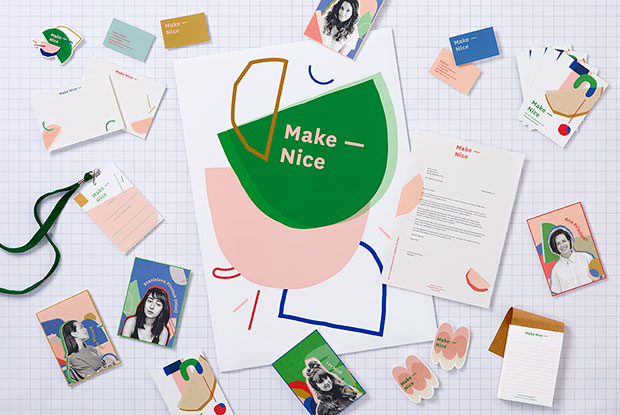 When it comes to creating art, what makes your work uniquely yours? I often think I don't have a style, but people tell me I do. I like to think some of my personality comes through in my work, whether it's a book design or illustration. I'm pretty no nonsense, and I'm not into super-perfect details. Colour is also an important element in every project I do. 
Let's talk about Make Nice. Can you tell me what prompted you to bring it to life? I started it for a few reasons. Teaching at UTS, my students were 95 per cent women, but the content was not. They didn't know who to look to, so I had to write lists of amazing creative women - everything was very white male-centric. I also found it difficult to make friends and talk to people in a judgement-free way about my work when I first came to Sydney. The conferences I'd go to were great, but the speakers were doing portfolio talks about things I could see on their website. I wanted to know what went wrong, how they fixed that, what they find difficult, and how they developed community around their work. There's a Miranda July quote that sums it up – "All I ever really want to know is how other people are making it through life – where do they put their body, hour by hour, and how do they cope inside of it." When you're in a creative field, you don't want to see the filter. That's why I started Make Nice. Oh, and I was deluded.
Who are some creative types you're really digging at the moment? Joy Li is an amazing designer and illustrator, and works so hard. Stanislava Pinchuk (Miso) just amazes me. I don't understand how she does everything she does. She's so inspiring and hardworking and deserves everything coming to her. Brodie Lancaster is an amazing writer – she's just started freelancing six months ago and is doing great job.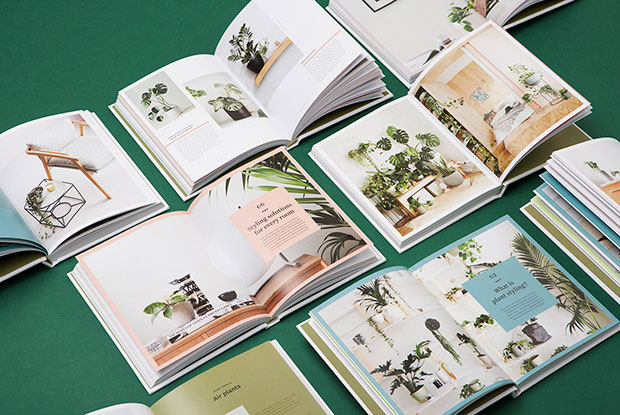 What do you wish you knew about being an artist or creative before you started? That your heroes are pretty much exactly the same as you and not to be scared to approach them in a respectful way. Being a kind person is more important than having any kind of creative skill. Something I'm still learning, which is a very Australian thing, is being OK to talk about my work and telling people about it, whether I'm proud of it or not. You could be making the best work in the world right now, but how is your dream client going to find out about you?
You have a lot of projects on the go at once. How do you go about spinning all these plates without burning out? At the start of the year, I made a drastic change. In the past, I'd work intensely for three months, then burn out and get sick for a month, then repeat the cycle. But now I've put a lot of walls in place: I go for a walk everyday, I write down three things I'm grateful for at the end of each day (even though I roll my eyes intensely as I do it), I eat healthier and I don't work on weekends anymore.


Do you have any daily work-specific routines? I don't respond to emails straight away – I give myself three hours. I draw every single day, even if it's for half an hour. The other thing I do is turn off the wifi and put on a 90-minute timer to just focus on one task before I take a break. I do three to four blocks of that each day. I get so much more work done!
What would be your absolute dream project to work on? Oh my god, so many! My dream project would be to redo an old-school Modernist hotel – like, completely renovate and do every aspect from styling to painting, creative direction, branding and interior direction. I just need to find some rich hotelier who wants to help me out. 
We chatted to Ngaio at the Adobe MAX conference in Los Angeles.