books to cool you off
Oh my GOD, when is the BLOODY cool change coming? Until then, we'll draw the blinds and park ourselves in front of the fan with one of these chilly page-turners.
Ah, the Aussie Summer. Warm days, warm nights, then the warmer days, and the warmer nights, and finally the screaming exhaustion that comes from consistently warm days and nights and oh my GOD when is the BLOODY cool change coming? The best thing we think you can do during a scorching summer is draw the blinds, get an ice-cold drink, and park yourself in front of the fan with one of these chilly page-turners.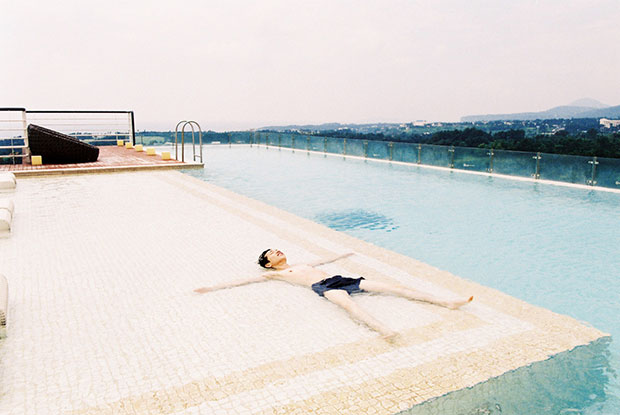 Image by Hasisi Park.

The Shining - Stephen King
An obvious choice, but a solid one, Stephen King's The Shining is a classic you absolutely have to read – and the summer break is the best time for it. While you're being driven mad by heat, read all about protagonist Jack Torrance being driven mad by a creepy hotel, a creepy son, and the snowstorm that is trapping them together. Even if you've seen the incredibly famous film adaptation ("Heeeeeere's JOHNNY!"), King's work is worth the read.

Burial Rites - Hannah Kent
An Aussie summer book list calls for an Aussie writer, and Hannah Kent is one of our most successful exports. Set in frosty Iceland (ice-land, say that 10 times to cool off) the epic 350-page novel is based on real-life murder suspect Agnes Magnúsdóttir, and details her last frosty days awaiting execution in the winter of rural Iceland. This year it was announced Jennifer Lawrence will star as Agnes in a film adaptation of the novel, so not only will reading this book cool you off, it'll make you look cool when the film is released and you get to brag that you "preferred the book".

The Left Hand of Darkness - Ursula K LeGuin
Ursula K. LeGuin was the legendary sci-fi author who wrote the Earthsea series. Sadly, she passed at the start of this year, but it's never too late to get into her amazing work. The Left Hand of Darkness is known for being a somewhat feminist sci-fi text, but an added bonus for us sweaty summer feminists is that the book's main character, Genly Ai, is located on a planet called Winter, which is – you guessed it – always cold.

Into Thin Air - John Krakeur
Between May 10 and 11, 1997, eight climbers died in a blizzard close to the summit of Mt Everest. This book by a climber who was there is considered one of the best texts on the incident, though it is obviously a really tragic tale. It'll cool you right off, but also give you an insight into what it takes to be a mountain climber, and expose you to the environment climbers face on the famous mountain. A serious addition to a summer reading stack, this one is also a great book to gift to that outdoorsy uncle or aunt you got in your Kris Kringle.

Never Let Me Go - Kazuo Ishiguro
While weather doesn't necessarily feature as a main theme in this award-winning classic, the overall tone does leave one with a chilly melancholy. A tear-jerker, the book is largely set in the English countryside, known for its grey climate, and the main characters spend a winter or two in some shabby cottages that are described as "so cold you need multiple blankets to sleep under so as not to freeze in the night" – a nice antidote to those nights it's so hot you can't even sleep with a light sheet on. We won't give away too much about this dystopian page-turner, but recommend it as a summer weekend read.