artist interview – tallulah fontaine
Canadian lass Tallulah Fontaine makes art for some of the coolest bands on Earth.
Canadian lass Tallulah Fontaine makes art for the likes of Last Gang Records and 4AD. Yep, that means she illustrates for some of the coolest bands on Earth. She's also one of the clever clogs behind Home Zine, a pretty publication all about the idea of 'home', from people to places and feelings to spaces. We had a chat to the creative lady about her arty practices and what makes her tick.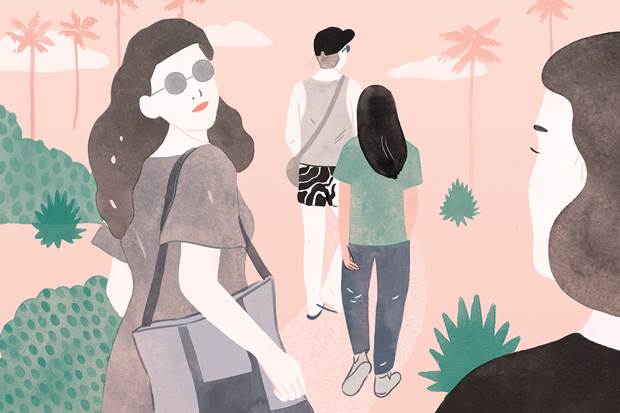 What is your name and how old are you? My name is Kristina (Tallulah is a nickname) and I'm 25.
Where were you born and where do you live now? I was born in Edmonton, Alberta, but currently live in Toronto. I've also lived in Montreal and Los Angeles.
What kind of mediums do you use? I mostly work with pencil, gouache and watercolour. When I started out I mostly used materials left over from high school (inks and pastels), but I eventually started experimenting with other mediums and those are what I liked best. I also illustrate digitally with a Wacom tablet.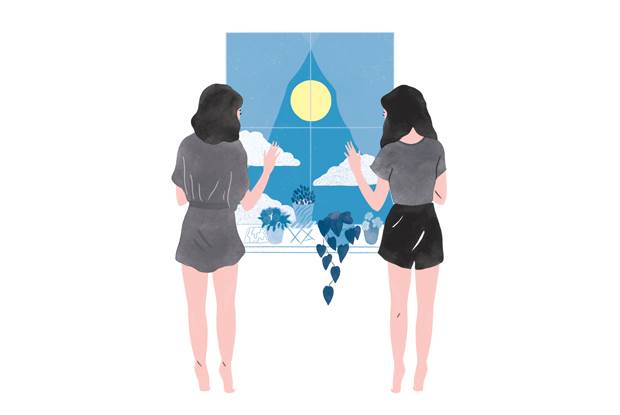 Please describe the space where you do most of your creation – whether it's your art studio or kitchen bench! I have a home studio on the second floor of my apartment that I share with my two roommates. I have this great little office in the nook by the window. My desk is decorated with plants, friends' artwork, old photos and a glass case of taxidermy butterflies. I spend so much time here so I try to make it a welcoming space to be every day.
Is there a running theme to the work you create, or do you just make whatever comes to mind? There are no running themes exactly, but I try and create work that reflects a lot of my past experiences and current surroundings. Most of my personal work and zines have been about a relationship I had with someone on and off for the last six years.
What kinds of ideas and things are you working on at the moment? Right now I'm focusing on some commissioned work and trying to save money to travel this winter. I've been lucky enough to work on projects that I really enjoy doing, like artwork for bands touring in the fall, some EP covers and a fun travel guide. I've also been slowly working on some of my own projects, including a zine that a friend is publishing for me. Hopefully out later this year.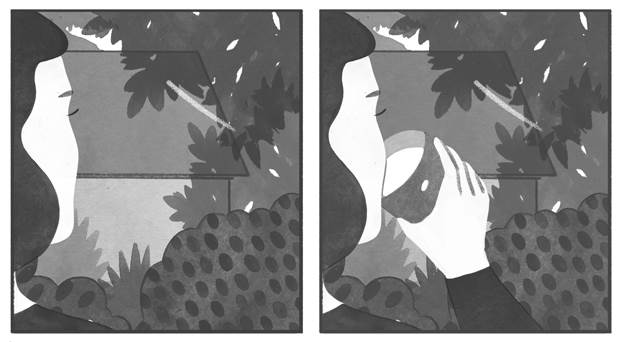 If you were to teach an art appreciation class, what kind of lessons would you try to teach your students? I've never taken an art appreciation class so my only reference is what happens in the movie Mona Lisa Smile. I think I would try and take my students to see one of James Turrell's Skyspaces. I saw his show at LACMA maybe two years ago and it had a huge impact on how I see light and colours. I think everyone should try and see his work, it's pretty life changing.
What do you wish you knew about being an artist before you got started? That it really is like running a business. So much of my day is spent answering emails, packaging orders or going to the post office. I'm grateful I get to illustrate for my day job, but some days I really just want to hide away and work without too many other distractions.
What is the strangest thing or thought that has inspired a piece of work? Probably some of the lyrics of Purity Ring's songs. Especially when I made the art for their first album Shrines. Megan James has a very unusual and creative mind.
Are there any other mediums that you'd like to experiment with? I'd really like to get into making copper etchings and printmaking in general. I took a class in high school and really loved it. Kiki Smith is one of my favourites and I'm so drawn to the delicate feel and markings of her etched pieces.
What do you doodle when you're daydreaming? Mostly hands and flowers, but I'm not much of a doodler these days.
What other budding artists do you love? Oh man, so many of my friends make beautiful art, like Carla McRae, Maddy Young and Louise Reimer. My niece Chale is pretty amazing too.
What do you enjoy doing when not creating art? I really like going for walks and reading in the park by my house, drinking Mezcal on a nice patio and going to sewing classes with my friends Julia and Olivia.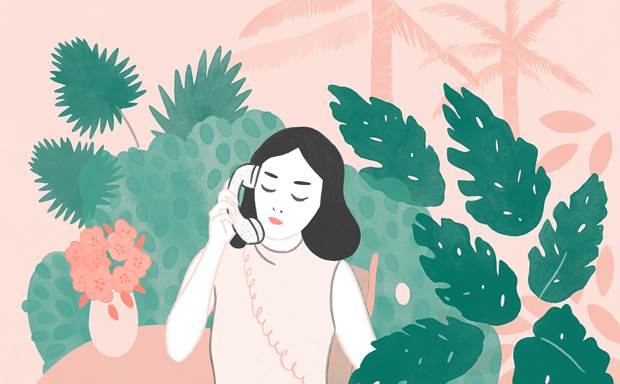 Where can we see more of your work? On my website or on Instagram @tallulahfontaine, as well as in the new issue of Home Zine!