a lovely little chinwag with illustrator kristina suvorova
When she isn't whipping up illustrations for snazzy fashion labels, Lithuanian-born artist Kristina Suvorova enjoys sculpting, sewing and soaking away her troubles in the bath.
When it comes to creating cool stuff of a visual nature, Kristina Suvorova is pretty darn prolific. In addition to whipping up artworks for the likes of Jost Bags (she recently teamed up with the fashion label in question to illustrate some cute bags and wallets), the Frankfurt-based artist also paints, sews and takes pretty photos. We had a little chat with Kristina to find out more about her process, everyday life and penchant for taking nice long baths, ahh.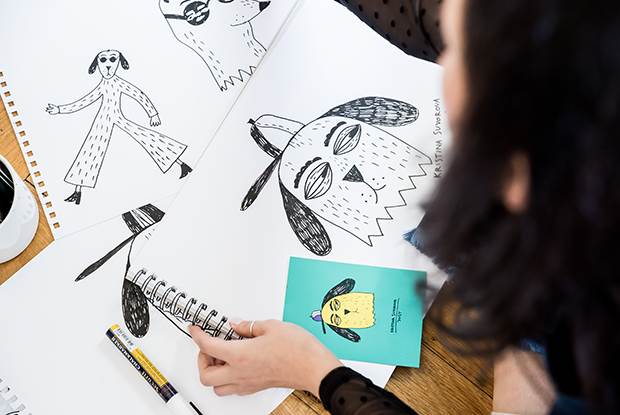 Where were you born and where do you live now? I was born in Lithuania. Now I'm based in Frankfurt, Germany.
Please describe the space where you do most of your creation – whether it's your art studio or kitchen bench! That's my studio, my cave of creativity. I have a big desk in front of the window and all my tools around me – my favorite books, plants, music, canvases, random funny stuff and older artworks. Each corner has a certain set-up: there's the sculpture corner, a corner for canvases and paintings, the sewing corner and the photo corner.
What makes your work unique and truly your own? Simplicity (the abstract lines and shapes), colors, eyes, and the stories behind them.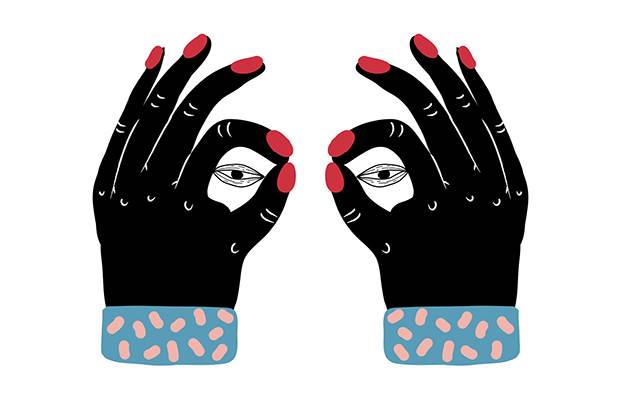 Tell us a little about your creative process. When something touches my heart/mind/soul, I try to express it as soon as possible with my artwork. So many times I've jumped out of my bed in the middle of the night to run to my desk or canvas. It's very important for me to respect every moment of inspiration and the ideas they bring, otherwise they might never come back and that would be a pity.
How did your collaboration with Jost Bags come about? I was doing one of my first exhibitions in Frankfurt in the summer of 2015, when I met Marco Lachner, Creative Director of Jost. He became a fan of my artworks and after a while asked me if I would like to create a funky, fresh collection of bags with them. I said yes, and we started to brainstorm immediately.
What inspired your illustrations for Jost Bags? Beautiful differences. To be more specific, it's the celebration of the uniqueness of each individual.
What did you enjoy most about this collaboration? Apart from the whole creative process, I also really love how we expressed the importance of inner beauty.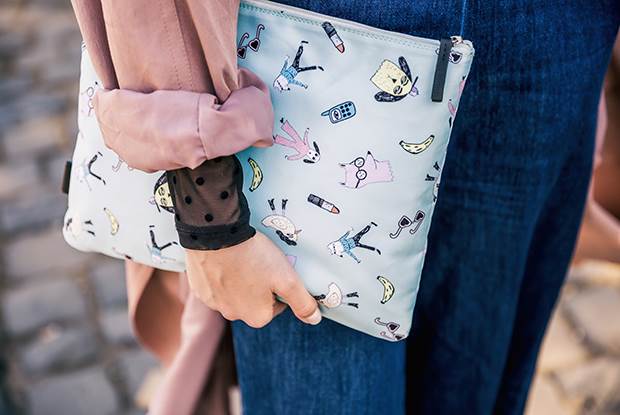 What's the coolest art tip you've ever received? Don't forget to play and experiment around.
What other budding artists do you love? Catalina Bu, Leta Sobierajski, Nathalie Choux, Joakim Ojanen. The list is looooong – I'm just so bad with names!
What do you enjoy doing when not creating art? Watching old movies, reading, kissing, taking long baths, dancing, eating, sleeping, watching the sky, spending time with my loved ones, and going to old book shops.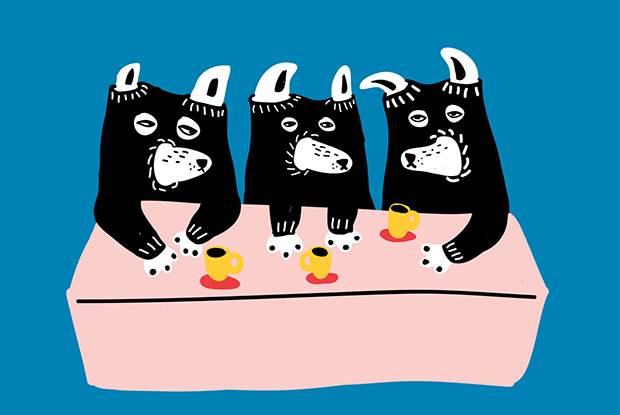 Where can we see more of your work? On my website and Instagram.
To check out Kristina's collaboration with Jost, simply pop over here.