a day in the life of frankie magazine's senior designer alice buda
Plus take a peek inside her colourful home office (and spy her cute pooch).
Hey everyone, I'm Alice, the senior designer at frankie magazine. My role is to think about the look and feel and art direction of frankie's magazine and all the other things we put together. I work really closely with our editor Emma Do to make sure this all comes to life while ensuring the brand is consistent. I have a little sausage dog called Stevie that I spend a lot of time with. Luckily, I live quite close to the Merri Creek in Melbourne's north so I spend a bit of time down there. Here's a typical day in my work and home life.
7am: First thing I do is go and do a group fitness class at the gym. I like going early so I feel like I've accomplished something straight up and then I don't have to worry about fitting it in after work if I have other things on.
8am: Walk time for Stevie! She has teeny tiny legs so she doesn't need to go too far. My partner comes along too and we either make a coffee at home and take it with us or buy one when we're out.
8.30am: Back home I make a smoothie with coconut water, banana, berries and some Gelpro collagen powder. I like that it has no taste so I can just add it to whatever flavour smoothie I'm making and it makes it a really nice consistency. The reusable packaging is also a bonus – I've even made some pot plants out of the tins.
9am: When I sit down at my desk (we are still mainly working from home at this stage) I first go through a stack of emails that have come through overnight. Right now, we are in the planning stage of the magazine cycle, so I'm briefing all the nice illustrations and photography for the next issue. We're doing a fashion shoot next week so I'm also trying to organise all the products for that. Honestly, a lot of my day is sending emails! We're also working on the 2023 frankie diary at the moment, so I'm waiting on a few samples of that to arrive, which I'm excited about!
1pm: For lunch I usually go to A1 Bakery and either get the zaatar or the cheese pie, because yum. Otherwise, I go to Al Alamy and get a fresh spinach zaatar with haloumi and fresh tomatoes, because also yum. I take my dog along for the adventure too.
2pm: The arvo is when I try and get my more hands-on practical tasks done. Today I need to take a photo of a blanket for the next edition of frankie feel good; run to the post office to pick-up some deliveries of clothes and shoes for the fashion shoot; and edit a video for frankie's TikTok. If I hadn't already done it, I'd also shoot the current magazine flip-through video in the arvo. When the magazine cycle is up to the layout stage, this is when I'd work on putting together the words and images and making sure the whole magazine looks cohesive.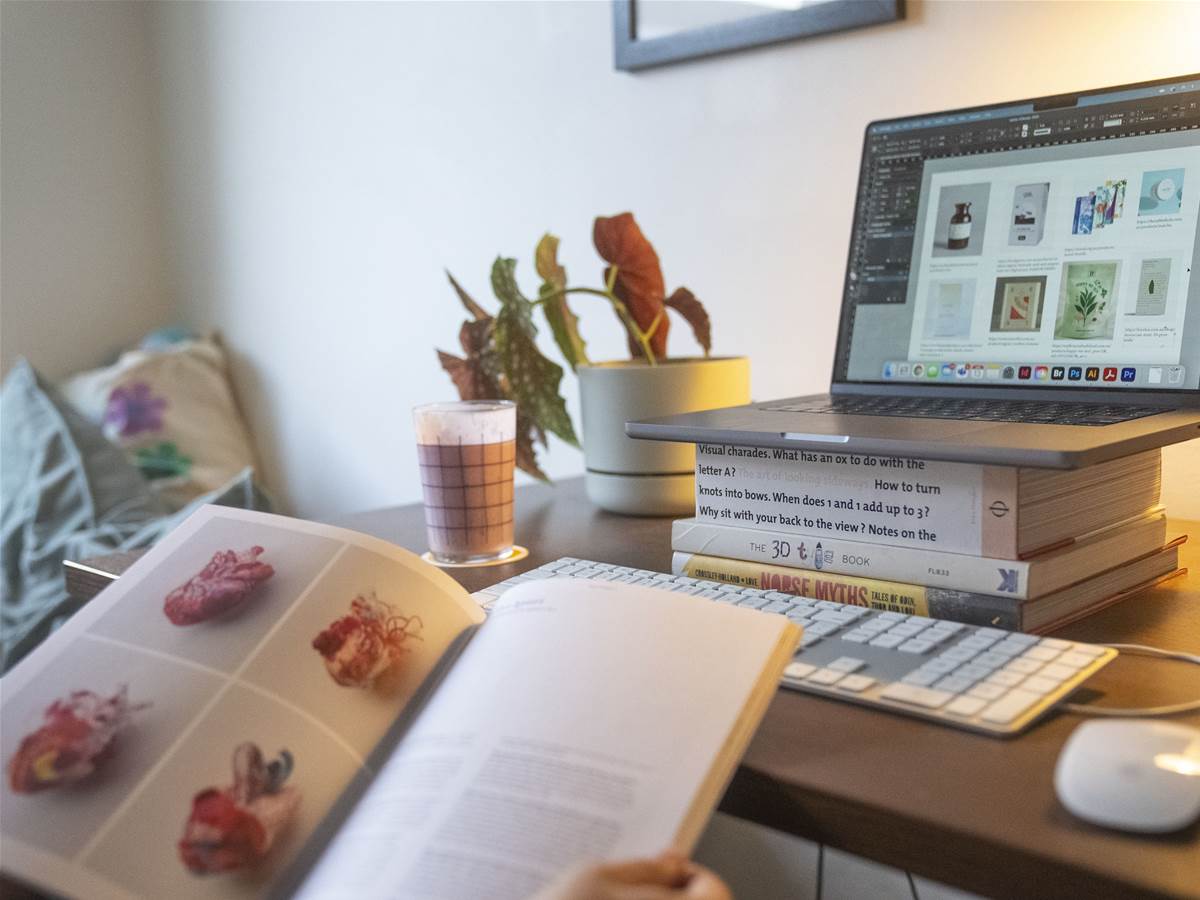 3pm: If I need a little break from work I usually either make a coffee or go and pester my partner for attention.
5pm: Before I finish work for the day I like to handwrite a list of priorities for the next day (I can't leave it as a digital list – I'd just forget about it). I might also tidy my desk a little bit, but to be honest, that's a stretch!
6pm: After work my partner and I take Stevie to the dog park and come back and make dinner together while playing music. I love a good tray bake with roast potatoes, brussels sprouts covered in salt and oil, with a pork strip.
7pm: I have a meeting that I'll attend virtually for the Australian Graphic Design Association where I'm becoming a councillor this year. We chat about planning upcoming events, social media and other fun stuff. I also have another meeting tonight because I am judging the World Illustration Awards so I will chat to the other judges in the editorial category. If I'm not in meetings I love watching TV with my partner. Current faves are Severance, The Marvelous Mrs. Maisel and Pachinko.
10pm: Before bed I like to listen to a 'sleepcast' on the Headspace app. It's like a bedtime story, but it's like a wind-down routine. They usually have a breathing or mindfulness exercise as part of it, which I find is a great way to switch off.
This article was brought to you in partnership with Gelpro, who make convenient, accessible, nature-inspired products to give your bod a well-deserved boost. If you'd like to treat your skin, hair, nails and joints to a little lovin', check out their Original Collagen Peptipro powder over at gelproaustralia.com.au.